Cover Story:

"All you need is Fire in the Belly"

If you have passion, fire in the belly, and really want to prove, nothing can stop you, says Dr. Gaurav Buch, Group Head – HR, Admin & CSR, Rasna Group, a well-known FMCG brand. One of very few in India who has earned a doctoral degree in Human Resources, Gaurav believes that to succeed in the HR field, you have to continue learning and researching, to turn HR into a decision science. In his two decade long career journey, Gaurav has experience of working across sectors like manufacturing to energy to petroleum, FMCG and in different dynamics. In an exclusive interview with Corporate Citizen, Gaurav shares his experience on varied human resource management topics, expectations from the millennials and HR parameters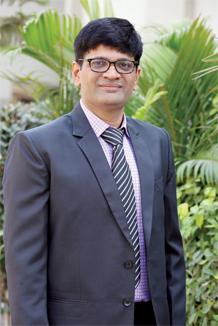 Academics is my core competence
I come from a highly academic Nagar Brahmin family. My father, Prof. Dr. Vikramvinay Buch, was one of the renowned mathematicians in India. He was Professor at IIT-Kanpur and after some time he moved to Bhavnagar University, where he joined as the first Professor of Mathematics in the newly established Bhavnagar University, and went on to become the Dean of Science. Today's Maharaja Krishnakumarsinhji Bhavnagar University was formerly Bhavnagar University, a state university located in Bhavnagar city in the western province of Gujarat. My grandfather, Bajibhai M Buch was a school principal and is honored to be the teacher of Indian business tycoon, Dhirubhai Ambani, in Junagadh, Gujarat. So, academics and administration are my core competencies and education is rooted in our family. My uncle VB Buch, Principal Secretary in the government of Gujarat, is a very senior IAS officer. My father and mother, Usha Buch, are my inspiration and whatever I am today is because of my father, mother, wife and my grandfather who are my mentors for all time. I have an elder brother, Sachin Buch and elder sister, Urvi.
Moving from science to HR management
Initially I wanted to study nuclear science or astrophysics, which was my core competence. In 1997-98, I saw that there was a lot of ambiguity around being a scientist in the country. It was the period when India was going through fast-paced economic development and MBA graduates where in big demand. After my graduation in 1997 in BSc with Physics and Mathematics from Sir P.P. Institute of Science, Bhavnagar University, I realized that I was a people person and chose to do MBA in HR. At that time there was a race to go into marketing and finance management, but I chose human resource management. When I was doing my MBA at Bhavnagar University in 1998-2000, there were only two students including me, doing the HR management course. At that time there were only two institutes in western India where you could do MBA-HR, Symbiosis in Pune and the other at Bhavnagar University.
I come from a Gujarati medium school and I gained proficiency over the English language while doing my BSc degree and then went on to do my MBA. I learnt English on my own, and I never took it as a challenge or a barrier. If you have passion, fire in the belly and really want to prove, nothing can stop you in this world. Whatever is your core competence, if you can stick to it, you can prove yourself better.
After finishing my MBA-HR, I started working and went on to do my PhD in HR, while working. The MBA tag today has become very common, everyone is doing an MBA. So, to differentiate myself and stand out in the crowd, I decided to do a PhD. I believe that to succeed in the HR field, you have to continue learning and researching. I am the 23rd person in India, to have completed my doctorate degree program in human resource management after MBA, in the year 2012, from Bhavnagar University.
Career journey
I started my career in the year 2000, as a management trainee-HR, at Essar Oil Ltd and went on to become a senior executive, HR and Admin. When I joined Essar, the company was at a commencing stage. So, I got a good exposure in commissioning the company's entire green field project. From Essar, I moved to Suzlon. Initially, I joined at the company's Pune office and very soon moved on to their strategic business unit (SBU), in Ahmedabad, as Head HR & Admin. After almost three years, I moved to Mother Dairy Fruit and Vegetable (MDFVPL), as head of HR and admin, for their entire Gujarat operation. From MDFVPL, I moved to GHCL Ltd, as General Manager, HR. At GHCL, I got a wonderful chance to understand advance technological scientific tools, for human resource management. I joined Rasna Pvt Ltd. a brand leader in the FMCG space, in 2013, where I am currently working as the Group Head – HR, Admin and CSR.
"If somebody leaves an organization—if you can catch the right kind of feedback, half of your problems will get solved. But, if proper trust does not exist between the organization and employee, and if they don't get the right feedback, it creates a lot of issues"
What were the challenges you faced while moving from one company to another, in terms of getting accustomed to different organizational cultures?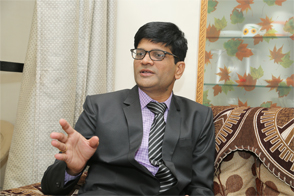 HR as a function is a support role and it does change a bit from industry to industry. If you continue working with FMCG only, you will not know what is happening in manufacturing or other fields. At a certain level and above, an HR person is not merely a functional manager, they are also business leads. So, being an HR, I cannot tell my board that I am responsible for only HR-I am also a strategist and being that, my role is to understand the entire business cycle and also the economic cycle of the entire country, and accordingly give my inputs as an HR. My function as a business partner is possible only when I am in a lead role. In my career journey, I have moved from manufacturing to energy, to petroleum, FMCG and worked in different dynamics. For example, at MDFVPL, which works like a cooperative, to turn them to adopt new management practices was a challenge I took.
Tell us about the research topic you chose for your doctoral degree.
I researched on "Manpower exit policy in the Indian corporate sector: with special reference to Gujarat". For example, if somebody leaves an organization— if you can catch the right kind of feedback, half of your problems will get solved. But, if proper trust does not exist between the organization and employee, and if they don't get the right feedback, it can create lot of issues. My research involved the study of these issues and solutions to resolve them.
In your 18 years of work experience in the HR field, what are the major changes you have seen in HR practice?
We have to understand that today's generation is very sharp and intelligent. Earlier, people would remain in one company till they retired, but today's generation is different. Today, if anyone says he/she has worked for 20 years with one organization, it will be considered that either they have not been well-accepted in the other organization or they are not getting any opportunity, and that's why they are not growing. Today's generation is fast-paced, but unfortunately it has its own negative aspect. For example, I feel they are overspending their precious time on social media and mobile phones—instead of they using technology, it seems technology is using them. Earlier, team goals were more focused, but today individual goals have become more important and these have also become a vital aspect in the human resource matrix. Organizations are also beginning to understand that if they have to succeed in the future, they have to focus a lot on human resource management. How much ever automation or robotics may come, human resource will still play a big role and we have to deal with it.
But, don't you feel the role of HR is moving away from a generalist role to a more specialist role?
Well, this again depends on the perception of the organization. More matured Organizations are moving the generalist role of HR to a more strategic function, taking it to the board level. And if you check, these kinds of Organizations are on a fast paced success path. This itself proves that HR is definitely playing a vital role in organizational growth. Today HR is playing the role of a business partner.
You are a member of Vibrant Gujarat Education Summit and there are plans to replicate it at the Central level also. How will it revolutionize education in the country?
The Central government plan is to homogenize the entire school, college, university level curriculum. Instead of every state following different curricula, why not have one curriculum taught across the country? We are also trying to identify scientific tools—like in developed countries—which can be used at different levels of education to scientifically identify the core competence of students. This will give an individual a much better choice to focus on developing skills which they are competent at. If a talent comes naturally to a person, why not groom that person for what he is good at and interested in—this way we will not waste talent due to a wrong choice.
With AI taking over much of HR work in future, will HR remain the same or will it shrink to a smaller role?
In HR you are dealing with the psychological process of human aspects at the individual level, team level and also mass level. If there are thousand people working in an organization, each one of them is different in their thinking. Here the HR's role is to diagnose all these thousand minds and put them into a process, wherein it gives results for the organization to increase productivity. AI will take over day-to-day mundane work of HR, but the core process of dealing with humans will have to be handled by HR.
Today, the demography of the workforce is becoming more homogenized. Is it an advantage or disadvantage?
Well, I take it as a good sign, especially for the One India movement. We have to identify ourselves as Indian first and the rest comes afterwards. Yes, today Organizations are dealing with a more cross-cultural mix of the workforce than before. I see that two-three decades from now, India will be a more homogenized society, with regional differences disappearing. Today, dealing with this cross-cultural workforce is a bit of a challenge for HR, but it may not be so 30-40 years from now. And my observation is that today's generation is not interested in dividing India with regional differences or get into such issues. No one has time, everyone wants to grow and succeed in life. It is also very important that Organizations give a transparent and unbiased platform for everyone to grow.
"Technology will in no way affect the human resource requirement in the processes. Research shows that manpower required will not decrease, the kind of skills required will change. In the near future, the requirement of intellectual people will definitely increase. Machines will take over more mundane tasks, leaving intellectual and knowledge oriented work to human beings"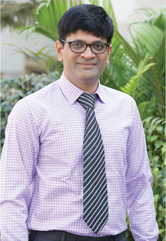 Are institutions enabling students with the digital HR skills that the Organizations are demanding?
I don't think today's generation is lacking in digital skills—in fact I find them more eager to learn and are fast learners. They are living in a time where they have to deal with technology every moment. For example, they are born with mobile phones, which has dramatically changed the way they live. So, they are exposed to digital technology. Imparting digital skills has to be a basic part of any training program.
What is your experience of dealing with the millennials?
There are both pros and cons in dealing with them. The good about them is they are very prompt and responsive, but they lack in depth as far as knowledge is concerned. I feel this generation is not ownership oriented, they are more concerned about their career, than the employer or the organization they work for. Due to this lack of ownership and accountability over their work, they go job-hopping and do not stay with any one job or an organization for long term. Everyone wants to grow and earn money very fast, but this has its own shortfalls and drawbacks. This obviously does not result in having job satisfaction.
One of HR's responsibilities within an organization, is to groom future leaders. If the new generation lack in commitment and accountability, isn't it a challenge to groom them for leadership roles?
Unless they are ownership oriented, you cannot give them dedicated and responsible roles. If there is always a probability that they would leave the organization any time, how can they be groomed for leadership roles? For leadership roles you not only need ownership quality, but also qualities like honesty, good ethics, commitment, empathy and so on. If one lacks in knowledge, that can be taught, but if one lacks in the right attitude, it is difficult to teach. The right attitude cannot be taught in institutions, it has to come from within. We evaluate every employee for the required skills and map them under an eight-pillar matrix. For example, for every position you will require these eight skills. If the person lacks in any of the eight skills, we give them training. If the person has the right attitude, we definitely groom him/her for leadership roles, but they should show commitment and ownership quality.
Is it difficult to manage old employees—bring them out of their comfort zone and adapt them to change - new skills, processes, innovations, new technologies?
If you can put together the experience of the older employees with the energy of the new employees, it will definitely benefit the organization. As an HR, I don't differentiate between the two generation. To bring an understanding between both of them, an HR has to persuade them to give up their egos, so they start learning from each other. If you are open to learning at any stage of your career journey, you will never lag behind and work in silos. At the same time Organizations have to give employees time to get accustomed to new ideas or change.
Technology is redefining every part of business and in this fast changing scenario, how are HR professionals getting accustomed to the new changes?
Technology has become part of our life at every turn, so we and especially the new generation is already accustomed to digitization in some way. When the same people join the corporate world, it becomes very easy for them to get savvy with any new technology. Very soon data analytics, big data or IoT will become a generic part of university curriculum. As an HR, I also have to get accustomed to new technology, because I have no choice.
You cannot deny the fact that in the near future automation, AI and other such technologies will replace human resource in big way. Will HR function then be less about human resource management and more about human-robot management?
I would take it as a misapprehension—technology will in no way affect the human resource requirement in the processes. The nature of jobs will change and that will demand new skills. Research shows that manpower required will not decrease, the kind of skills required will change. In the near future, the requirement of intellectual people will definitely increase. Machines will take over more mundane tasks, leaving intellectual and knowledge oriented work to human beings. So, definitely educational institutions need to get oriented to the change and tweak their curricula and training processes.
Is the academia updating their processes to the forth coming changes and industry requirements?
Academia should not be commercially oriented and give priority to only monetizing the education system, but focus on developing the right infrastructure and quality faculty. I am in the recruitment process and I have observed that some MBA and BE students are much less equipped for the job than even BCom or BSc graduates. For your career success, your mark sheet is not important, what is important is how competent you are with your skills, and how ready you are for the job. Many of the candidates, I observe, have very poor communication skills and lack in basic soft skills. We need to bridge the industry-academia gap—institutions need to calibrate to what the industry needs. Education is either not in pace with the industry or differ in their approach. For example, why are some institutions still teaching COBOL and old computer languages when it is no more in use? If there is no industry representation in your academic committee, how will you understand the gap and how will you bridge it?
Cover Story:

Dynamic Duo: 80

Meghna and DR.Gaurav Buch

Two of a kind

People connection is what differentiates HR professionals from others, and they are probably one of the most interesting people whom you can count on. What happens when both spouses are human resource professionals? In a marriage, an emotional connect is essential to build a long lasting married life, and the twosome, Meghna and Gaurav Buch, have found the perfect emotional connect in each other. Both are MBAHR graduates from the same institute while Meghna, is an HR professional and chose a career in teaching and academics, Gaurav took the corporate path and is a senior HR professional, currently working as the Group Head-HR, Admin and CSR, Rasna Group. In a candid interview with Corporate Citizen, the couple speak about their passion for work, family bonding and how they are guided by strong values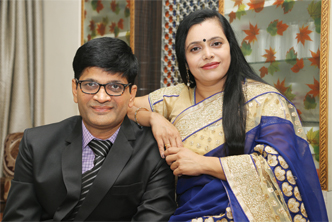 Jab We Met
Meghna: I met Gaurav for the first time at Bhavnagar University, when my father and I had visited the campus for admission. As he was a senior student, he was helping us with the admission process.
Gaurav: Meghna's father is a distant relative of my mother, and they knew each other, but we didn't know each other. When she joined the MBA program at Bhavnagar University, I was already into my third semester. Later, I completed my MBA and got my first job through campus placement at Essar Oil. To my pleasant surprise, my mother liked Meghna and suggested about marrying her. We were meeting each other on the campus and knew each other, so I agreed.
What did you like about each other?
Gaurav: Her caring behavior and concern for others. And she is the perfect sanskari woman.
Meghna: I also like his caring nature and he does it better than me. Well…every woman likes to have a caring and kind-hearted life partner and he was a dream come true for me. He is emotional and practical—two complementary dimensions of life.
Tell us about your (Meghna) educational and career journey.
Meghna: I did my class 12th in Science from a school in Junagadh in Gujarat and my graduation in Bachelor of Business Administration (BBA), at CL College, Junagadh. I went on to do my MBA in HR, from Bhavnagar University, Department of Business Administration. Gaurav was also doing his MBA from the same institute and he was one year senior to me.
After my MBA, I got a job offer from CL College, Junagadh. The Mumbai based, Narsee Monjee Institute of Management Studies (NMIMS) had started a center in the CL College campus for their HR program. I was made in charge of that center and was coordinating and also took lectures, teaching organizational Behavior (OB), the study of human behavior in organizational settings. I worked at CL College for over three years, then shifted to Bhavnagar when we got married. When I came to Bhavnagar, I got to work as a visiting faculty for a year at Bhavnagar University, where I had done my MBA.
Why did you (Meghna) choose HR as a career?
Meghna: I have interest in studying human science and this interest naturally pulled me to the HR field. However, I have never worked as an HR in any company. I chose to go into academics, as the opportunity to work at CL College came my way.
You both are from the HR field and are peoples' person. Has that helped you in understanding each other better?
Gaurav: Yes, a lot. Both of us being from the same field of expertise, definitely helps in having a good understanding between us.
Meghna: My knowledge in human behavioral science helps me in understanding him and our children better. I can tell from experience that good understanding does strengthen one's married and family life.
Tell us one of your shared experience a memorable humorous incident.
Meghna: I find Gaurav funny when he sometimes returns home with a grumpy face, due to some work related stress I remember the dialogue "Paaji kabhi hass bhi liya karo", from the Hindi movie, "Son of Sardar". I am the funnier one between us, and always make him laugh.
"My knowledge in human behavioral science helps me in understanding him and our children better. I can tell from experience that good understanding does strengthen one's married and family life"
— Meghna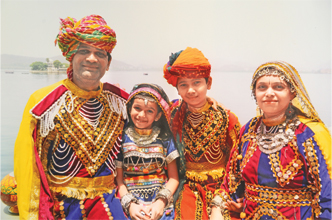 Buch family holidaying at Udaipur, Rajasthan
How did you (Gaurav) manage work and giving time to family?
Gaurav: We recently celebrated our fifteenth marriage anniversary. We got married in Junagadh, as both our native place is Junagadh. My father moved to Bhavnagar, when he joined Bhavnagar University, as head of the department and professor of mathematics. I was born and brought up in Bhavnagar city. We got married when I was working with Essar, in Jamnagar. She stayed with my parents in Bhavnagar and every weekend I would come over to our Bhavnagar house, from Jamnagar. When our son, Khanjan, was born in 2005, she was living in Junagadh with her parents. I had just joined Suzlon at their Pune office and within six months they transferred me to the Suzlon's SBU in Ahmedabad. Initially we were staying in Gandhinagar, and then later moved to Ahmedabad. Gandhinagar and Ahmedabad are two cities, just 25 kms apart.
After the birth of your first child, why didn't you (Meghna) join work again, instead chose to be a homemaker?
Meghna: I decided to be a homemaker, because I wanted to be 24x7 with my child. Nobody can understand a child better than its mother. If you are working, you are away from home for almost nine hours and I didn't want to be away from my child for so long hours. It was my decision and I don't regret leaving work. I was happy taking the role of homemaker it is a responsible role and it is also about management. As a homemaker, I have to be a mother, wife, manager, coordinator, cook, caretaker and what not. Gaurav would be very busy with his work and had to travel a lot as part of his work. In his absence, I had to also play a father's role. As a mother my aim has always been to provide my children utmost love and care. Our elder son, Khanjan, is 13 years old and studying in 8th Std. and daughter, Devanshi, is 8 years old and studying in 3rd Std.
What is your advice to working parents, on how to find balance between a career and parenting?
Gaurav: Today, I am successful in my career only because of her, because she took the responsibility of homemaker. In bringing up our children, she has played a bigger role than me. I understand that today for financial security there is need for both parents to work, but it has its disadvantages. For both the parents to juggle between family and career becomes very stressful and children feel neglected. I believe that for one parent to act as full-time caregiver is an ideal parenting arrangement.
Your success mantra for a happy and successful married life?
Meghna: I have observed that nowadays fathers are so busy with their work that they don't even know in which class their children are studying. They don't have time for their children when they return home from work. You will see them constantly busy with their phones. I feel a father plays a bigger role model for a child than the mother. Fathers have to keep aside some time for the children and for the family. Maintaining the right balance between work and life is crucial for a happy and successful married life.
Gaurav has always made sure that he spends enough time with the children. Sometimes, he takes a break from work, so we can go travelling together. Even with his busy work schedule, he always makes sure to attend the parents-teachers meeting at the school. Parenting is not just the mother's work. The father's worth should not be measured with what he is earning, but how active and involved he is with his children and family. A father should not shrug away from his role, under the pretext of work.
Gaurav: One should not pursue success only in one's career, but also family and social life.
How do you resolve any clash of thoughts or differences between both of you?
Meghna: In such a situation, I take a back step and listen. There are times when he has a heavy workload or had a bad day at work, and returns home wearing his tension on his face. I try diverting his thoughts, make him laugh and cheer him up. I believe that being at ease has a positive effect and improves your performance and relationships, whether you are at work or home.
Gaurav: She is a cool and calm person and I am a bit quick-tempered, which is why I feel we never get into an argument. She understands that there is caring in my anger also. She plays the role of diffuser whenever I get angry.
"Nobody can understand a child better than its mother. If you are working, you are away from home for almost nine hours and I didn't want to be away from my child for so many hours. It was my decision and I don't regret leaving work. I was happy taking the role of homemaker—it is a responsible role and it is also about management"
— Meghna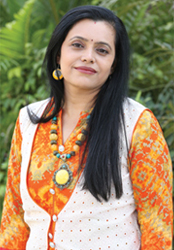 How did you (Gaurav) manage doing your PhD while working and parenting?
Gaurav: In your early stage of life, when you are young and energetic, you should give your utmost to building your career and learning. I don't think it is possible in the later part of your life. I would work for 10 to 12 hours, come back home, spend some time with family, have my dinner and sit for studying till late in the night. This was possible because I was young and had the energy to do it, and of course my wife was supportive. And time management is very important. Have enough sleep, but never oversleep. People who are successful in life, never oversleep and devote their waking hours to productive activities.
Today, the young generation spends a lot of time on their mobile phone—their screen time has increased and most of it is unproductive. Apple's founder, Steve Jobs, has quoted in one of his interview, "We limit how much technology our kids use at home." It is surprising to hear this from the founder of a tech company. But, I see today parents giving their young children mobile phones just to pacify them or keep them engaged. Too much of anything is unhealthy and the same applies to children—their brain growth is getting stunted due to increase in their screen time. Their attention span is getting shortened and they are not able to concentrate. I think we are misusing technology and have to first learn how to use technology in the right way and with a purpose.
How did you (Meghna) get into teaching and academics, after doing your MBA in HR? Now, as your children have grown up, will you join work if a good opportunity comes your way?
Meghna: If a good opportunity comes my way now, I will surely think of working again. I am more into academics and teaching. And my father in- law was a professor, which inspired me to take teaching and academics as a career. My mother also took tuitions at home and I have watched her teaching since I was young. Later, I also started helping her in teaching the students who would come for tuition.
What are your hobbies and what do you do during your leisure time?
Meghna: I love travelling with family, listening to music and reading books. The best we both like is having a good family time together, during the children's vacation. We plan the trip beforehand and eagerly wait for that time—it is so joyful for the children and for us also.
Gaurav:I like listening to classic Hindi songs. I love driving and going for long drives, especially when it is raining—driving out of the city, on the highway, have tea and hot Bhajia-dalvada at a roadside dhaba.
Share one thing you love and hate most about your significant other?
Gaurav: She is very caring and lovable with everyone, and I feel she should do that with a bit careful forethought. It is very difficult for her to say "No" to anybody. In today's world you have to be a little cautious and I always tell her to be little judicious. One has to be careful that someone does not take advantage of your goodness and kindness.
Meghna: I find him overly cautious and highly sensitive sometimes—he gets easily distressed by any unfamiliar events. So, I tell him that sometimes you have to have a "Chalta hai" attitude—in life sometimes things don't happen the way you expect, then the best is to go with the flow.
By Rajesh Rao