LOVED AND MARRIED TOO : BREACHING DISTANCES: A love that overcomes all
It is not often these days that a college romance fructifies into a wedlock. Corporate Citizen unlocks the story of love that has culminated into marriage, for we believe in the stability of a relationship and family unit. We bring to you real-life romances that got sealed in marriage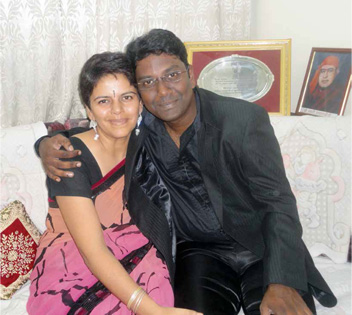 Married for seven and a half years, dynamic entrepreneur Vinita Raj and her medico husband Dr A Rajkumar are living proof of the fact that love, actually, is about accepting the spouse with their dreams—and unique individuality. For better and for worse, in good times and bad, in togetherness and a (temporary) long distance arrangement... Marriage is as beautiful a journey as you choose to make it. This is their story and this is how they tell it
It is a silly idea to fight nature or attempt to actively change it. It is instead, a far better option to own a person—particularly your life partner—with their God-given qualities. If someone handed you tender coconut water, would you want to tamper with its taste in anyway? No? Well, the same holds true for a human being," expresses Dr A Rajkumar, Sr Assistant Surgeon at Government Villupuram Medical College, near Chennai.
He sure would know. For the last few years, his better half Vinita Raj has been in her hometown Indore with their daughter Kaelyn, even as she builds up their dream project—a linguistic translation business that engages over 173 women from home and ensures they stay employed without losing touch with their familial responsibilities. "It's a fabulous job that she is doing," says the 37-year-old Rajkumar fondly. "She is a born entrepreneur, hugely dynamic and energetic. She has it in her to build things. Wherever there is a good thought and intention she will bring her own positivity to it." If that sounds like a supportive husband, Vinita (36) is quick to point out that, "Supportive is too small a word. He is, in so many ways, the wind beneath my wings. It is he, who put it into my head that I would be much better off, self-employed, and helped facilitate the necessary arrangements to make it all work, with minimum fuss."
And to think, she had resisted him with her might from the word go.
She is a born entrepreneur, hugely dynamic and energetic. She has it in her to build things. Wherever there is a good thought and intention, she will bring her own positivity to it − Rajkumar
Back to the beginning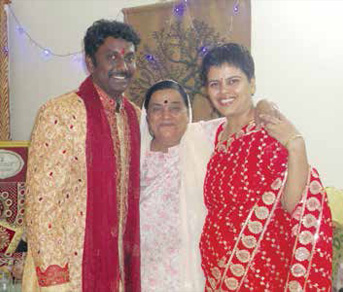 This love story started in 2008, when Vinita, an ex-academic co-ordinator with an Indore-based college was looking for help with a research paper. "Those were the days of Orkut, and I went online looking for medical professionals of the psychiatric community to answer my questions."
Call it a Shah Rukh Khan hangover, or whatever, she typed in "Raj' (after SRK's iconic movie roles) and lo and behold, at that precise moment, Dr 'Rajkumar' came online. "He was very helpful and answered all my doubts," she says.
As far as she was concerned, it was just a professional interaction. But two days later, he wished her for her birthday (as the date was listed on the site) and asked for her address so as to send across a bouquet. "I was taken aback. I told him in no uncertain terms that while I was grateful for his help, I was not interested in anything else," says Vinita. But the enterprising doctor from Tamil Nadu was not to be put off so easily. "He gave a local florist my number and it did not take the florist long to locate my address and send across a five feet tall bouquet of roses."
Vinita was furious. "I have been brought up very strictly by my mother, who raised my brother and me single-handedly after parting ways with my father, 37 years back. She is a no-nonsense lady, and there would have been hell to pay had she been home that day. But luckily she was not," she narrates.
She called up Raj and gave him a piece of her mind. Still, he was persistent and hopeful and gradually the two developed a modicum of communication. "Nevertheless, I made it clear to him that I was not interested in romance," she says.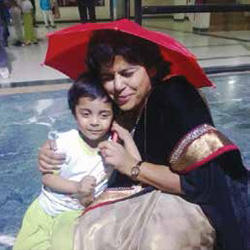 Not one to give up and convinced that he had found the girl of his dreams—dynamic and educated (she's an MA in economics, has worked with IIM Indore amongst other institutions), yet traditional and balanced, Raj one day, mustered up the courage to propose marriage. Great going, except that it was well past midnight. "I got angrier still. I mean, I was sleeping! So I told him that I would not consider marrying anyone who proposed at that time," she giggles. In those days, Vinita's family was also looking out for a suitable marital alliance—from their own Punjabi community. "Everything was almost fixed. But then just a few days before the nuptials, we got some very disturbing information about the family, and everything was called off." A little while later, Raj called her to congratulate and wish her a happy wedded life. "I told him the whole story, and said the nuptials had been called off," says Vinita. To her amazement, he actually cried out in joy. "I was like, this is the first time I have seen anyone this happy for someone else's misery."
She would soon know why. In just a bit, Raj would make the journey from Gudalur, Ooty where he was now employed with a Government Hospital-to Indore, asking for a formal meeting with Vinita's mother, a high ranking government officer. "As soon as he sat down, he started pulling out file after file — to show us his certificates and prove his credentials as anything but a fraud, unlike my former suitor," she laughs.
Moved by his earnestness and sincerity, Vinita's mother made enquiries of her own and found him suitable. "His father, though was not too pleased at the North-South alliance. They are simple Tamil folk and wondered how I would blend in with their family," recounts Vinita.
But it helped that they were educated people— both retired government school teachers with a deeper understanding of people. "As soon as they met my mom, all their doubts seemed to vanish, and they simply asked what arrangements they needed to make," she said.
With everyone's blessings, the duo were wed in September 2009 at Vinita's guruji's ashram in Lucknow. "I'd like to point out that my guruji, who was a perfect blend of education and spirituality— having retired as a cardiologist stressed upon the fact that it was of no bearing whether or not the groom was from the same community. What was important was to look at him as an individual and human being," says Vinita.
He is, in so many ways, the wind beneath my wings. It is he, who put it into my head that I would be much better off, self-employed, and helped facilitate the necessary arrangements to make it all work − Vinita
The building blocks of marriage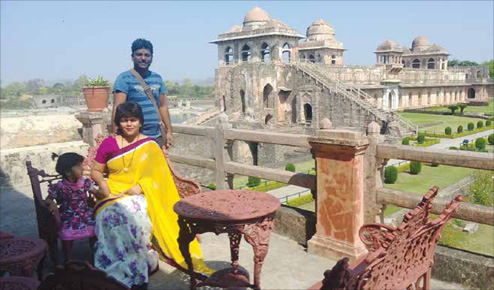 "The adjustment had not been difficult," says Vinita. Raj agrees. "It's a simple thing. Be at peace, and ensure your partner is too. When you start off with that mindset, everything else falls in place," he says. "I have observed her carefully. Despite being so driven and focused, she's a sensitive lady, and familial support is very important to her. I just make sure that I provide it," he says. If this is an unusual thought process for an Indian husband, Vinita points out, his parents are instrumental in making him that way. "So many times my mother-in-law has taken up cudgels for me. How many traditional mothers-in-law would do that?" She wonders.
Similarly, his father went out of his way to learn Hindi by enrolling for a proper class to be able to converse with his bahu. "On my first birthday that fell after marriage, he made me a long and elaborate blessing in Hindi. I was touched at the sheer effort and willingness to include me in their world," says Vinita. "These things add up and you, too, want to give it your best shot to love and embrace your husband's family as your own."
Career-wise, sans compromise
"Two years into the marriage, I conceived our daughter. We were in Chennai then. It was very hard to manage on both work and home front. My in-laws were reluctant to leave their native Cuddalore for the hustle-bustle of Chennai. As I went back to Indore around this time for my delivery, I realised how much easier things would be with my mother, brother and bhabhi for help," she recounts. "Giving up work was not an option. I have always been a working woman, used to making my own decisions, and earning my own income. To stop doing so, it would be to stifle a very basic need. Luckily, Raj understood." Around this time, she had been working from home—translating newsletters from English to Hindi for an engineering firm. With Raj's support, she took the idea forward. "I realised there were many talented and educated women sitting at home. Why not start a business that allows them to work from home?" And thus was born Word Dealers Pvt Ltd seven years ago. It currently has 173 women translators engaged on assignment basis. "It is a win-win arrangement. The ladies receive value for their time, clients get commercial assignments translated at a reasonable cost and within an assured deadline—plus no one has to leave home. This way, we don't waste talent," she says.
"In today's age, it is an important step forward for the economy to gainfully engage its able-bodied and skilled work-force," says Rajkumar. "Vinita is doing a wonderful job with her ladies, and I am proud of her. Yes, it is hard to stay away from her and our six-year-old daughter as I am at Government Villupuram Medical College in Tamil Nadu for my professional reasons, but this is a stopgap arrangement. We will soon be together," he expresses.
He is a hands-on and involved father, making sure to be in touch with Kaelyn's school projects and assorted notices on the parents' WhatsApp group. "He keeps giving me valuable nuggets from time to time, giving me tips," smiles Vinita. "When we are together every two months, he fits in a new educational app in my phone and asks me to make sure she learns the concepts. No wonder, Kaelyn is daddy's little girl, despite being so far away from him." Birthday parties are elaborate, with Raj going all out to make the decorations. "He totally dotes on her", says Vinita. "He used to be a spontaneous, child-like person. But the day he heard that I was expecting, he became much more responsible, almost overnight. I cherish this ability of his to adapt to the need of the hour." High praise, indeed, and Raj shares the sentiment. "She gives her hundred per cent to every role she plays, as wife, mother and employer. She has also found the time to do her LLB with her deft time management," he says.
"I would not have been able to do all this without his trust, support and faith. As my business grows, and the pressures mounts, he uploads my achievements and awards on social media and advices me on expanding. I am blessed in every way, as I work towards building on our dream."
The Mantras of a Marriage
Supporting each other's dreams
Making an effort to embrace each other's family
Trusting the partner, and giving them their space
Accepting the partner from the heart in totality
By Kalyani Sardesai