Cover Story:

DYNAMIC DUO: 65 /

Kirti — & — Rishabh Kapur

- mission Maharajah
Post the budget, Air India is likely to gain momentum for privatisation with the government to break the airline into four units, offering to sell at least 51% in each of them. Air India and Air India Express will be offered as one company and the process is likely to be completed by the end of 2018. Not many know that Air India also plays the heroic role of being the only commercial airline playing the second line of defence in evacuating Indians from abroad who may be caught in conflict countries. Corporate Citizen portrays Capt. Rishabh Kapur, Senior Air India Pilot, who speaks about aviation as a corporate career, the challenging evacuations done by it in 2015 in Yemen and why this government-owned airline has improved drastically in the last five years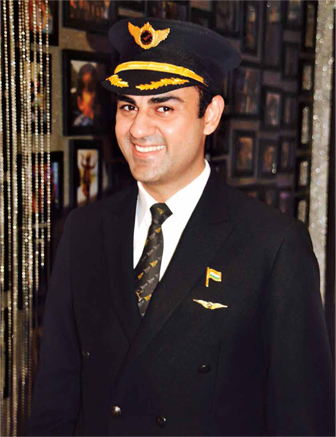 In the 1990s, Air India had created history and entered the Guinness Book of World Records when it evacuated 1,75,000 Indians from Kuwait, which was invaded by Iraq. Evacuating Indians out of war-torn Yemen by Air India was probably one of the most challenging civilian flights ever undertaken anywhere in the world, on 9th April, 2015. In fact, between 1st and 9th April, the Indian Air Force had also evacuated Indians from Yemen but Air India came in where the IAF was not allowed to fly.
This Air India rescue operation by one of the three Airbus A-321 flights had all the pulsating moments with denial of permission by air traffic control to proceed to Sanaa, capital of Yemen; birdstrikes that left a part of the windshield covered in blood; landing at an airport teeming with gun-toting rebels and then returning to base with fuel running dangerously low. Captain Rishabh Kapur led the final evacuation flight, which, in the words of former CMD of Air India, was probably the most complicated evacuation in the history of India.
Captain Kapur is in the field of aviation since the last 17 years. He is a third-generation pilot in Air India with his father and grandfather having served the national carrier in their time; he is probably the only third-generation Captain in the Indian skies. In 2011 and then again in 2014, he was unanimously elected as the General Secretary of the ICPA (Indian Commercial Pilots Association) on an all-India basis. He steered negotiations with the management and the government, emerging successful and feels that Air India is well and truly on its revival path now. When the airline required pilots to evacuate Indians from Yemen on voluntary basis, Capt. Kapur volunteered to be a part of this dangerous evacuation called Operation Rahat. For his courage, he received an award from the Minister of Civil Aviation and various other awards at various forums. He speaks to Corporate Citizen on the mission and how Air India is a great corporate career.
"Air India is considered as the second line of defence in our country. After the armed forces, if there is any airline or that rescue Indians who may be in distress anywhere in the world, it is Air India'
Was it your childhood dream to become an Air India pilot?
Till the 9th standard I was not sure what I wanted to do. But since I come from a family of aviators—my father and grandfather had worked for this national carrier—it was the easiest thing to pursue. Passion automatically came in at some point of time and without being pompous, I realised that we are probably the first family in aviation which would have three generations of pilots serving the airline. Besides, a career in aviation looked glamorous too. That's how I joined Indian Airlines.
Normally, a government job is something that you carry on doing, steadily, without excitement. Tell us about your role when Air India adorns the second line of defence in the country…
Air India is considered as the second line of defence in our country. After the armed forces, if there is any airline that can rescue Indians who may be in distress anywhere in the world, it is Air India. We created a Guinness World Record during the 1990 in the Gulf War, when the Air India and Indian Airlines combine had evacuated 1,70,000 people from Kuwait, during the Iraq invasion. Subsequently, we had done evacuations from Libya, Lebanon and other places.
In 2015, Air India was once again in the limelight because we wanted to evacuate Indians out of Yemen. When the Indian Government realised that we had to evacuate hundreds of people and our Air Force was not getting permission to go into that airspace, the government turned to its second line of defence like it always does and said that Air India to go and rescue them. But it is not simple—because like defence pilots we are not fearless people. We look up to men in the Army, Air Force and Navy as real brave individuals. We are civilian airline pilots and our primary job is to take passengers from place A to place B as safely as possible.
Also, evacuations can only be on voluntary basis in Air India— there is no diktat, nobody can force you to go, so it is not always that you get volunteers easily. So, I got a call from my Regional Director, Anil Sondhi, who was in charge of the Western region, who said, we need some pilots to fly to Yemen to evacuate Indians. I was at a restaurant, celebrating my friend's birthday, when I got the call. I discussed it with my wife, Kirti. At that point of time, I had no idea what was happening in wartorn Yemen. We quickly googled and she was very perturbed to find out that I was wanting to go to what seemed a dangerous zone. We had a spat over her objection to my volunteering for the mission. As much as I wanted to go, that very minute, but I had to show restraint. Before that, I had to put the word out to tell my managers to look for pilots. I told Mr Sondhi that if you don't get anybody, I am already volunteering. So in the meantime they found two pilots who went ahead for the rescue operation. My father was working with Etihad Airways at that point of time and I said to Kirti, what if evacuation was to be done from Abu Dhabi and dad needed to brought back. She said, if that happens again, then you go. She didn't realised that I tricked her in saying yes, for another evacuation flight was most likely have to be slated. So we came back home —she slept very well, while I kept thinking of how to get on to the next flight.
The next day, my Regional Director called me up to say that he we are not getting more pilots. I said, Sir, I volunteer myself, and I had a college friend who served as First Officer who I knew was free because we had done a flight and come back. He was also available. His name is Ashish Sharma. So both of us went on that flight. We headed to a place called Djibouti, located on the Horn of Africa. This was at one hour flying distance from the capital of Yemen, Sanaa, from where we were to pick up evacuees.
Kirti reminisces, "After he left, I was reading about hospitals and hotels getting bombed in Sanaa. I was wondering how he can go if the place was getting bombed. Being a very anxious person anyways, I was stressed."
Capt. Rishabh Kapur with Lt. Gen. V. K. Singh and First Officer Ashish Sharma
Elaborate on the evacuation...
I, along with my First Officer, cabin crew and two engineers flew an otherwise empty plane from Mumbai to Djibouti first—a six to six-and-half hour flight into Africa. In Djibouti we got two more airplanes because this was to be the last evacuation round. It is now like a mission; we are now feeling like we are in some James Bond movie. We got three airplanes ready; our mission being to bring back the remaining 550 Indians from Yemen. The capacity of each airplane is about 185 people, so we were just about meeting that target.
We were heading to the operation with Lt. Gen. V. K. Singh on board along with the Indian Ambassador and embassy personnel. The three of us, now set flight towards Sanaa. Saudi Arabia didn't give permission to get into their airspace, because they didn't want any interference by the two groups who were at war with each other in Yemen. Finally, Saudi Arabia agreed to give us a three-hour window, where they said you can take back your people, but they give no guarantee for safety in terms of assurance that there would be no bombing in those areas, in that time span. So every airplane was always at risk at any point in time.
On this last day of evacuation, when three of our airplanes went there, after about 10 minutes, two airplanes out of three got permission to land at Sanaa but unfortunately my airplane didn't get the permission. In the sky, amount of air fuel becomes most critical, because it is limited. We didn't have any refuelling contract to refuel and come back, so the fuel we were carrying was the only fuel that we had to go and come back with.
Now, we are overhead and besides not getting permission; we are told that your flight is illegal and you have to go back. When the flight is termed illegal, all hell breaks loose because now you are in a hostile environment, so any of the two agencies fighting there could shoot you down and will not take any responsibility.
If that wasn't bad enough, when I told General Singh about their refusal to enter the airspace, he said, "Captain, if we don't go in and land there and if we don't bring those people, our mission is failed".
I pleaded and fought with the Air Traffic Controller to allow us to land. At some point of time, seeing our desperation he said, "Okay guys, I am giving you so much time, come and land, take your people and get the hell out of here".
Finally, we went in and landed. But even during our landing, the airport is like Srinagar—it is at a high altitude and we were landing on a bombed runway. Some airplanes were bombarded and the remains were lying there. There is also no instrument landing facility (ILS) which is like a laser beam that we use in nowadays to land our commercial and other airplanes. Then suddenly, when we were 200-300 feet away from landing, we almost hear the sound of machine gun towards our airplane. I thought we were shot down, but then I realised that there was blood on the windscreen and that a flock of birds had hit us. Now as a pilot, you can do two things—either you can go around or you can land; to go around, there was not enough fuel to come back again. So we had to do a quick analysis and see if the aircraft is fine; if it is air-worthy. With blood on half of the windscreen more towards my first officer's side and runway approaching, we decided to make the decision to land. We landed in Sanaa and we were thinking that the mission is complete. Normally there is a welcoming committee to welcome you but here we had anti-aircraft machine gun pointing at us and telling us where to go and park. Since two airplanes were already landed 10-15 minutes ago, they were ready to take off.
Finally, we got them on board, got the airplane going but we were very critical on fuel. We had just enough to go back. While landing into Djibouti, from where the Air Force or our bigger airplanes were going to get the Indians back to India, to our bad luck, Djibouti airport shut down. Which meant we would have to divert to some other airport, which was on a higher terrain, which would be difficult for us. Now we had two minutes of holding time—if he had gone beyond two minutes of making us hold, then we would have to divert to Addis Ababa but we were fortunate enough that after requesting him again, that we were low on fuel, he let us come in and land. The sortie was successful and there were many heroes to the success story right from General Singh, Union Minister of External Affairs, Sushma Swaraj to a doctor in Djibouti who arranged for an incubator and made sure that a two-year-old baby survives, by picking the baby up in incubator from Sanaa and flying that child to Kerala and then going back to Djibouti.
"After the armed forces, if there is any airline that can rescue Indians who may be in distress anywhere in the world, it is Air India. We created a Guinness World Record in during Gulf War by rescuing 1,70,000 people
Air India's image in the eyes of the passengers is not as good compared to private airlines. What is your opinion?
A pilot's job is to take passengers from place A to place B as safely as possible, on time, every day. The way I look at, as an employee, I see Air India doing what no other air carrier does, not just in India but also in the world. Being a government job, Air India employs people from across communities, thus fulfilling its social responsibilities. We go where no other airline wants to go, in the Northeast; we started to go to Pakistan and Afghanistan though it was not lucrative enough then. Air India is going to these places, for national and social reasons. Now, other airlines are going there because it has become lucrative for them. Other than that this is the only airline which will do work for evacuation. When there was an earthquake in Nepal and we wanted to send relief, again it was Air India in the forefront. Whether you want to fly the Prime Minister or President of India, it is Air India again. It is just unfortunate that as a national carrier, unlike a private carrier where shortcomings get covered up, in Air India we can't cover things up and they are highlighted even more in comparison to other airlines.
How do you see the growth of Air India and the competency of pilots?
Air India has the most highly skilled pilots not only in India but in the world. Most of the private airlines that started off have taken pilots only from Air India and Indian Airlines because there was no other airline from where they could poach. We have a central training establishment at Hyderabad as well as a training facility in Mumbai. So, you can imagine the infrastructure of our facilities from where so many pilots are comprehensively trained.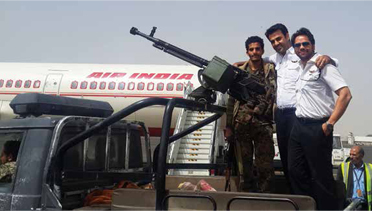 With a soldier at the Sanaa Airport before evacuating the stranded Indians
Are you saying that Air India is the safest airline to fly?
Absolutely, and we have got the highest number of trained pilots in the country as well. Air India has the edge because of its inherititance, its history. Back in 2011, I got an opportunity to become the General Secretary of the Indian Commercial Pilots Association (ICPA). I feel that we highlighted lot of problems at that point of time for which we got national media coverage through television debates and succeeded in having the chairman out. I did innumerable interviews on TV in the 10 days of what was the most successful strike in the history of Indian aviation. I think Air India since then, has come forward by leaps and bounds. Earlier, due to corruption and mismanagement, we were losing out on all our lucrative sectors to private carriers.
What made you join the Union?
The job of the union is to stand against any wrong or injustice that is happening. After I became a father in 2008, I realised what my colleagues at that point of time were going through. As juniors, we were being thrown all over the place, where I would go out on a flight for four days and no sooner had I come home, I would be called back again for 4-6 days—I realised this can't be the life. My son used to look at me like I am some kind of uncle. So at a very small level in 2008, I became a member of the union.
In 2011, I got elected as the general secretary of ICPA. We were the oldest and strongest body even at that point of time. I was spearheading a union which had 850 pilots from Indian Airlines and Air India put together. We were getting paid by the hour, unlike today, where it is fixed at 70 hours of flying. Then, we were doing 80 hours of flying but it had gone down to 40 hours of flying because all our lucrative sectors were given away to private airlines. So much so that they went away to the private carrier on the flight number as well. So on any flight where we had a load factor of 80-90%, overnight it was operated by a private carrier on the same flight number with their airlines' call centre. So our flying hours went down from 80 hours to 40 hours, which meant that my salary went down by 50%. It dropped so drastically in 2011 that all of us pilots realised that we have got nothing to lose because over and above the lesser flying hours that we were doing, our salaries used to be delayed by six months.
So it was a fight against injustice, corruption and mismanagement, because it was affecting us directly. However, I remember signing a letter saying, even though we are on strike, in the name of national causes, or in emergency or evacuation, we as pilots, under a notice of 30 minutes, will get back to flying if the nation needs us to do any voluntary work. I can proudly say that from 2011 to 2017, Air India has come a long way because we have highlighted all the misdeeds.
What are the changes that happened?
Firstly, we got a better chairman, in the name of Rohit Nandan followed by Ashwani Lohani who was a better leader. Lohani had the employee-first attitude that boosted the morale of employees, which in turn resulted in better service to the passengers. There was investigation into why sectors were given away to private airlines. Our load factors started going up, our product and service became better. Smiles came back on the faces. We proudly stand flying an airplane called Boeing 787, which was one of our demands, other than looking into the misdeeds of the airline and parity with Air India pilots. And fixed money to protect our families, protect ourselves so even if government gives those lucrative sectors away, it doesn't affect my pocket to a point that I have to go back on a national strike again.
Do you fly international flights?
I fly two planes, Airbus 320 and now I fly Dreamliners Airplane, the latest from the Airbus stable Boeing 787s. Right now, I fly about 20 days a month. I am spending almost those many days outside the house.
What is the profile of passengers now?
Profile of passengers has substantially improved ever since the Dreamliner has come into play. Employees are serving them with smiles on their faces. We are getting amazing feedback for there is definite improvement in the product and service that we are offering. In Air India there is a definite boost of morale of all the employees. Air India is actually in a great position, very close to privatisation; for a substantial take-off where now it is ready to take on the world and regain its lost glory to where it was as one of the finest airlines in the world.
Piloting a

Partnership

While Rishabh Kapur flies high, his lady-love on the ground, Kirti, is strengthening the base of a love story that has culminated in a happy marriage. Besides running a happy home, Kirti, along with a partner, are stylists for TV commercials. Kirti's designer label, Krasaa has brought her several Bollywood celebrities like Saif Ali Khan, Shilpa Shetty, Bhagyashree, to name a few. Here they both share the secret of their happy marriage and what their son, Rihaan means to them...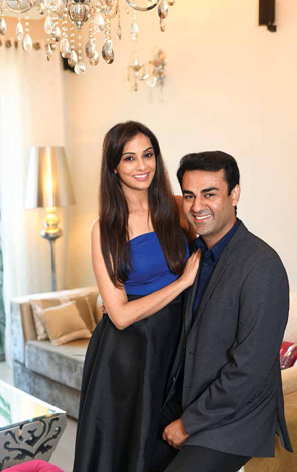 Jab We Met
Seven years after they met in college, Rishabh and Kirti tied the nuptial knot in 2005. It was their passion for fashion that brought them together, chorus both of them. Says Kirti, "We met in Wadia College when I was pursuing Arts, and he, Commerce. He was a year junior to me so we didn't meet in class but we did a few fashion shows together. The first time I saw him when he was on stage during a fashion show, he registered in my mind. And then through common friends we auditioned for some show and then we met." Adds Rishabh, "There were intercollegiate fashion shows and so we were both in the same fashion show together as we represented Wadia College. I remember we won all the fashion shows that year. One thing led to another and we came together."
What do you admire about each other?
Kirti: I just feel that he is a good person and always sees the positive side of life. He is a very social person and I am shy; I am a reserved kind of person. I have learnt so much from him because he can talk to anybody, be it a child or a senior citizen with the same affection and warmth. The first thing he notices is something nice about that person. He is always charming, happy and easygoing.
Rishabh: As much as I like to treat her like a flower, I don't think I did, because I have given her so much stress in the things that I have done—from an evacuation to a strike. I always have something or the other happening, or I take up some kind of assignment which will help citizens. I like to contribute in some way or the other. I have always stressed her out, but there is no doubt in my mind that she is my backbone. I cannot imagine a life where I don't have her in my life because I am so dependent on her. From getting up in the morning to going to sleep at night. From the first thing to the last thing. It's her love and concern that keep me going in my fast-paced job.
Secrets of a happy married life...
Kirti: He is working so hard and he is not home for days at a stretch, so by default I have to know everything that is haphappening in the house. We are both easygoing people. However, I am a very content person but he is the very opposite—he wants to do a lot more. So we maintain a good balance.
Rishabh: She gives me the space, freedom and confidence. As the saying goes, behind every successful man there is a woman. In my case, I have two of them. First, there is my mother for the way she brought me up. Then I got my wife who has only taken it forward. Everything I want to do, everything that I try and achieve, she always will say yes to me. I am completely reliant on her and there is no way I can do anything in life without her support; she is my backbone.
Kirti: I hate arguments and any kind of discord. I think that is the key to a happy married life.
Rishabh: We have been together since 1997, that's 20 years. Even though we were in a relationship and got married, we understand each other more as friends. I don't even need to say anything for her to understand what my emotions are, or what I am thinking, and vice versa. She completes my sentences for me.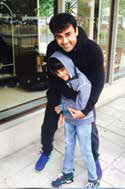 Happy moments: Rishabh with son, Rihaan
Child upbringing—how do you describe it?
Kirti: We are equally there for him. Rihaan is emotionally connected to us. We are very indulgent parents, actually. Also because of Rishabh's job which keeps him away from home for at least 20 days a month, the gap makes us miss him more. However, we have a holistic approach—he should be an all-rounder. We don't want him to be a topper in class; we don't want him to be Messi in Soccer, a sport he is passionate about. We want him to be a confident child. Also, he is very creative. I don't push him on his studies but I push him for his art as I would rather nurture that talent of his. We want him to be a happy, confident child.
Rishabh: Even though Kirti is a fashion stylist as a professional, her life revolves around her husband and her child. That by itself is valuable for a good child upbringing.
Favourite holiday destination…
Kirti: I can go from Lonavala to London—just anywhere, as long as I have a holiday. I love travelling.
Rishabh: New York internationally and Goa, within the country.
We have been together since 1997; that's 20 years. Even though we were in a relationship and got married, we understand each other more as friends
—Rishabh
Kirti with Shilpa Shetty and her partner
Philosophy of life
Rishabh: True happiness lies in helping others.
Kirti: Family comes first. Be content and be peaceful in what you have.
Kirti's fashion passion...
Kirti: I operate from home; we have our tailors who operate from workshops. During Diwali we are busy for at least five to six hours per day, otherwise, we are easy on time. We do exhibitions only when we feel the time is right and things are easy so we can work. It is more of a fun activity than for earning money.
Define a young urban Indian woman in terms of clothes and fashion?
Kirti: Quirky, experimental, but traditional too sometimes. More experimental, for she is ready to try out new fashions and wear something unconventional. I admire women who can carry off anything. I have so many insecurities about the way I look, but girls nowadays are carefree. They can carry off anything and everything.
Tips for working women on clothes to wear
Kirti: To me, personal style comes first—that is, what looks good on you. Don't go with fashionable trends in office; being comfortable in the clothes you wear is more important than anything else.
Do you think the sari is going out of fashion?
Kirti: No, it will never go out of fashion; it will be reinvented, be it like a drape or any other different style, but the sari will always be here to stay.
Your favourite dress?
Kirti: I love to wear jeans.
By Vinita Deshmukh