LOVED & MARRIED TOO: A prescription for togetherness
It is not often these days that a college romance fructifies into a wedlock. Corporate Citizen unlocks the story of love that has culminated into marriage, for we believe in the stability of a relationship and family unit. We bring to you real-life romances that got sealed in marriage
Neuroradiologist Dr Yogeshwari Deshmukh (37) and paediatrician Dr Anay Deshmukh (38) complete a decade of marriage this year, not to forget a total of 18 since they first met. The journey may well have had its ups and downs, but one that has been worth it. Seven-year-old Chinmayee completes the picture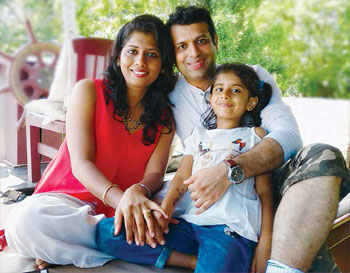 On the face of it, you'd think this would be a match accepted sans complaint: both medical students, pursuing their studies in Mumbai's TN Medical College; both from Latur; and both with the surname "Deshmukh." Both merit students-she, a state topper in the 10th and 12th (amongst girls) and he, a merit list regular (amongst top 10) in both the 10th and 12th.
But then, that's where the similarities ended for their families: She's a Maratha from a well-heeled, political background (her father was Mayor of Latur), while he is a brahmin from a middle class home with a bank manager father and a home maker mother. No, said the families, this won't quite work. Turns out they were wrong.
Back to the beginning
It's almost as if they were meant to be. Roll numbers 19 and 20 respectively with the same surname as well. "Naturally, we were thrown together in most academic groups. That's how we started hanging out together," says Yogeshwari. Apart from a shared determination to do well in a demanding field, there was much to like about each other. The conversations seemed to flow naturally. A few semesters later, it seemed natural to consider a future together.
"Honestly, when you are doing your MBBS, marriage is a distant dream," smiles Anay. "Nevertheless, I think I wrote the question down on a piece of paper and asked her to marry me. I don't think she replied, but evidently the answer was yes." Unfortunately, it wasn't this smooth sailing with their parents. The proverbial hell did break loose.
Overcoming opposition
"My father was a politician, a much respected and well-known public figure in Latur. We lived in a joint family-I was the eldest of 18 cousins, and much loved by everyone. So, this-falling in love business-was not something expected of me. Everyone was taken aback, my father most of all," reminisces Yogeshwari.
A similar situation prevailed in Anay's home. "They wondered how on earth a Maratha girl from as privileged a background as hers would fare in our home. How would she adjust? Besides, culturally we were so different," he says. "In our home for instance, everyone was a graduate or a post graduate. Whereas in her family, she was the first to hold a graduate degree (MBBS) at the time."
The face-off continued for some time with tension prevailing all over. Finally, Yogeshwari had had enough of seeing her father so unhappy. "I told him alright-I would forget about Anay and marry where I was told."
But that was far from a situation resolved. Tough decision taken, she went into a shell, refusing to speak much. It was her father's turn to come down a few notches. "He told me he couldn't bear to see me in such a state. At the same time, he said that if it were any other daughter of his, she would be married off without further ado to a boy of his choosing. But since it was me, he his most favoured daughter, he could not bear to see me that way," she narrates.
The decision was deferred for some time until she finished her PG entrance to get admission in Radiology in KEM Mumbai. Despite the difficult circumstances, Yogeshwari managed to earn herself a very good rank in entrance exams. "This made my father so very happy. I think that's when he started relenting."
A few meetings with Anay's father and cousin convinced his family too that Anay had chosen well and there was no problem with going ahead.
The couple was finally wed in 2007 amidst much celebration, and most importantly, both families' good wishes and blessings.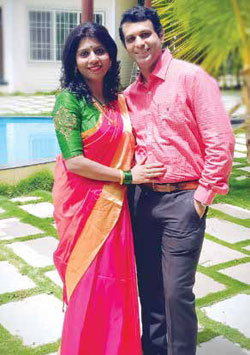 The building blocks of a marriage
Post-marriage Yogeshwari moved in with her in-laws while Anay went to Indore to pursue his PG. "To their credit, though, despite being so against the marriage initially, they never let me feel that I was not wanted in anyway. I was treated as a daughter," says Yogeshwari. As things turned out, families gelled together very quickly. "My father in law accepted me with an open heart too," says Anay. Perhaps, you could call it a warm testimony to the institution of family, perhaps it had much to do with the maturity of the individuals concerned.
On her part, Yogeshwari did her bit. "I understood their apprehensions and was prepared to go that extra mile to adjust. Gradually, as they began to realise that I was a simple girl despite my background, they began to relax."
The early years with the in-laws gave her the much-needed time to understand them. "People of that age simply want love and respect. And if you do, they will love you in turn. I chose to live with them,despite the distance of my hospital, instead of moving into a hostel. That helped us establish our relationship. We communicate naturally and easily. Never has it happened that I have had to say anything through Anay," she says.
Nevertheless, it wasn't an easy time with Anay staying away from home for his PG. "I'd like to mention here that while a doctor's profession is envied for whatever gain and fame it may bring, the flip side is that it is demanding of sacrifice on so many levels: long hours, time away from family and loss of personal space," he expresses. "But nothing beats the satisfaction of saving a life, or curing someone of pain."
"We take regular holidays together and invest time and effort in doing little things for each other. It's important to keep that freshness alive. Also, since when we live with elders in the family, there is much-needed support"
- Yogeshwari
As of today, the Deshmukhs live in Pune with their daughter Chinmayee and their parents. Dr Yogeshwari is a well known Neuroradiologist in Pune and Dr Anay is one of the most renowned paediatricians.
Though he loves his field paediatrics a far from easy option. "I have to spend long hours shuttling between my two clinics, but we have accepted it. However, Sundays are for family and I make sure to give them that time undisturbed." It's hectic, but since Yogeshwari works 9 am to 4 pm, she's home for their daughter.
Parenting is another arena of teamwork for a couple-but this is where a shared value system and Anay's training as a paediatrician comes in handy. "I am clearly the stricter parent," says Anay. "I do believe that there is no substitute for two things: parental time and instilling the right values. Teach your child to communicate clearly and confidently." Respect and boundaries are important too, adds Yogeshwari. "It's also important to the teach children to think for themselves and assess whether their actions are right or wrong, instead of shouting at them. It is entirely possible to discipline kids without raising either your hand or your voice. Above all, even if you disagree with your spouse over something regarding the child, it's important to keep a united front in front of the little one."
The Pillars of a marriage
Trust
Patience and communication. This must extend to each others' families as well
Establishing an atmosphere of mutual respect at home. Children are led by example, not words
Doing little things for each other and actively working on your relationship
So how do they manage quality time together?
"We take regular holidays together and invest time and effort in doing little things for each other. It's important to keep that freshness alive. Also, since when we live with elders in the family, there is much-needed support," says Yogeshwari.
It is crucial to keep the pressures of hospital and clinic away from family. "That's easier said than done, though. It's a challenge," says Anay, "However, with time and experience you realise the importance of keeping patients' issues away from home. Yogeshwari is especially sensitive, and I am glad that as her chosen specialisation keeps her away from the sad sight of young babies with tubes attached to their little bodies."
At the end of the day, both are clear that trust is the mainstay of each relationship. "When you have that, everything else falls into place. However, I'd like to add that each relationship is a work in progress and demands new things of you every day. You have to keep working and building upon it," rounds off Yogeshwari.
By Kalyani Sardesai