CRADLE OF LEADERSHIP: ENCOURAGING EXCELLENCE
For nearly a century, Shri Ram College of Commerce (SRCC)—founded through the far-sighted vision of Lala Shri Ram—has made a name for setting standards in commerce education in the country. Principal Dr RP Rustagi gives full credit of this to the motivating faculty, which goes beyond the prescribed syllabus and encourages students to explore new horizons through critical thinking, thereby helping the college retain its numero uno position in all-India rankings year after year...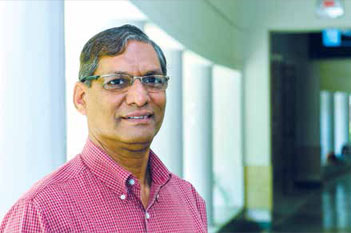 SRCC's first incarnation was in its avatara as the Commercial College, in 1920, in Old Delhi. Even at that time, it was considered a leader offering quality commerce education with strong commitment to India's freedom movement. A brainchild of Lala Shri Ram, an eminent industrialist and educationist, who was the founder of Delhi Cloth Mills (DCM). The Commercial College was later rechristened as Shri Ram College of Commerce (SRCC) in 1951 to honour his contribution.
Ever since, it has made great strides and emerged as a premier, co-educational institution of higher business learning. Consistently retaining its All-India No 1 ranking in Commerce education awarded by the top rating agencies, the college is housed in a grand heritage building decked with arresting red pillars and a clock tower.
Having shifted to this beautiful site in 1954, its stunning classic structure has an old world charm that stands out in the midst of the bustling North Campus area of the University of Delhi (DU). Surrounded by many prestigious DU colleges such as Miranda House, Ramjas College, St Stephen's College and Hindu College, SRCC attracts India's best and brightest minds and has produced lots of top-class business leaders, brilliant politicians, outstanding Supreme Court judges and film personalities.
Corporate Citizen spoke to its Principal (Officiating) Dr RP Rustagi to know what really has gone into the making of India's best brand for Commerce education.
Corporate Citizen : Please encapsulate the history of SRCC, which dates back to preindependence days.
Dr Rustagi: Our journey started in 1920 with the establishment of an educational trust, which set up its first school under the name 'The Commercial School' in the walled city. Later, it was renamed as the Commercial College, which paved the entry of commerce education in the University of Delhi (DU). The first batch started with only seven students in a school building at Daryaganj in Central Delhi. In 1926, the college got affiliated to the DU and 28 years later, in 1954-55, we shifted to the North Campus in the University area.
What inspired Lala Shri Ram to establish a college for the study of Commerce and Economics only?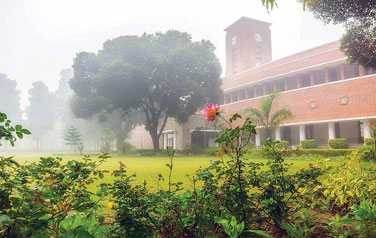 On the basis of what I've read about his vision, I can say, since he belonged to a nationalist business family, he understood the importance of trade and commerce. He possessed an analytical mind and had infinite capacity to work. He knew that once India attained independence, Commerce, Economics and Management education would become even more important as all sectors of a country's economy are closely linked with its trade and commerce operations. He could foresee that in the fast-changing business world, India's future generations will need specialised institutions. Thus, he made sure that his College would focus on Commerce and Economics only. Another reason could be, since there were not many exclusive Commerce colleges in the country then, he might have thought, why shouldn't he build one to fill the gap? Such was his commitment that he even named it as 'The Commercial College' because, he knew, sooner or later, Commerce education would find its rightful place in India's discourse.
'One day SRCC will be ranked among the best global business schools in the world. We've started moving in that direction. We've built collaborative partnerships with reputed business schools abroad such as IESEG Business School, Paris and Lille; Sciences-Po, Paris; Utrecht Business School, Netherlands; Hong Kong Business School and University of Warsaw, Poland. There are many international exchange programmes organised from time to time and they help to provide global exposure to our students'
Wasn't he too obsessed with Commerce?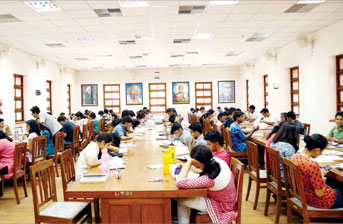 He was far ahead of his times and knew that for real progress, India will need efficient and trained hands in trade and commerce. Not many could then foresee how important Business Education was going to be in the future. But he was clear and never wavered. I've heard from my predecessors that when we shifted from Daryaganj to this campus, in addition to Economics (honours), the University wanted to give us other courses in Arts and Science streams too. However, Lala Shri Ram said, "No thanks! Nothing doing." He wouldn't go for anything else. We still follow that tradition and offer specialisation in these fields only.
Haven't you gone for anything new for all these years?
We've continued with our tradition, but now we want to introduce a specialised PG Management course-tailor-made for SRCC. We've applied to the University. We don't want to borrow a readymade course. So, we've designed our own course with its syllabus, curriculum and structure. We have requested the University to allow us to start it.
Who runs the legacy of Lala Shri Ram now and how?
The college management is run by a Governing Body (GB), which consists of the representatives of the Shri Ram family, the College Trust, the DU and the faculty. Presently, Ajay Shri Ram, great grandson of Lala Shri Ram, is the chairperson of the GB. He regularly visits us and interacts with the students and the faculty. He is open to suggestions and gives full liberty to the staff. The GB has eminent people from politics, media, industry, judiciary, NGOs and from other walks of life. They include Union Finance Minister Arun Jaitley, India TV's Editor-in-Chief Rajat Sharma, Hero MotoCorp's Sunil Kant Munjal and Supreme Court's Justice AK Sikri.
Any futuristic vision for the institution, beyond Commerce education?
Our Chairperson is sure that one day SRCC will be ranked among the best global business schools in the world. We have started moving in that direction. We've built collaborative partnerships with reputed business schools abroad such as IESEG Business School, Paris and Lille; SciencesPo, Paris; Utrecht Business School, Netherlands; Hong Kong Business School and University of Warsaw, Poland. Many international exchange programmes are organised and they help us provide global exposure to our students. We also encourage our faculty and students to go global. We've told them that if they need any financial assistance for going abroad to present their research paper at an international conference, money is not a problem.
'What is meant by autonomy? That is not clear. What autonomy will mean to us as teachers is not clear. What autonomy will be given to us? Will it be a financial autonomy only, or will it be academic autonomy too, is not clear. We are more interested in academic autonomy rather than financial autonomy. We should be given a chance to fly on our own. We should be given the liberty to frame our own courses. But all that is not clear'
What makes SRCC rated No. 1?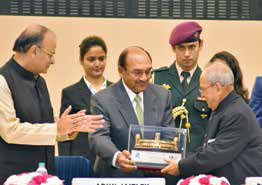 Lots of things have gone into it to make it so. The faculty has contributed a lot. The credit goes to our expert and motivating faculty, which goes beyond the curriculum to inspire our students to give their best shot in whatever they do. However, going back in history, nobody was aware of SRCC initially. But since 1950, when we shifted to the new campus, things started changing. The faculty of that time worked hard work-developing curriculum, preparing teaching material and extracting feedback from students for their review mechanisms. They set very high standards. Their hard work paid off as SRCC students started securing top positions in the University results. The textbooks written by our faculty on all core subjects also became very popular. They were taught and referenced by teachers not only in India but even abroad.
People say when your intake consists of only the best of the best, real credit for your outstanding output should also go to your students.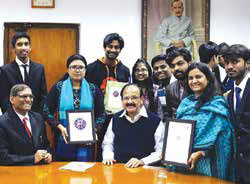 Our students have contributed a lot in building the SRCC brand. We attract the best of the lot because our admissions are based 100% on merit. We have no other consideration. Merit is the sole criterion. Most top-ranking Commerce students of Std XII across India aspire to come to SRCC. Therefore, we get the best. Once they join the college, we provide them the best of the teaching faculty and leadership opportunities.
We focus not just on curriculum and academic excellence but we try to develop leadership also. We believe in a holistic approach for overall development of personality. We encourage students to participate in events like Crossroads, National Colloquium, Eximius and The Shri Ram Economic Summit. Similarly, we invite them to write for our different publications such as Business Analyst, Yamuna, R-evolution, Ceteris Paribus, Renaissance and Artha.
How do you do that?
When a student joins SRCC, we start with an Orientation Programme. We show a 10-minute audiovisual film to give newcomers an idea of what the campus life is all about and what type of extra-andco-curricular activities we organise round the year. This helps him identify what activities he can participate in and which societies he would like to join.
What kind of clubs do you have?
We have about 40 societies, which provide a wide choice of extra-curricular activities. In each society, students take the initiative in organising InterCollege and Inter-University cultural festivals and public speaking, music, dance and drama contests. We've got societies for academic subjects too such as Commerce Society, Economics Society, English Literary Society, Hindi Sahitya Sabha and Fine Arts Society. So, depending on your individual interests, you can join any of the societies and explore your hidden talents.
What about sports activities?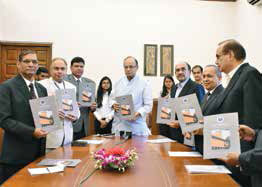 We have a world class, state-of-the-art multipurpose indoor stadium, which has seating capacity of 1200 spectators. We have courts for badminton, basketball, volleyball, judo, wrestling, etc. Besides, we have rooms for chess and table tennis in the stadium. SRCC is one of the few colleges in DU to have a world-class swimming pool with coaching facilities.
Where do you get your funds from?
Our funds come mainly from three sources— first from UGC, which is limited no doubt; the fees deposited by students; and our GB, which is very generous in providing funds. Recently we revamped our Wi-Fi system at a substantial cost. The earlier Wi-Fi, installed six-seven years ago, was outdated and when we brought it to the knowledge of our Chairman, he gave us permission to get the latest facility. We've also got a high quality audio-visual room. Thus, funds are never a problem for providing the best of facilities. Another recent initiative is to make all financial transactions in our college go cashless. So, in the canteen, stores, offices, library-whenever there is a transaction-it is cashless. People can also pay the fees online.
What is so special about B Com (Honours) course, for which the cut-off marks are close to almost 100% every year?
Our Economics (Honours) course is equally prestigious, but the B Com (Honours) has earned the enviable reputation of being the best in the country. It is our USP and attracts the best of the minds from all over the country. Besides providing a stimulating environment, we try to give them a thorough understanding of subjects such as business organisation, financial accounting, corporate laws, economic theory and business communication. Expert talks, paper presentations and field trips are part of this programme. Many students find good placements with top companies after doing this course from SRCC.
Since India is regarded as the entrepreneurial capital of the world, what steps have you taken to inculcate this spirit in your students?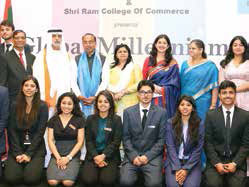 We're the first undergraduate college in India to have set up a centre for startups. We hope to tap the potential of our students and alumni, as well as government initiatives, to give a boost to the innovative spirit further in the years to come.
Do you send your students for internships to the industry?
Yes, we do. A lot of our students are selected as interns every year and they go for internship to different business houses. We do not have any compulsory internship for all because there is no scope for internship in our academic curriculum and we do not have vacation period required to do internship. So, it's arranged whenever students say they want to go to a particular organisation. Another highlight of our college is the placement services we provide to the students.
What kind of industries do they generally go to?
It's a mix. There's no specific industry. Students go to all places-from financial firms, real estate and corporate banks to different engineering and automobile companies and so on.
How research oriented are your students?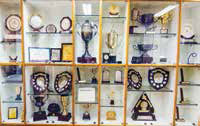 When they enter SRCC, only a few show such an inclination. But we encourage them to be analytical and research oriented. We provide full research facilities. We've several online data records available in our laboratories. If they want to write a research paper, they get a lot of support from our staff. We also get physical as well as online journals. Just three months ago, we came out with a new research journal titled Strides, which was launched by HRD Minister Prakash Javadekar. It is meant to encourage students to focus on research at the undergraduate level. We also provide mentoring by our senior faculty. Every piece written by students is reviewed by the referees and tested for plagiarism before publication. We also give prizes to the deserving students.
What do the students do after doing B Com (H) from SRCC?
Many go for a chartered accountancy course and some do MBA at some IIM. This year, more than 20 students from SRCC were admitted to IIM Ahmedabad. I am told that over 100 students got calls for interviews from IIMs. I think at least 40 students will get admission in IIMs this year.
How big is your college, area wise?
It's not huge, just 17 acres. That's why we're not able to expand further. We have space limitations.
What kind of recreational sports you offer to students?
We have a full-fledged indoor stadium constructed during the Commonwealth Games 2010. Many of our students excel in different sports.
What is the ratio of boys and girls in your college? How many girls get admission?
Over the last few years, the ratio has tilted in the favour of girls. Around 60% to 70% are girls and the rest are boys. As our admissions are based purely on merit, if girls are doing better than boys, we can't stop them from coming in. We've set no limitations. We give admission to all. Whoever gets higher marks will be here.
Do you provide hostel facilities for girls?
We do have residential facility for girls. But we need more and plans are ready to enlarge this facility to accommodate more girls.
How do you encourage students to invite big shots from the corporate world?
We give them lots of opportunities to organise events in the college. Students have to do all the work. That makes them confident because, at the school level, they don't get such opportunities. Other colleges do the same but we've got a definite edge over them because money is not a constraint. When you invite somebody, you've got to pay his airfare, hotel charges and such other logistic arrangements, which costs in lakhs.
ILLUSTRIOUS STARS OF SRCC
SRCC has consistently sent out action-based thought leaders, who have been trailblazers in their respective fields, unafraid to make their voice heard. SRCC alumni have excelled in the fields of corporate governance, bureaucracy, media, law and politics in particular. Many of them hold eminent positions in our national discourse today and have carved a niche for themselves in India and abroad. Some notable alumni include:
Abhijit Bhaduri, Author
Analjit Singh, Chairman, Max India ltd.
Anshu Jain, Investment Banker
Arun Jaitley, Union Finance, Corporate Affairs & Defence Minister
Atul Punj, Chairman of Punj Lloyd
Bhim Sain Bassi Ex-Commissioner of Delhi Police
Bingu wa Mutharika, former President of Malawi
Gulshan Grover, Actor
Jagdish Mukhi, Politician
Jaivardhan Singh, Politician
Jitin Prasada, Politician
Lalit Suri, Hotelier
Manoj Kohli, Executive Chairman, SoftBank Energy
Nimrat Kaur, Actress
Navtej Sarna, Author and Diplomat
Lieutenant General Rajan Bakhshi, Indian Army officer
Rajan Saxena, Vice Chancellor-NMIMS and Padma Shri awardee
Rajat Sharma, Chairman and Editor in Chief of India TV
Rajesh Pratap Singh, Fashion Designer
Rakeysh Omprakash Mehra, filmmaker
Rana Kapoor, Founder, MD & CEO, YES Bank
Rohinton Fali Nariman, Supreme Court Judge
Ruchir Sharma, Head of Global Emerging Markets Equity Team, Morgan Stanley
Sanjeev Sanyal, Economist
Shiv Khera, Motivational Speaker & Author
Surinder Mehta, Founder of Prime Group and Padma Shri awardee
Vijay Goel, Minister of Youth Affairs and Sports
Vijay Jolly, Senior Politician
Vipin Handa, Film Director
So, how do students arrange all this?
We guide them about the basic event management. They collect money by procuring sponsorships. We tell them how they should approach different companies for sponsorship. For example, we've an annual three-day business festival called 'Business Conclave', where speakers from various walks of life are invited. It costs around `15-20 lakh. Students manage it successfully. Competitions are held and prizes are given. Students from other institutions are also invited. This is the extra edge of SRCC over other colleges.
What basic elements are required for a college specialising in Commerce education?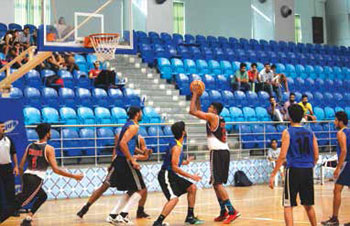 Like any other subject, a college specialising in Commerce and Economics has to be sensitive to the current situation in the economy because commerce is the whole system of an economy that constitutes an environment for business. It includes legal, economic, political, social, cultural and technological systems in any country. Thus, commerce is an environment that affects the business prospects of an economy. It can be explained as a component of business, which includes all activities, functions and institutions involved in transferring goods from producers to consumers. Thus you've got to keep these elements in mind if you really want to specialise in Commerce education.
How do you do that?
We have a University-approved curriculum. On the other hand, we also tell them how to analyse the current developments. For instance, what's happening in the financial markets, how to interpret business news and how to look at economic developments and budgetary allocations. We do this through Speaker Sessions. We invite specialists from business, economics, politics and other fields. These interactions help students get a perspective on the current economic and managerial problems. We organise special faculty development programmes. Last year, we had a programme on Accounting Standards for faculty so that they know the latest developments and opinions of the Chartered Accountants and Consultancy firms. The faculty, in turn, took it to the classroom. This is how we do it, and that's why our students always are better placed than others.
What's unique in the PG Diploma in Global Business Operations that started in 1999?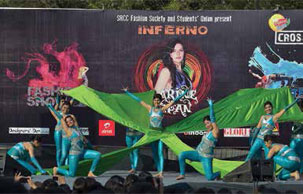 It is tailor-made for us. It's equivalent to an MBA. No other college in DU has it. We ourselves drafted its curriculum. We've our own expert faculty for it and we also invite leaders from various industries, global businesses and consultants, etc. There are practical sessions and industry visits. Market survey is also a part of it, but basic emphasis is on understanding the strategies and intricacies of global business. Placements of students of this course are pretty good.
What's the intake for this course?
We take 65 students purely on merit, based on an allIndia written test followed by Group Discussion at two different levels and a personality interview.
Is your test comparable to the admission test for IIMs?
Our test is as good as the CAT exam for IIMs. However, I wouldn't like to pretend that our placements are as good as theirs. IIMs have their own standing and get a lot of financial autonomy. We do have financial constraints. Ours is a University course. So, we cannot charge fees as high as that of IIMs. But within the constraints, we're doing pretty well. We've already applied to the University to give our diploma the status of an MBA degree-which is what IIMs offerbecause ours is also a sought-after course where admissions are given strictly on merit.
How good are student-exchange programmes and international affiliations?
B Com (Honours), no doubt, is our flagship programme, but that doesn't mean that we're not concentrating on other courses like BA Economics (Honours), M Com and MA (Economics). For Economics (Honours), DU students prefer going either to St Stephen's College or to SRCC and for several years, toppers are from SRCC.
International exchange programme is also our USP. We have separate faculty for international programmes. These are outreach programmes and in-coming programmes. We have tie-ups, where students come from the USA and Netherlands for 15-day programmes. Under the outreach programmes, our students get opportunities to participate in international programmes and interact with students of different cultures.
'A college specialising in Commerce and Economics has to be sensitive to the current situation in the economy because commerce is the whole system of an economy that constitutes an environment for business'
How good are your placements and what are the packages, which are offered to SRCC students?
This year, the highest package offered was around Rs.32-33 lakhs, but the average would be around Rs.9-10 lakhs. Many students don't want to go for campus placements as they're more interested to go for CA or MBA from IIMs, etc. They're just not interested in jobs, and hence they don't apply.
There is a perception that SRCC is a very elite college.
I don't think so because we're very much a part and parcel of DU and follow its rules and regulations in our admissions and examinations. The only difference is the type of intellectually stimulating environment and academic culture of excellence and the faculty that we have—that is something that makes SRCC stand out. Besides, the way we prepare our students for their professional journeys through our societies, cultural cells and other activities is very different from other colleges. It is the quality of students and the faculty, which makes SRCC different from the rest. But we are not elitist.
Why do most of your students opt for MBA and then a corporate job rather than going in for research or teaching?
Compared to the salary offered by the corporates, the money we get in teaching and research in our country is peanuts. Hence, most students opt for MBA and then take up a corporate job. But there are some, who go for civil services or a teaching job. Like many other faculty members, I too studied at SRCC and joined the college as a faculty in 1976, soon after I did my M Com.
SRCC has produced several luminaries including Finance Minister Arun Jaitley. Tell us about your alumni and the connect they have with their alma mater?
Arunji is a 1973 pass out. Vijay Goel was my classmate. Bollywood actor Gulshan Grover was from the same batch. A sitting Supreme Court justice is also from our batch. A judge in the Supreme Court of Bhutan, Yes Bank Chairman Rana Kapoor and UCO Bank Chairman RK Kakkar are also from our college. India TV founder and Editor-in-Chief Rajat Sharma, film director Rakeysh Omprakash Mehra, politician Jitin Prasad are also our alumni. We have an informal Alumni Association, which organises two functions every year-one in the college premises itself, on the second Sunday of February and other in the first week of January at Hotel Taj Palace on Sardar Patel Road. Those who have excelled in their field are honoured. Many judges, secretaries to the government of India, chairmen/MDs of public sector enterprises or corporate honchos, who have studied in SRCC attend it. They still love the college and want to keep their connections alive. They are willing to help our students. The entire central airconditioning of the college was funded by their contributions. I'm sure, whenever there will be a need, they'll not disappoint us.
Have you considered autonomy for your college?
The real issue is what is meant by autonomy? That is not clear. What autonomy will mean to us, as teachers, is not clear. Will autonomy mean only financial autonomy, or it will be academic autonomy too, is not clear. We are interested in academic autonomy rather than financial autonomy. We should be given a chance to fly on our own. We should be given the liberty to frame our own courses. All that is not clear. Unless the UGC or Ministry of HRD makes all these things clear and discusses it with us, we're not going for it. We have no plans and we have not applied for it.
Tell us about your own academic journey. What brought you to teaching?
I've always been interested in teaching. It's my passion. I did my B Com (Honours) from SRCC. Then I completed M Com and started teaching here. I continued my studies by doing M Phil from DU in 1978. I did Company Secretary course in 1985 and then PhD from Gwalior University in 2008. I have been a part and parcel of the corporate life of the college for the last four decades. I've written books on Financial Management and Management Accounting. I've been active in societies of the college in various capacities. For the last 18 months, I'm working as principal of the college.
What advice would like to give to those aspiring to be a part of SRCC?
I can't advise anything other than this: Work really, really hard and get good marks, if you want SRCC to welcome you because we can't help you if you don't have the marks.
By Pradeep Mathur