CORPORATE DEBATE: Working M♥ms: Do they have it All?
They seem to have it all: the perfect family and a successful career. However, a peek into the world of corporate moms reveals that their journey is far from easy. To get where they are today, they had to (or continue to) be multi taskers, and are left with no option but to manage home, children and office life impeccably. Not to mention the emotional turmoil they find themselves embroiled in every time they have to choose between professional duties and maternal responsibilities. If you're also one of those who wear the two hats, the polyphony of working mommies in this article will resonate with you...
New age mommy
The new age working mom is unapologetic and takes pride in being a working mom and surmounting all the challenges that come with it. Meet Dr Priyanka Mokshmar, CMD, Vaayu India, who echoes this exact sentiment. "I have two daughters. Because I am an office-going, workaholic mommy, people pointed fingers at me. They tried to make me feel guilty by telling me that I wasn't measuring up as a mom. I took that as a challenge. I am glad I did that because today, I am a role model for my daughters. They say they want to be like me. They aspire to venture out of home and work as hard as I do. That sure makes me feel proud."
The mommy from the new era has her own little ways that help her strike a perfect balance between the two roles-one as a mommy and the other as a successful entrepreneur. "My girls take their tuition in the office. That ensures they are under my watchful eye and that they do not feel neglected. While they study, I work. I make up for the time lost over the weekend by encouraging them to take up hobbies and activities that appeal to them." She says, "Motherhood is a source of joy and beauty and it should never feel burdensome. Nor should it stop you from achieving your goals."
The ever-haunting guilt
Many mommies suffer moments of guilt pangs, just like corporate trainer Divya Jain. "Leaving my daughter at home when we depart to our respective workplaces is a very testing moment. I feel extremely guilty when we leave her behind, crying. Guilt haunts me when I am working late into the night and I come home too tired to do anything for her. I feel helpless at times like these." But being the doting mother that she is, Divya makes up for the mother-daughter time lost by spending time with her. "I try and pick up one specific activity with her on a daily basis, such as colouring or storytelling or roti making. This is an important time for us to bond. Whenever we are around, she takes precedence over everything else so that we can make her feel important. We spend time with her and take her out whenever we can too."
The balancing act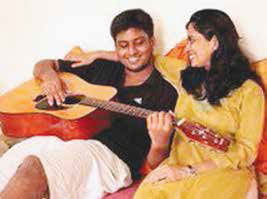 These days, it is quite common to find fathers shouldering additional responsibilities in order to fill in for the mother when she is away at work. "Both my sons have grown up watching me work. Even now, sometimes when I'm unavailable for my kids, their father tries all he can to spend as much time as possible with them at home. Thankfully, he has always had the liberty to work from home. He has literally raised my boys because of that," remarks Ritu Grover, who works with a university of national renown.
Make-up artist Divya Chauhan is happy too that she has her husband to fall back on when she is dolling up her clients. "My husband has been a great support. I know I can depend on him with my eyes closed. He drops our daughter Mishka to school, picks her up from it in the afternoon, feeds her and in the evening, brings me back home from work." Nevertheless, she has a packed schedule throughout the day. "I wake up, get my daughter ready for school, cook food and go to work. Once back from work, I go to bed only after finishing all the household chores." Phew!
Work versus children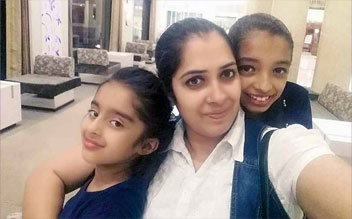 Work versus children is an age old debate that corporate moms often find themselves caught in. But at the end of the day, it is all about personal choice-of the mom of course. "If my husband would not have been available to look after my sons at home when I was burning the midnight oil at office, I would have probably quit working," says Ritu Grover, while Divya Chauhan is of the opinion that work is indispensable to one's identity. "Sometimes, it gets difficult to do extra work in the evening when I know my daughter is waiting at home for me. Yet I would say that it is worth having both a baby and a job."
Other moms like Shagun Swarup from social media and content strategist, Crosshairs Communication, have worked out ways that allow them to work as well as spend ample time with their children. "I opted for a job that offers a flexible working arrangement policy. This leaves me with ample time to be around her. In case I am travelling, my husband works from home. We also do not depend on house helps completely and are grateful for supportive grandparents who happily pitch in whenever we need them."
New mother-child dynamics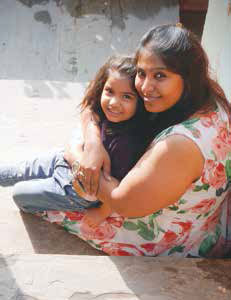 These days, kids are smarter and more independent. As Jamuna Rangachari, a popular author of children's literature puts it, "Just as children understand that fathers need to attend to their office work, children of this day and age have come to understand that mothers are no different in this respect. Back in the day too, when mothers were not venturing outside of the home to work, they were busy at household chores. Children understood this back then too." She adds, "What is required is prioritising and making sure all their needs are fulfilled to the maximum extent possible. Just like one attends to all the tasks in office and marks some as 'must do', parenting is always a 'must do' activity."
Sampada Singh, a PR professional and mother of a five year old girl pitches in, "Working moms have smarter kids nowadays since most of the time, the little ones are out of home, on their own, interacting with new people, learning new things."
She says that her own child reflects the same qualities. "She supports me in every manner possible. I told her once that she is my strength and if I give up my work for her, people will think otherwise. She was quite receptive to and understanding of the fact. We are more like friends now! On days she wants me to take leave, I do that happily."
Making up for time lost...
Working mommies do not mind going out of their way to keep their kids happy. Some of them are even coming up with inventive ways to make the mother-daughter bonding time even more special. "My workplace has a crèche within the premises. Putting her in the crèche helps me stay close to her. Yes, my day at office begins as early as 8 am, but the smile on her face is worth it! That said, I wake up at 4.30 am just so I can whip up a meal of her choice. I ask her the menu beforehand and the grocery shopping revolves around her preferences."
She continues to talk about the little things they do together: "When we go back home together in the evening, we listen to our favourite songs and even dance in the car at the red light! I love watching her imitate me!" Thank God for small favours! Shagun is another mom who is bringing up her daughter rather well. "I firmly believe that parents who spend quality time with their children help them bloom beautifully as confident and happy individuals. As parents, both of us manage our time to help our daughter grow up as a better person and attain various skills. We do this by exposing her to different mentally and physically stimulating activities, feeding her curiosities and giving her a sense of secure and loved environment."
Things to take note of
If you are having a tough time multi tasking as a corporate mommy, these pointers might just help your situation...
No place for guilt: Do not feel guilty as a parent or a professional. Together with your husband, you can work out ways to deal with the situation.
Have a network of people to rely on: Build a network of people, such as relatives, neighbours or friends who will cover your back when you and your husband are both away at work and your child needs to be looked after.
Talk it out: Share your feelings with your child and explain to him or her the importance of working. That way, your child will develop respect for your work. Also, teach your child to be independent and do small things all by himself or herself.
Show some love, but without going overboard: Splurging on presents for your kid and wanting to spoil your child on weekends is only natural. But make sure your child does not get habituated to being pampered.
Work from home/study break: If you want to work while also being home with your child, you can freelance or pick up a project that requires you to work from home. Or, you can pick up a course that will help your career.
Be happy: Last but not the least, have confidence in yourself and your abilities both as a mom and as a professional.
By Namrata Gulati Sapra