CAMPUS PLACEMENT: Not disabled, he's a Champion!
He is physically impaired from the hip downwards, but his spirit is indomitable. A topper at SSC and holder of a B Tech from the prestigious College of Engineering Pune, Sushant Chavan got placed at Cybage Software by sheer merit and determination. For, as he believes, disability is not physical, it is all in the mind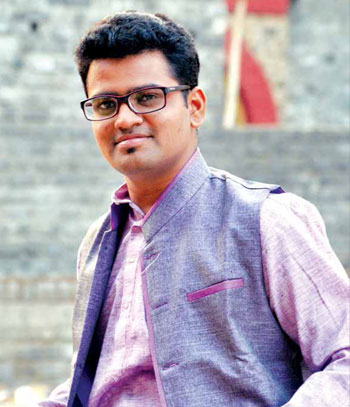 Many thought of him as a 'thorn in the flesh'. But for his parents and sister, it was the other way round as Sushant Kisan Chavan, disabled from the hip downwards, made achievements in academics and corporate world, which even a normal person may find difficult to match.
It was not his fault that his was disabled, but many around him labelled him 'a liability'. Sushant proved them all wrong-emerging as a topper SSC student to start with, and later completing his B Tech (IT) to take up a job that would be a distant dream for many.
His doctors say, he is 'Physical Impairment affected part Bill. L/L PPRP Both LL Disability 87%', a condition that is permanent and non progressive. In layman's language, this means Sushant cannot move lower part of his body and that though his condition would not worsen, it would not improve either.
"Since we were poor, neighbours and relatives considered me as a liability to the family. I took that as a challenge to send out the message that we, the disabled, as we are labelled, are equal to any able person or even better," says Sushant, who now starts his new life with Pune-based software and information technology consulting company Cybage.
During campus placement, he got an offer with QuessCorp, the job meant migration to Bengaluru. Since Bengaluru was a new place and there was nobody to take care of him, he and his parents turned down the offer.
That did not stop him, as Sushant, the son of a paan commodities supplier, applied for a job in Cybage, and thus started a new chapter in life, in the process proving that nothing is impossible, not even if there are hurdled in the way.
"I did get a placement in the college. I got placed with QuessCorp, but the work location was Bangalore, which is far away from my native place and family. Therefore, I let it go. Then I applied for Cybage Software and got selected. Cybage provides training for the first three months, so that a fresher gets to know the corporate world. That's what you need to boost your career," says Sushant about his new venture.
"At Cybage, I applied through email, and they scheduled an interview. First, they took my aptitude test. After clearing that test, I went through two technical interviews, followed by an HR interview. Three days later, I got a mail saying, 'Congratulations, you are selected for the job'."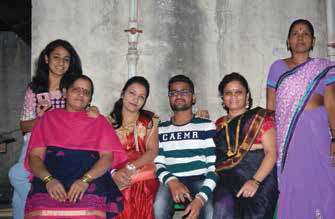 Sushant faced hurdles right from the beginning as many schools rejected his application. Finally, Priyadarshani Shikshan Sanstha's Marathi medium school accepted him. That's when Sushant vowed to prove that even a child with disability can do than others. And he did just that.
Born in Chavanwadi, a small village in Satara district, Maharashtra, Sushant became the first person from this village to complete graduation. His father Kisan Chavan had to shift to Pune for work, and more importantly for his children's education. Sushant topped the school in the SSC exam with 93% marks and later completed his HSC from Abasaheb Garware Junior College. Then he made it to the premier institution of the College of Engineering Pune (COEP).
All through his life, he took challenges in stride and overcame all with determination to set an example to the world. "I faced challenges all through my life, but with the support of my parents and my sister I overcame all of them," says Sushant, whose parents, like any other, were worried about the future of their only son.
"To people like me, my only advice would be−do not copy anyone. You are unique in your own way. Stay focused on what you want. Chase your dreams. Don't think about what the world thinks about you"
He commuted over 15 kms every day to attend college (COEP). He faced many hurdles even after reaching there. At times, he had to reach the 4th floor for lectures. "My lectures sometimes would be on the 4th floor, and my friends would virtually lift and carry me to the classroom. I owe a lot to them," says Sushant, whose pet subject was FOSS (Free And Open Source Software). "Khatavkar Sir was not just my teacher but my buddy as well, as we shared many things," says Sushant.
"I am the only person from my village, who has completed his graduation. But there was some fear in my mind. I would fear that coming from a Marathi school, my English would not be that good. Many people had told me that if you want to get a good job, you must need to be good in English. Therefore, I worked hard on my English, so that I would be at ease when it comes to the interview. As a result, I was confident that I was the perfect man for this post when I faced the interviewers. One thing I realised was, honesty is the best policy in an interview."
He attributes the credit of his success to his friends, who helped him all through the hard times. "What I am today is because of my friends and my family. I couldn't have done what I did had they not supported me time and again. I can't forget what my friends did for me at every step of my life. They helped me a lot. Therefore, all credit goes to them."
Giving due credit to his family, Sushant is quick to add, "My father is the real idol for me. He workes really hard and supports me. He supplies material to paan shops. Every day, he lifts 10-20 kg of supplies on his shoulders and goes to work. My mother is a housewife. She supported me at every stage of life. She even carried me from my bed to the school when I was a child. My sister is my best friend. She had her own studies, (she in the third year degree in E&TC stream of Engineering) but she always encouraged and motivated me. She has been a source of inspiration for me." All this has enabled him to win laurels, which have brought him the happiest moments of his life. "Life is all about what you think about yourself. Disability is not physical, it's just a mental thing-it is in your mind. If you remove that from your head, you can be a champion and no one can stop you from achieving anything."
"To people like me, my only advice would be-do not copy anyone. You are unique in your own way. Stay focused on what you want. Chase your dreams. Don't think about what the world thinks about you. Be honest, and the most important thing, enjoy your life."
He goes on to say, "I can't walk. I can't feel my legs. This condition has been since my birth. But as I said, disability is just in your head and I don't feel that I am disabled. What a so-called fit or healthy person can do, I can do it too, and may be in a better manner. I go to the gym every day. I ride bikes. I am actually crazy about the bike I just bought the Avenger 220 cruise. I love to dance. When normal people see me, they think, if he can do all this without legs, why not us! They take inspiration from me, and that motivates me further to do even better. My future dream is to travel all around the world and I hope that too will come true soon.
By Joe Williams