COVER STORY : Love is in the Air
Dr Priyanka and Pranav Mokshmar, Founders, Vaayu Inc, are the 'power' couple and quite literally at that! The two are credited with the invention of what is being touted as the most efficient cooling machine that functions like an air conditioner but consumes very little electricity. An insight into their life journey that eventually led them to tie the knot and found Vaayu, both of which came with their own set of challenges...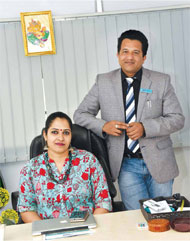 Gwalior: Where cupid struck!
Pranav Mokshmar, who radiates warmth and smiles generously, narrates the first part of the love story, with a few interruptions from Dr Priyanka: "It's been quite a while! Back in 2000, I was working with Samsung while she happened to be a Management Trainee. Our meeting ground was the Gwalior Mela. She was at the Samsung stall, where I was present too, doing my job sincerely as a Marketer." Since the two were working together, they would often interact. From this point onwards, their story only gets more interesting, "I would often get calls from home. I am extremely attached to my dogs and birds and would pamper them over the phone, just as a father would spoil his children. She assumed that I was married! Disappointed, she asked one of our colleagues, 'Is he married already? He looks too young to be'! The colleague came up to me and asked me about my marital status while expressing surprise. I was equally surprised and clarified that I was very much single."
When Priyanka (she hadn't completed her PhD by then) found out that Pranav was single, she left no stone unturned to win his heart. She blushes, "Once Pranav said that he prefers women wearing Indian formals. The next day, I turned up dressed in the exact attire he had described, though actually, I felt very silly that day! Nevertheless, from then on, it became quite obvious that I was developing a soft corner for Pranav! A few phone calls and meetings later, the proposal happened. But there is a twist in the tale-Priyanka proposed to Pranav. A young, attractive Pranav was excited that a girl as tall and pretty as Priyanka had asked him out. However, he responded to the proposal with a set of conditions. "He asked me how we were going to work out the relationship, given that I belonged to Delhi and he was from Indore. That apart, he clearly stated that he was looking for marriage and nothing short-term. His old-school views impressed me," says Priyanka.
Tying the knot!
Soon afterwards, Priyanka packed her bags and took off to Indore as she was offered a job by Samsung. Priyanka's father, who was serving in the Navy back then, was all for fiercely independent women. And thus, when she opened up to him about marriage, the idea was met with opposition. "My father had always brought me up in a way that supported the idea of women venturing out of home to work. There even came a time when my dad said that he was okay with me staying unmarried all my life, for he believed that I had the potential to become an IAS officer. He felt I had the intelligence required to be one."
Priyanka wasn't left with much of an option but to return to Gwalior, where she was pursuing her graduation.
That was when she did all she could do explain to her dad that she wanted to spend the rest of her life with Pranav. Her husband reflects on the time, "I was madly in love with her. She accepted me as I was. She came all the way to Indore just to be with me. She even went out of her way to convince her parents about our marriage."
Priyanka's parents finally gave in and the two married each other in the city of Indore.
One of the first challenges staring Pranav in the face when he thought of setting up Vaayu was bringing together a team. That said, he had some major convincing to do before he could get his own wife into team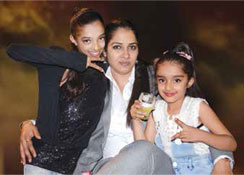 Life with kids
Priyanka and Pranav, who have been married for several years now, refuse to reveal the number of years that they have been married. Says Pranav, smiling, "I tell Priyanka never to count years. It takes away from the joy! The idea is to go with the flow and enjoy the journey!" Priyanka, who has always been a career driven woman and outdoorsy says, "I learnt cooking post marriage."
Being the doting parents that they are, they bring in their two daughters into the conversation. Pranav begins by saying, "Our younger daughter, Paavani, is Priyanka's advocate. She follows her mother rather blindly!" Of his older daughter, Jahnavi, he says, "She is extremely innocent."
The proud mother sheds light rather passionately on her elder daughter's passions: "She wants to become an artist. She is very good at Kathak and wants to become an actor. She even wrote a script for a reality show for kids all by herself!"
How has life changed after becoming a father, we ask Pranav and pat comes the reply, "I am more like a friend to them. I just love playing with my daughters. Their innocence always makes my day. I am working only for them!" For Priyanka, however, it has been a roller coaster ride with a chunk of prejudices thrown at her. "Every time I would travel out of town, fingers were pointed at me for being a mother too ambitious to take care of her kids. The world thought my kids were a neglected lot. But every time I was accused of being a mother who is not good enough, or the word 'poor' was prefixed to my kids, I fought back. I told them not to take pity on my girls for they are very smart and independent for their age. After a point, I shut my ears. For now, I am investing a lot of money and energy into raising my girls. I have tutors who teach my girls at the office itself. That way, I can keep a close watch on them and look after their needs. Modern-day parenting is such that it has given us parents enough resources to supply ample attention to our kids even as we work in faraway lands." She says she could not have made it thus far without Pranav. "There are times when I feel guilty because I feel that I am not doing enough as a mother. But Pranav always steps in and commends me for doing a great job and handling both professional and family life with élan."
This husband-wife duo have their own ways of meeting the demands of work while having a healthy family life. "We usually schedule our site visits or meets on Sundays so we can take the kids along with us and get some family time while also taking care of work."
The four-Priyanka, Pranav, Paavani and Janvi-make up a happy and balanced family despite the fact that the girls have super successful and busy parents. "We enjoy road trips often and I do everything I can to spend as much time as I can with my daughters. I make sure that they both follow their dreams. Pranav is the one who spoils them, more because I am the stricter parent." Pranav, as usual, doesn't spare any opportunity to shower praises on his wife: "She is the dependable. I can count on her for anything!"
'One day one of the consultants from CIPLA recommended that I patent the product. I Googled on how to get a product patented and from thereon, Priyanka took over' − Pranav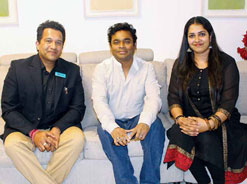 Vaayu is born
No prizes for guessing who Pranav had shared the idea of the Vaayu Chiller, the hybrid chiller that looks like any other AC or cooler, but functions as an air conditioner, yet promises a whopping 90 per cent savings on your electricity bill. When Pranav first spoke to Priyanka about Vaayu, she had her reservations, like many others who could not wrap their head around its functioning. "Back then, Pranav was doing well professionally and this setting up of an independent office for Vaayu seemed to be very risky." But because Priyanka has always had faith in Pranav's vision, she capitulated.
Pranav narrates the story of Vaayu India: "It was 2008 and I used to do my business from home then. There was an air conditioner at my office that was constantly in use. The average bill the first month was Rs. 2000 to Rs. 2500. What followed soon, however, was a bill for Rs. 8000. The next month, the bill touched Rs. 10,000. This compelled me to install a compressor in the cooler. The result was phenomenal. The cooler cooled like an AC at 14 to 15 degrees Celsius at just 10 per cent consumption of electricity in comparison!"
Pranav and Priyanka together recount the memorable moments from their humble beginnings: "I remember the first business deal happened with CIPLA and it was a great one! One day one of the consultants from CIPLA recommended that I patent the product. I googled on how to get a product patented and from thereon, Priyanka took over, dropping emails in Indore and Delhi. And this is how Vaayu came into existence!"
"I remember how hard he used to work. Sometimes, he would even have his lunch in the car. I used to really admire him for it. I would often ask him why he was investing so much time on something that could backfire terribly. But all the hard work paid off and it is for everyone to see."
Interestingly, Pranav, the maker of Vaayu got his inspiration from his father. "When I was in my teens, my father would put some ice into the ice chamber of the cooler, which made the machine much more efficient."
Among the first breakthroughs that came for Vaayu India was a call from the legendary musician, A R Rehman himself, who expressed an interest in installing Vaayu at his office in Chennai. "I am the privileged one who holds the key to one of his offices in Chennai, all because of Vaayu," says Pranav.
Ever since, there has been no looking back for Vaayu that has aroused curiosity all across the globe. No wonder, Priyanka and Pranav have been invited to various countries to showcase their genius product at science exhibitions, Russia being one among them.
Quotes To Remember!
Priyanka: "Honestly, I am a lousy cook!"
Pranav: "If there is anyone my pets are scared of, it is Priyanka."
Priyanka: "When I had just got married, the two pets used to hate me. They would tear my clothes out of anger. I don't enjoy taking care of his dogs, birds and fishes in the morning. I have to feed them when he is touring too!"
Priyanka: "I feel glad that my elder daughter wants to be like me when she grows up."
Priyanka: "Pranav always tells me to go with the flow and never count the number of years that we have been married to each other".
The Road Ahead...
"I am presently working this hard because I want to have my own private zoo. I am 40 right now. In another five years, I want to retire and take care of this zoo as I am extremely fond of animals." As for Priyanka, the workaholic, the choice is obvious: "I want to work as long as I can, as I don't like to sit idle." Having learnt to dream big from her husband, she already has a plan in place. "I intend to fulfil my dream of being associated with the world of education. I will open my own institute in Indore. The process is underway!" If that isn't enough already, Vaayu India has filed for six patents, out of which two have been approved while the others are at the stage of acceptance. Talk about planning in advance!
A couple that works together, stays together
One of the first challenges staring Pranav in the face when he thought of setting up Vaayu was bringing together a team. That said, he had some major convincing to do before he could get his own wife into team Vaayu. "Having done her PhD, she had her own set of apprehensions. She said that a bright future awaited her in the world of education. She was eyeing a directorial position with top-notch colleges and already had so many scholars under her, set to be the young future of India. So, her anxieties about starting a career all over again was valid. That is when I decided that she was going to be the CMD of Vaayu India with a stake of 90 per cent in the company while I have only 10 per cent stake in it. So, the first person to have joined Vaayu was Priyanka herself." After she joined, Pranav brought some of the best people into the team himself.
It is interesting to note that with Priyanka as the CMD of Vaayu India, Pranav (Sales and R&D) reports to her. "We have conflicting views about everything on the business front. But I eventually listen to him because I know his experience and ideas can be relied upon." Pranav pitches in, "She has a good team in place and so do I. Once in a month, she provides a good dose of motivation to the employees."
"We have divided our departments and Pranav does not intervene in my decisions until I ask him to. I am thankful to him that Vaayu being his brainchild, he has given me so much freedom and independence to work in the organisation. Because he shows tremendous respect towards me, others in the team are very respectful towards me too. Besides, I am the sole decision maker of the organisation since I am its CMD."
Pranav smiles, "Once, ad guru Prahlad Kakkar said that women are the best managers, whether at home or outside of it; they constantly have been proving themselves. Therefore, she is the manager and I have bequeathed the power of decision making upon her and I have immense trust in her decisions."
Priyanka and Pranav have very different views on issues at hand, but never shy from arriving at the most effective solution when the need arises. "Two brains are much better than one," believes Priyanka. Together, as a team, they strike a healthy balance necessary to propel Vaayu in the right direction. One of the primary signs of a successful marriage is the will to imbibe good qualities from the other partner. And Priyanka and Pranav swear by this philosophy. "Pranav has taught me to enjoy life come what may!" says Priyanka on a different note.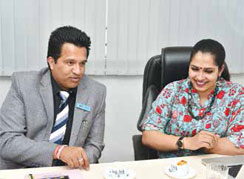 Funding ka funda
Once other challenges were surmounted, the major challenge of garnering enough funds for Vaayu India was on Pranav's mind. "I always spoke of funding worth several crores for Vaayu, but Priyanka felt intimidated by the figures I had in mind. She would always urge me to replace crores with lakhs."
But little did Priyanka know that the numbers that Pranav had in mind were about to become a reality. A plan was well chalked out by the mastermind himself. "There was a summit happening in Indore called Global Investors Summit-2014 and I was determined to meet the Chief Minister to ask for a Rs. 100 crore fund at the venue. After several rounds of waiting and explaining our model of Vaayu to sources who could arrange our meeting with the CM, we finally managed to meet him." "I was still unsure. I tried my best to convince Pranav to change the number from crores to lakhs as we waited but in vain!" Priyanka interrupts.
The two entered the CM's room nervously, yet they were not willing to give up hope. The ten minutes that had been assigned to them, they knew could make or break the deal. "By the way, I have never had to face an interview as challenging as the one I had to in order to reach the CM! For a change, I was more nervous than Priyanka. On the contrary, she was confident and that assurance kept me going. I love challenges and when something looks like a far fetched dream, I go all out to achieve it! That is the state of mind I was in at that moment too. I just knew we had to make it happen," says Pranav.
What was supposed to be a ten-minute meeting transformed into a 40 minute one. The CM was beginning to express genuine interest in the product proposed by Pranav and Priyanka. "He made us meet a lot of people. Finally, he asked us, 'How much funding are you looking at?' 'One crore,' I replied. 'Let's begin with one crore'. We agreed. We were told that this was the sanctioning amount which would be increased once Vaayu performed in the market."
Even before the founders of Vaayu could realise, their invention had begun to strike a chord with industry giants. One project followed another and Vaayu was making headlines. That was when Godrej approached them the second time around for a hybrid cooler in Bharuch, Gujarat. Pranav refused the offer. "I said no because I knew our product would not be able to deliver in an area so humid. So I promised to return with a cooler that would perform better in Bharuch. At that time, our cooler was already on testing. This time, it was supposed to be an even better performer."
"This product of ours is called the Converter and I was waiting to launch it on a platform that would make it a performer. The Converter aspires to reduce power consumption by 50%. This was our second patent." The Converter was launched in Indore by none other than the CM, Shivraj Chauhan. The Converter is yet to be launched on a pan India level, but there is demand for it already! Proof enough to the fact that Vaayu India is already a name to reckon with in the world of cooling machines! Priyanka quickly makes a point, "Once you have established a name in the market, it is certainly easier for a new entrant in the market to gain acceptance."
Every time I would travel out of town, fingers were pointed at me for being a mother too ambitious to take care of her kids. The world thought my kids were a neglected lot' − Priyanka
Hall of fame
The Mokshmars, it seems, are the newest power couple to have caught the imagination of the media. They have been covered by many major national dailies and magazines. Recently, they were lauded by a famous channel in the form of an award for their invention. The Mokshmars are basking in the glory of social media too. "It is thrilling to write a status or put up a picture and get a response at the speed of lightning!" What more, Pranav even ensures that he replies personally to each message or comment that he receives on Facebook or any other platform on the internet.
Candid Confessions...
Dr Priyanka and Pranav Mokshmar engage in a round of rapid fire session wherein a volley of questions are thrown at them…
Who is more dominating at office?
Pranav! (mutual agreement)
Who is more romantic?
Priyanka (mutual agreement)
Who is more egoistic?
Pranav!
Who is more adventure loving?
Pranav
Whose creative streak is more profound?
Priyanka
Who is more rational?
Pranav
Who is lazier?
Pranav: That has to be me. I hate waking up early in the morning. Priyanka is always annoyed at me because I never take the early morning flights even though they are much cheaper
Priyanka: If we are in a hotel room, he never steps a foot outside of it.
Who is the friendlier one?
Pranav: You take me anywhere and I will find my friends!
Who takes more time to dress up?
Priyanka: Pranav
Pranav: I hardly take 7-8 minutes!
Priyanka : Being the lazy one, he always starts off late
Who is better turned out?
Priyanka: Pranav it is. He is conscious about how he looks. He makes sure that everything is perfect and his attire matches with his shoes. His shoes must be well polished and his pen must always be there with him
One superstition that you have?
Pranav: I cannot wear a watch. The minute I do, I feel my good luck is reversed and bad luck begins. But I buy watches for my wife
Who has the habit of nagging?
Priyanka: Pranav!
If a movie was to be made on your love story, what would it be called?
Pranav: Let it be a Shah Rukh Khan movie! I would say, Dilwale Dulhania Le Jayenge - 2. We would love to have a movie made on us!
Priyanka: Saathiya because our love story deeply resembles the movies from that era. Our story has many brave moments too!
Which actors would you like to play the lead roles?
Pranav: Ranbir Kapoor and Deepika Padukone
Priyanka: Ranbir Kapoor and Deepika Padukone
What is the secret to your successful marriage?
Priyanka: Understanding, compatibility, giving space to each other and respect
Secret to being successful ​professionals?
Priyanka: Working together as a team. The same aspects as in marriage apply here. Namely, genuineness, respect and space. Pranav: Copy, paste!
by Namrata Gulati Sapra