LOVED AND MARRIED TOO : Straight to the point - Hearing it from Heena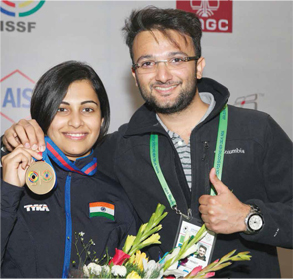 It is not often these days that a college romance fructifies into wedlock. Corporate Citizen unlocks the story of love that has culminated into marriage, for we believe in the stability of a relationship and family unit. We bring to you real-life romances that got sealed in marriage
Two times Olympian, and the first Indian pistol shooter to be ranked World Number 1 by the International Shooting Sports Federation (ISSF), Dr Heena Sidhu is a sportswoman of staggering achievements. A dentist by training and shooter by instinct-she wears her formidable honors lightly and gracefully.
Here she is talking about the many dichotomies of her life and career: A sportswoman who believed she didn't have what it took to excel at any sport, but went onto become the first Indian shooter to appear on the ISSF magazine cover; a studious little girl who wasn't content scoring high at school and became a dentist, and a persona who bears the emotional pressure of a super-competitive sport with as cool head as possible. And while she's at it-she has a lot to say about husband and coach Ronak Pandit (a reputed shooter himself) who has been a part of her fabulous journey, all the way. "It's a fine balance between one's personal and professional life, but we are friends, and we manage," she shares. "It helps that he comes from the same sport"
She is one of those whose husband partners her at work, apart from being her spouse at home. Ask her if she's living out the 'nightmare' of many women who would not want to work with their husbands in the interests of world peace, and ace shooter Heena Sidhu laughs out aloud
But then, what follows is a response as honest as it gets. No, she says, the main challenge is not the ego hassles that arise with it, or having a spouse who's calling the shots, given the nature of the coach-student equation. "It's about managing to have a personal life with your coach, who also happens to be your spouse," she says. "It's a fine line to walk, and not always easy, because what happens in the shooting range does tend to come back home."
But she's grateful for his support, and the fact that they belong to the same sport. "He understands me and my challenges, great and small. Yes, little conflicts do arise but that's ok," she says fondly. "For instance, when my gun needs to be fixed or reset, he simply takes over and asks me to sit back, as it's his job as my coach to keep the weapon shipshape. I grumble, because it's my pistol at the end of the day, and I know exactly how to customise it to my precise requirements," she grins.
But then she understands his point of view too. "I mean being a shooter himself, I guess there must be moments when he feels: O! Let me have that gun. I can do better myself," she says.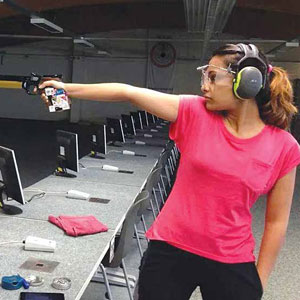 So, amidst the chaos of being newly married and the rough and tumble of never ending tournaments, there must be moments when she feels like shooting him? She laughs-but shakes her head. "No. As professional shooters, we aim at the target. Not at people.... Never, ever at people," she says emphatically. (If that's not a statement on using power responsibly-what is?)
For his part, Ronak-having been through the pace of competition-realizes only too well, the importance of having her relax and keep a clear head.
After all, before he started his own shooting centre, he was a silver medalist at the Asian games-not to forget equipped with the understanding that comes with being the son of Arjuna awardee and ace shooter Ashok Pandit.
In 2003, Ronak was conferred the Shiv Chhatrapati Krida Puraskar by the Government of Maharashtra for his excellence in sports, and though he went to win many a tournament, he wanted to give back. And what better way than to teach?
Ronak first started his new role as a coach in 2008 and today his students (including Heena) have excelled on various fora. (A dozen medals at the national and state shooting championships to be sure, apart from Heena's achievements.) Both husband and wife are firm about approaching the sport with utmost discipline and fortitude.
"The Olympics are the biggest platform there is for any sportsperson. And the one reason it is so is that we attach our emotions to it. When I go out there to compete, be it in London or Rio-I carry the expectations of a billion people with me. I know that how I perform out there will reflect on my people. The important thing, therefore, is to disengage yourself from all emotion and just do what you are supposed to," says Heena. By the way, it's Dr Heena Sidhu-few people know that she's a qualified dentist, and how her life has been as much a journey into the unknown-as it has been about the very visible and much-known path of success.
Heena at a glance
27-year-old Heena Sidhu is the first Indian Pistol shooter to be Ranked World No.1 by ISSF in 2014. She is also the first Indian Pistol shooter to have won a Gold medal in the 2013 ISSF World Cup Finals -Pistol in 10 metre air pistol event. She thus became the third Indian shooter after Anjali Bhagwat (2003) and Gagan Narang (2008) to win a Gold medal in a Rifle/Pistol World Cup Finals. Heena Sidhu is also the first Indian shooter who has appeared on the ISSF magazine's cover page for the first time ever since the National Rifle Association of India was formed on 17 Apr 1951. Growing up in a Punjabi home in Ludhiana, she is married to award winning shooter Ronak Pandit since 2013 and currently lives in Mumbai.
"So many people contribute to my journey: my trainer, mental trainer, coach and physiotherapist. I am also trying to find an expert on biomechanics, someone to show me how to stand and point in the most effective possible way "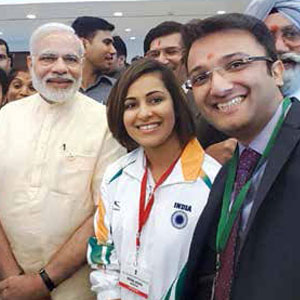 On how it all started
Growing up in a typical Punjabi Indian family in Ludhiana-which nevertheless-allowed her a liberal upbringing, Heena grew up in a happy little home. In those days, she was the academically inclined little scholar, and her brother, the accomplished cricketer who went out on tournaments and came back with shining cups for his efforts. "To my mind that was so much more exciting than scoring 90 per cent in the exams," she smiles.
Keen to prove her mettle-she tried her hand at different sports, including shot put, tennis and swimming. "And I was hopeless at all of them. After failing to make a mark in any of them, I despaired of doing well at any, given I was physically quite weak. My parents, for their part, looked on in silence-never stopping me from trying anything out, but knowing for sure that this was simply to keep up with my sibling," she says.
Somewhere along the way, she developed a passion for guns. Her uncle was a licensed gun trader who dealt in, and customised various guns for customers. "I was fascinated by them, and wanted to try my hand shooting with all of them. I'd even offer to repair them and get to know all about them," she smiles at the memory. But it was in the year of her Xth boards that she really got serious about shooting. "I'd be studying close to 14 hours a day. Shooting with various guns was an excellent way to relax, and that's how it all began," she says. "I did not see it as a sport though. At that age, guns were all about power," she grins.
But she was a natural shot, and driven by a compelling passion to do well, the rest is history. Even so, she says, she trained really hard, working on both her mental and physical fitness.
'A supportive family can take you far'
Heena insists that her struggle was greatly eased by growing up in a home where both she and her brother were free to pursue their goals. "So, to that extent, the pressure, if any way was sub-surface. My parents were and are pretty open that way," she says.
Talking of delicious ironies, she's the accomplished sportsperson today, and her brother a dedicated academic, almost nearly making it to the coveted tech-school MIT.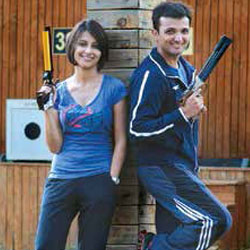 On the importance of keeping one's cool
"Like everyone else, I saw the movie on boxer Mary Kom too. I know Mary well enough, and I'd like to point out that unlike what is shown in the movie, high emotion is not what takes an athlete places," she smiles.
But every athlete spends years working on their sport, and thus, it is only natural to keep thinking of how it's all going to pan out on D-Day. "Keeping cool at all times is imperative. We have mental trainers to help us to keep our anxieties and conflicts in check," she says. "Every now and then, you read in the papers about how an X athlete has his or her phone switched off in the months leading up to the main event. There's a sound logic behind this phenomenon. No matter how much you decide not to let distractions get in, they do...
"Take for instance, this friend of mine, who messaged me after the Olympics, questioning me as to my whereabouts. He asked me as to what he ought to do about the long Facebook post he had already composed for me-but could not put up. Honestly, I did not know what to say to him. It's not as if he wanted to put me down in anyway, or discourage me-no. It's just that he did not understand. He's not a sportsperson himself; he's just someone I shared a bench with in dental college and honestly, beyond a point one cannot communicate what one actually goes through standing in the range," she expresses.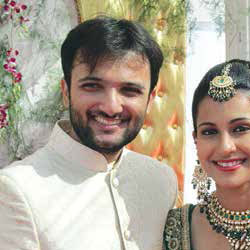 On her mantras for success
"Three things are essential. The first is having a plan; it is absolutely basic, so you know from what point you started to where you are headed. From A to B to C to Z, I try to cover all ground. I do this keeping mind the various things that could happen in a day-I could be sick, I could miss my bus, or simply not be at my best.
Secondly, it is important for a sportsperson to surround himself or herself with experts. As the saying goes: "If you're the smartest person in the room, chances are that you are in the wrong room." I totally believe that. So many people contribute to my journey: my trainer, mental trainer, coach and physiotherapist. I am also trying to find an expert voice on biomechanics; someone to show me how to stand and point in the most effective possible way.
Thirdly, taking regular breaks is the key to avoid burnout. I know people who just don't do that; training non-stop, weeks on end. The result? Injuries galore-plus they start resenting the sport. This would not happen, if only they took a break and returned refresh. So many times, I see people on the range who want to break, but push themselves simply because others are continuing. This is wrong. Each individual has a different tipping point; and the trick is to know when to take a break, before you actually take a break. That to my mind is the crux of being a sportsperson."
One message for all powerful women
"I feel the most powerful message, which I can give from my experience is that you need to follow your own dreams. I was lucky enough to start shooting. Had I followed what my parents expected of me, I would have been a dentist, but honestly, I don't think I would have been happy with that. Realise your own strengths and weaknesses, and follow your own heart. Do the same for your kids. Let them take their own decisions; stumble a bit on their own. Don't prescribe to preset notions of what your child ought to do, for each one evolves at their own pace. Lastly, it is my firm belief that empowering and educating women means empowering and educating the next generation."
By Kalyani Sardesai