CRADLE OF LEADERSHIP : BITS Pilani: Oasis of Engineering Excellence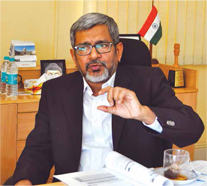 Birla Institute of Technology & Science (BITS), Pilani, Rajasthan, is a premier engineering institute at par with any IITs of the country. It has produced leading luminaries in diverse fields, like Baba Kalyani, Chairman, Kalyani Group (1970 batch), and Prithiviraj Chavan, former Chief Minister of Maharashtra (1967 batch), to name just a few. Quietly nestled in the small town of Pilani, about 250 kms from Jaipur, getting there makes for an arduous road journey. With Pilani bereft of the glitter of malls and most other modern social life distractions, makes BITS, a star rated educational institution, an oasis for the pursuit of academics with single-minded devotion. The vast and varied infrastructure available on the campus for extra-curricular activities and creative clubs helps students gain new dimensions in personality development. It boasts of its own, very transparent entrance test popularly known as BITSAT, through the effective use of technology. Teaching methods have metamorphosed into two-way interactions that keep abreast of the digital era where the student can procure knowledge and information from both cyber space and state of art classrooms. BITS Pilani is a stellar example of a place of serious learning. Added to this, is the strong industry exposure students get during the course, which makes its students much sought after during campus placements. BITS Pilani now has three more campuses-in Hyderabad, Goa and Dubai. Prof. Ashoke Kumar Sarkar, Senior Professor & Director of Pilani campus sheds light on what makes BITS Pilani the renowned deemed university that it is today...
The tradition of your institution dates back to pre-independence days. Could you encapsulate the history of BITS from that time onwards?
BITS began as a nursery school in 1901. GD Birla's father established a Pathshala and there were two students then, GD Birla being one. Ultimately, GD Birla left. They went to Kolkata but the school remained. It was made a secondary school in 1922 and then a degree college in 1943. Thereafter, Birla College of Engineering came up in 1946. During the Second World War, the government developed training facilities here for training defence personnel. Once they left, GD Birla decided to have an engineering college here. This was followed by the Birla Colleges of Science, Commerce and Pharmacy which came up between 1943 and 1950 respectively. Our Pharmacy Department is one of the oldest schools in India. Finally, on the occasion of centenary in business of Birla family in 1964, it was declared a deemed university. So, BITS Pilani is working as a University since 1964.
What makes BITS an equivalent of IIT?
Following the decade of the 1960s, GD Birlaji wanted a modern university in India. He used to go to USA quite often and wanted to develop a university at par with those in the US -- with all the modules and positive aspects of USA's educational system. So we signed an MoU with Massachusetts Institute of Technology (MIT) and fortunately got some funding from the Ford Foundation, which lasted up to 1970. They came here and helped us in developing the academic model and our faculty too visited them in the US for better understanding of the model. In fact, IIT Kanpur and BITS Pilani are the two institutions which started the concept of semester system, continuous evaluation and relative grading in India. In those days, most of the universities used to have marks (in percentage) system for the evaluation of performance of a student in the country, so the grading system was unheard of in India. Another trendsetter which was adopted from MIT is the concept of sending students to the industry for six months. In MIT this facility was available only for chemical engineering students. However, we introduced it for all the students across disciplines be it engineering, sciences, pharmacy or management. We always talk about industry-academy relationship but BITS Pilani took the lead in that aspect. BITS has always given emphasis on teaching and also to create an environment for the overall development of young minds of the country. Besides these two, the unique model of industry engagement makes BITS Pilani apart from other institutions.
So, you continue to be the pioneer in sending students for internships in the industry, mid-course.
Definitely. Even now, I do not think anybody has been able to emulate us. What we do is that after the second year, we send our students to the industry for eight weeks. It helps them to get the feel of what it is like working in an industry, what are the different departments, how they operate and in general, to understand how the industry should be run and what are the expectations of industries from their employees!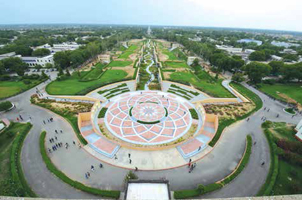 Please tell us more about internship in the industry…
Again, after the third year, when they have completed their discipline courses, they go for their second internship in the industry for five and half months. They are given real-life projects for assignments which are identified by the industry. Our students are required to work on them and try to arrive at solutions. Of course, it is not that it is always possible to find a solution, but quite often they succeed. We divide the final year students in two groups. Say if we have 850 students in the 4th year, we have two groups of 425 each. So, 425 go for this training in the first semester. After they return, the second group will go in the second semester and in the process continuity is ensured. The allotment of semester and various centres are done based on the preference of students their interest, industries requirement and students overall academic performance. Industry offers a stipend to the students and many a time it is quite high and more than what one earns in a regular job. It has been very successful and we are very proud of that!
What are the kinds of industries the students largely go to, for their internships?
They go to all kinds of industries. It depends on the job scenario and interest and discipline of the students. Students these days mostly prefer to go to the IT industry. That is their first preference and many a times, students of Civil Engineering too want to work in the software industry and hence it is based on the market situation. We send them to research laboratories as well, to do some real research. They go to all sorts of industries for exposure but there is a system of allotting. To be frank, it is a very tedious system. It looks into the student's background as well as academic performance to check if the project sent to us by the industries matches with the academic performance and interest of the student. Most importantly, both the internships are part of the course curriculum and the students are graded on their performance as we do for on-campus courses.
Please describe your sprawling campus.
BITS Pilani has an area of about 311 acres and the adjacent area is owned by Birla Education Trust, which runs a number of well-known schools in Pilani and other places. We have residential facilities for all the 320 permanent faculty members who live here. In fact, there are 381 residential quarters in all. There are 14 hostels and the present capacity is 2784 for boys and 683 for girls. One hostel is for the girls, having 12 blocks altogether. For two adjacent hostels there is a large mess. Recently we have come up with a state-of-the–art new mess after demolishing the old one. There are the student activity centres inside the campus. We encourage students to go to these centres for all kinds of activities like sports and other creative clubs. We have tennis courts, basketball courts, football, hockey fields and a swimming pool. Besides having music, drama, debate, and photographic clubs, the students are also having an exclusive club called Raga Malika for classical music and dance and we are very proud of that! Getting into this club is not easy. They are interviewed by the senior student members and they need to give a good performance to qualify for this club. Thereafter, they are tutored by the seniors. This tradition has been followed for the last 35-40 years. If you see their performance, I can tell you that you will be very proud of them, we are too! Besides cultural and sports activities, our students take active interest in design and entrepreneurial activities. At present a group of students is working on the design of nanosatellite and has already applied to ISRO with detailed design for evaluation and sanction. It is in the preliminary stage and the recruitment of students is highly competitive, as the aspiring student has to go through a tough interview by the senior students. Our students have bagged many prizes in designing racing cars too. This campus is very vibrant and three large events, BOSM (sports), APOGEE (academic) and Oasis (cultural) are organised every year and get participants from all over the country. Recently we had a few international participants also.
'After the third year, when they have completed the basic course, they go for their second internship in the industry for six months. They are given real projects for assignments which are identified by the industry. Our students are required to work on them and try to arrive at solutions'.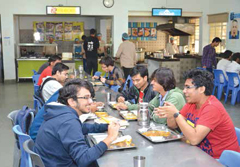 Could you tell us about the graduate and post graduate courses?
We give degrees in science as well as engineering. The engineering streams include Computer Science, Chemical, Civil, Mechanical, Electrical & Electronics and Electronics & Instrumentation. In Science, we have Pharmacy, Bio-Sciences, Chemistry, Economics and Finance, Mathematics and Physics. Also, we have a programme called General Studies offered by Humanities and Social Sciences Department which is an integrated M Sc This programme is flexible, where the students may take up some basic courses and after that we offer two areas of specialisation-development studies and media & communication. We also offer MBA programme.
Are Pure Sciences popular with students these days?
For those who opt for Pure Sciences-based on their performance after the first year-we give them an opportunity to get another degree in engineering. So, those who get into Pure Sciences have an option of getting an additional degree in engineering as well-we call it dual degree. They have to stay for one or one and a half years extra, and in the process they get a BE degree along with M Sc degree. That is a unique system again which we have been following for some 40 years now.
Another USP of BITS Pilani is the BITS entrance examination (BITSAT) which is completely online since 2005 and is fully transparent. A large Question Bank of each requisite subject is being developed by updating it every year. A student can book a date and time slot in any one of about 60 centres from all over India of her or his choice for appearing in BITSAT. The test is conducted for a specified period of time depending on the enrolment in a centre. The student gets her score immediately after the test. Admission to BITS depends on the score in BITSAT. Almost two lakh students apply for admission every year for about 2200 seats available at the undergraduate level at the three Indian campuses.
Do you have a quota system here?
No, admissions are purely based on merit.
British experts, as stated in Wikipedia, have said that BITS helped educate industrialists in India along with engineers who remain in India, in contrast to many other engineering colleges in India most of whose graduates leave the country after obtaining their engineering education. Please comment…
I feel one of the reasons was that students, even then, were exposed to industry right from their curriculum days. They understand the industry better than their peers elsewhere, because they get comprehensive industry training for nearly seven and half months during their programme of study. So, that is why the percentage of students getting into Indian industry is much more as compared to other institutions. However, many of our students opt to go for higher studies after gaining some industry experience.
We encourage for overall development of the students during their stay in the campus and thus students get involved in different extracurricular activities. These extra-curricular activities give them a lot of confidence. Overall development here, I feel, is better than any other institute. In fact, our students will amaze you with their abilities in these activities. We have got certificates for blood donation from the ministry many times. It has become a matter of pride, and we donate 800- 900 units of blood in a day or two! They even go to villages and teach the ones from weaker sections-they are really very socially sensitive and conscious.
'We encourage for overall development of the students during their stay in the campus and thus students get involved in different extra-curricular activities. These extra-curricular activities give them a lot of confidence. Overall development here, I feel, is better than any other institute'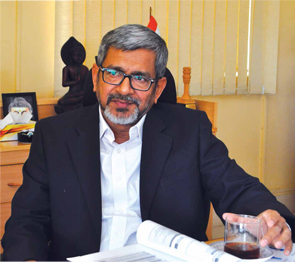 What is the percentage of placement from BITS?
It is 93%, while the 7% are not those who did not get a job, but who did not apply since they were going abroad for higher studies. So, we can say it is 100% placement, but not on paper, since the 7% did not apply for the position in the placement cell.
Do you have any figures for those going abroad after finishing their course as compared to the IITs?
I do not have the numbers but I have worked in IIT for 10 years. I think that tendency is slightly higher there. But here what happens is that students may not go immediately after their course. They go after one or two years. But in IITs, many go immediately after graduation. Here, the ones with excellent records also go immediately as they get into very good institutions.
Another aspect of our training is our focus on entrepreneurship these days. We run courses for them and our alumni from abroad too come as guest faculty to teach entrepreneurship. The students also organise a competition for startups and get about 1200 applications every year. Out of these, 50 of them are shortlisted and then they are mentored by the entrepreneurs. The final function is held in Delhi to identify the best concept and award is given to the team. A kind of culture has now been created in the campus for start-ups and entrepreneurship.
Is entrepreneurship an extra-curricular activity for students?
Yes, it is done by the students. They organise and invite people, educate other students regarding startups. That has become a culture here from the last four to five years. Many of our students are interested in initiating start-ups. In these programmes, alumni play a major role and they help us.
Tell us the vision, mission and role of the Birla Foundation in nurturing this prestigious educational institute?
They take personal interest. I have seen Dr KK Birla who was the chancellor earlier, coming at least twice a year even when he was in his 80s. He was very meticulous about finding out how the institution was working. He would ask us how we are doing in comparison to IITs; whether we are changing courses with the time or not; what kind of books we follow, and so on… After his death, Kumar Mangalam Birla has taken over. He also has evinced a lot of interest. They always say that BITS is the jewel in the crown of the Birlas. In fact, after he took over, several expansion plans got executed. It is because of his vision that we worked on a vision document. What will we like to achieve in the future? Earlier, we used to have short term plans and visions but then in 2009, we decided to go for a vision document. A research-focused institution with an active industry relationship is the plan for the future. Dr KK Birla was also keen that we increased our student capacity. We had 2500 students then. We have added students in a systematic way and our target is over 5400 students by 2025.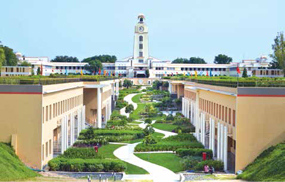 Why did you expand beyond Pilani and establish BITS Pilani branches elsewhere?
We have certain constraints to develop the institute in Pilani beyond a certain capacity. Moreover, it was thought that quality education needs to be offered in other parts of the country as well. Keeping in view the demand for quality education in institutions like BITS it was thus decided to expand in other places. Moreover, we used to get many requests from India and abroad. We got a request from an industrial house in Dubai which wanted to set up an education institution there. Initially, they said that they would provide the infrastructure and we should take care of the academics. We started Dubai campus in 2000. We sent the faculty members and even the director from here. About three years back, we have owned it fully and now, the Dubai campus is solely owned by BITS Pilani. Now, we can say that we have four full-fledged campuses. The Goa campus came up in 2004 and Hyderabad came up in 2008. Even now, there is demand to establish BITS campuses in other states.
So, do the respective governments help you, or is it all private effort?
It is fully private, but the concerned state governments always have helped us and are very co-operative. We have got huge support from the government of all the states where we have campuses.
Are you happy with the quality of faculty which is always a concern even for prestigious institutions like IIT?
Regarding quality, no issue as such, but quantity is! That is the issue that IITs too face -- getting enough good faculty is a challenge. We have a robust recruitment process. When an application comes, we check to see if it meets the ground requirement in the respective department, and the department scrutinises it. Then there is an audio-visual interview. Then it comes to the campus level and then it goes to the university level. There again, a proper screening is conducted. Once that is done, we call them for the final interview. We get at least two experts from our end and two external experts who interview them. We select the faculty based on that and hence there is no issue of compromising with the quality of the faculty.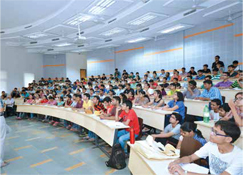 How do you ensure that the faculty delivers?
It is an open system where the students can come and complain to me or the concerned Dean in case of negligence. It does not happen, but I am telling you the process. We have a 24x7 feedback system where the students can give their feedback on the course. We also collect a structured feedback at the end of the semester regarding the course and the quality of teaching. We have been organising intensive teaching workshops for the newly recruited faculty members for the last 35 years. Recently we have established teaching-learning centre in each campus through which we expect to expose our faculty members on the new methods of teaching- learning.
We also provide research initiation grants for the newly recruited faculty members to initiate research just after joining. Moreover we provide competitive research grants to them in the initial stages before they start applying for research funding from outside.
Do you get NRIs as well? Is there any NRI quota?
There is no quota for NRIs. However, we have started admitting limited number of international students through competition based on SAT scores. We initiated the process in 2015 by admitting 25 students in Hyderabad campus. We have started in Goa in 2016 and going to start in Pilani campus in 2017 as well.
Kumar Mangalam Birla is the chancellor and Shobhana Bharti is the pro chancellor, so what have been their vision and contribution?
The institute under their leadership has developed a vision document and we all are working step-by step on a mission mode to achieve defined goals. Special attention has been given in the development of infrastructure. A Rs. 651 crore project has been taken up to renovate the old buildings and construction of new hostels, faculty housing and class rooms keeping in view that we will have to accommodate about 5400 students by year 2025.
How research oriented is BITS Pilani?
We had a research profile earlier too, but for the last six to seven years, we have become research focused. Our profile is improving every year. In this financial year till October end we have been awarded research projects worth Rs.20 crores by various national and international funding agencies. Many of our faculty members are well recognized nationally and internationally for their research work.
IITs have been getting a lot, right?
All the centrally funded institutions get liberal funding from the government and other agencies. As an institution we have been performing at the highest national level consistently for more than fifty years. Thus our plea to the government and other funding agencies is to treat us based on our merit and performance and not on the fact that we are a privately funded institution.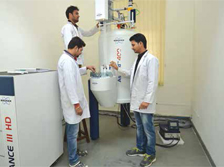 How would you assess students of today as compared to those of yesteryears?
I have been at BITS Pilani for the last 18 years and have the experience of teaching in IIT and universities in Canada, South Africa and a few more. As the society is changing, the attitude of student population is also changing with time. We cannot expect to have the same kind of students we had 30 or 40 years ago. When we were students, whatever the teacher taught used to be sacrosanct. There were not many books available in certain subjects. Now-a-days they have access to so much of information and learning materials on the net. They have all the support systems from outside and thus the role of teachers has been changing continuously. So, to keep in tune with the changing times, we have developed a centre called teaching-learning centre. We are constantly in touch with many universities who have done pioneering research in teaching-learning. This centre facilitates us to do research on how to make teaching more attractive to the students. This is because the same method is not going to work anymore. A lot of research is going on all over the world and India is lagging behind in that. We have taken the initiative and this will definitely help the students. This is one area we are going to focus because the role of the teacher has changed over the years. Earlier, the emphasis was on one-way teaching and now it has shifted to learning. So it is not teaching-centric. Output oriented studies are what we are trying to achieve!
'When we were students, whatever the teacher taught used to be sacrosanct. There were not many books available in certain subjects. Now-a-days they have access to so much of information and learning materials on the net. They have all the support systems from outside'
How about changes in personality and attitude?
That too has changed. Earlier, they used to be much more disciplined and obedient. Now, you do not expect that! They do not take anything for granted and like to challenge teachers. And we, honestly, like to be challenged-teachers always like to be challenged. That makes us more knowledgeable and mature.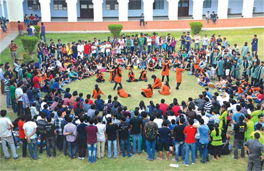 Do you have student counsellors like in other institutes?
We do not have any permanent counsellor, but we have two counsellors who visit the institute for a few days in a month. The students who were under pressure cooker like situation in the last three-four years in school, suddenly find them independent after joining university. Once they reach a good institution like ours, they feel that they have achieved their goals and in the process lose motivation. Sometimes they find it very difficult to adjust, and most of the times they do not know how to use the freedom they have and they get carried away. So, we have an academic counselling cell where dedicated faculty members are available and I, myself, was heading it. We have a wide list of problems from emotional to academics, for which the students can approach us any time. In fact, our faculty members go to the hostels of first year students, dine with them and have interactions with them. We also invite our alumni, especially those who have just graduated, on the first Sunday immediately after the registration of the fresher students to interact with them and guide them on how to grow in the BITS system. You know, at times, gaps are automatically created by the students when they do not listen to us. We give them the same advice, but they listen more to the seniors or students who have been there already. Hence, we use that channel and make the seniors go to them and share their experiences to let them decide what is good for them. From our side, we can say ours is one institution where the kind of care we take of our students is unparalleled. Well, one of the reasons for that is our isolated location, and our d e d i c at i on to develop the tradition over a period of time. Although we agree that our medical facility is not up to the standard because we are in a very secluded place, but in case of any problem, our entire community is there behind us to help. I too liked this when I came here, the entire community is behind us, and this is not just for the students but for the faculty members as well.
Sir, tell us about yourself and your career path.
I was born and brought up in Assam. I graduated from Guwahati University with a gold medal. Then I did my MAS in transportation engineering from British Columbia in Canada. Then I joined as a lecturer at IIT, Kharagpur and did my PhD there while being a lecturer. I always wanted to be in academics and never tried for anything else. After Kharagpur, I got a very prestigious opportunity at the University of Durban in South Africa where I occupied the chair created by the government, in transportation. I was there for two years then I went to a CSIR lab which is again a prestigious lab in South Africa. After two years, I came here to BITS Pilani in 1999. I am quite involved in the PMGSY which connects the villages by roads; I am helping the government in this endeavour for the last 15 years.
What is your philosophy of life?
I believe in hard work and honesty and try to help people as much as I can within the setup of our own constraints.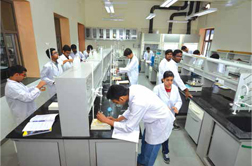 What is the message you would like to give aspiring students of BITS?
My message to any young fellow and not just a BITS student would be, not to go along with the mass. Everybody tends to go towards a particular discipline which may not be good for all. At times, our students land up here without knowing what their discipline is all about, under the influence of external forces. I would say, do research at your end and find out what is your interest while picking up a discipline for specialisation, and not because others are doing it too. You know your interest best and if you pursue that, you will definitely achieve success. I know it is difficult because there is pressure from parents who want tried and tested methods for their children.
Another problem which we are facing is that parents look for the financial package their wards would get after completing their education here. Even students also look for package only. Belonging to the middle class, I agree that the package is important, but that is just one aspect of it. But say, I give you a package and ask you only to count notes. How long will you enjoy doing it? So, it is better to do a lower paying job where you can have exposure to different areas. If you are learning designing, planning, marketing, finance, etc., after a span, your growth will be much faster than the person who gets a high salary today. I tell our students that the first three years in their professional life should be considered as training period. Search for your interest and take up a job which will give you the most exposure. Do look for the kind of job along with the package. If you practice this, after five years, you will be getting a higher salary than all those who got higher packages initially because after that exposure, you can win over any competitor. I would request to the parents also to be patient and they should allow their wards to grow in the areas of their own choice.
You just need to be good in your subject and you will definitely success. I will give you an example: even after retirement a faculty member of IIT, I know him very well, gets an annual package of over Rs. 40 lakhs at the age of 74, which is huge. If you are good, you will definitely succeed. It can be achieved only by hard work and honesty.
By Vinita Deshmukh