COVER STORY : Smooth Sailing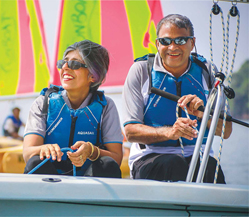 He is a sportsman, determined and introvert, while she is an expert marketer, industrious and extrovert. But they have one thing in common-sailing. For Zia Hajeebhoy, sailing was fun and Shakeel Kudrolli was into competitive sailing. Sailing, they say, brought them together and adds meaning to their life. Today, this enterprising couple is running a successful business, Aquasail, a leisure sailing company. They say they are doing what they love the most and co-creating something that brings them joy and fulfilment. For others it may seem an idyllic dream, but they say that it is also a challenge to integrate a business as unconventional and testing as sailing, with the rest of your life together. Zia is Director while Shakeel is founderdirector of Aquasail. They share with Corporate Citizen how they survive and thrive as life and business partners, define their shared vision and strike a work-life balance
Sailing got us together
Both Zia and Shakeel had a passion for sailing, and for high standards of excellence—same common ground. But it was the love for sailing that got them together, says Zia. They met each other in Mumbai through the sailing circuit. She says, "Shakeel sailed competitively representing the country. I sailed for leisure. Obviously our paths crossed and we felt deep respect for each other. Sailing is a common passion but so is our commitment to excellence and success—we have a partnership in sailing. We also share a very deep common value system which is critical for two people who want to share a life and also a profession."
Life, education and career
Zia is from Mumbai and done her schooling in Mumbai. She then went to St. Xavier's College and passed out with a Bachelor's degree in Economics. Thereafter, she did her MBA in marketing and sales from Jamnalal Bajaj Institute of Management Studies (JBIMS). Her first job was at Hindustan Unilever Ltd (HUL), where she started as a management trainee. "I studied in Mumbai and have always been keen on the outdoors. I enjoyed trekking and sailing and first experienced windsurfing in Goa during college days. My Corporate career with companies like Unilever, Reckitt Benkiser, IL&FS and Monsanto all helped me fine tune the skills needed to create a business and run it. I met Shakeel while sailing and after many years of both of us pursuing our respective professional careers we left our corporate jobs to give wings to our dream of building a world class sailing company in India," she said. She adds that she is more of a leisure sailor, enjoys sailing on weekends and relaxing with friends.
In the 1960s, Shakeel says the Cuff Parade area didn't exist and there were no high rise buildings, like today. "It was the narrowest point on that island part of Mumbai, where on both sides of the road you could just step into the sea. As young children, we spent time on the seashore, catching crabs, swimming in the sea and so on," he said. The comfort and the happiness they had was quite evident, he added.
"Sailing is a common passion but so is our commitment to excellence and successwe have a partnership in sailing. We also share a very deep common value system which is critical for two people who want to share a life and also a profession" - Zia
Shakeel says he accidentally heard about the Sea Cadet Corps (SCC) in Mumbai. A voluntary organisation SCC had been started in 1938 in Karachi (now in Pakistan). After partition, it was relocated to Mumbai in 1948 and renamed Sea Cadet Corps. It is a charitable trust, privately run by volunteers. He added, "I was just 10-year-old when I joined the organisation. I accidentally came to know about the Sea Cadet Corps in Mumbai and I decided to join. The organisation helps build character and confidence in kids using nautical training as a discipline."
Sailing came naturally to Shakeel and he focused on honing his skills and also coaching. He spent over three decades as a volunteer officer in the Sea Cadet Corps. He says, "It gave me the opportunity and the joy of coaching over 22,000 kids. I coached the 1988 Junior Squad that won the Junior World Cadet Championships. I also found time between studies and working to train and went on to win the first Asian Gold in China and then to win at the World Championships in Zimbabwe and South Africa." For him it's all about focus and passion and hard work. At the same time, he was studying at St Xavier's Academy School. After his graduation in Science, he studied law from Government Law College. As his father was a lawyer, he says he also got drawn into law practice.
Career in sales and marketing
Growing up in a family where her mother was a teacher and her aunts were all working women, Zia proudly says, "My family is one where women work and make their mark and I don't think there was any question in mind about whether or not it is possible to succeed."
Zia pursued her MBA, joined Unilever and focused on building a career in sales and marketing. There were a lot of challenges, she says she had to travel a lot to small towns. "In the early days for a woman to travel in rural India and to work in areas which are more male dominated was challenging but also very fulfilling. The companies I worked for were committed to making it work and once again if you are committed and passionate about what you do you are bound to succeed," she said. Only when she looks back now, it gives her a feeling that she had a tough time, but she says, "At that time I only knew that was what I had to do. If you have set your mind to do a great job, you will do a great job."
To work in sales and marketing at that period of time was a tough job for a woman. As she looks back now, and more so as she is very much involved with gender diversity, she says, "You realise that it was not that easy. Compared to the opportunities we had then, women have much more opportunity today. There is flexibility, more opportunity, you can work from home, and there are many businesses where women are more acceptable."
"Because we love the sport, your desire is to make it a success at much faster rate. Your determination makes you get very deeply involved. We however enjoy what we are creating and believe deeply in it. The family too is very supportive and loves what we have created"- Shakeel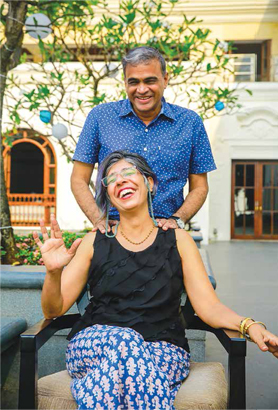 Partnering for business
With her corporate career background, Zia has always been a professional manager, says Shakeel. He founded the company Aquasail, and she joined him after two years. "When I started, I didn't really know where I wanted to go. It would have been very difficult for me to build the business without Zia, as she has the business management background. I have a good knowledge of the product in terms of operational and technical capability as well as risk taking ability. Zia had both the passion for sailing, as well as the requisite skills. It was a logical choice for me to have her on board," he added.
As the company grew, Shakeel found Aquasail needed a strong sales and marketing person at the helm. Zia said, "The passion to build the sailing market is common. The skills we both bring to the table are complimentary. Shakeel brings deep product knowledge, coaching and mentoring skills, and market vision. I bring customer insights and the ability to go to market. On fronts like hiring, we take joint decisions. There could not be a better synergy."
Will you marry me…?
"I was waiting for him to propose to me and he was waiting for my birthday. He proposed to me on my birthday, on 1st December, 1998, and I immediately responded by saying, Chalo let's get married,"says Zia. The interesting fact is they got married on Republic Day, on 26, January 1999, which they say was decided not out of patriotism but because they would get a holiday from work on their wedding anniversary day. But, Zia adds, "He was a sea cadet, so he went for parade on Republic Day. So, all the plan I made went for a toss—now I cannot do anything but go to see his parade."
Understanding each other in life and business
Zia: Nothing in life comes easy but if you believe in something you make it work. Couples who work together must have common passion and common values. The complimentary skills are obvious but not enough. Both must believe in the final end goal and that is what Shakeel and I share. It is also important to be disciplined about the framework within which you work. I would say that if couples have to work together, they really have to think about it. If you don't have a common passion, then I don't think it's a good idea. But, because I love sailing and I am so passionate about it and he loves sailing—so the vision is the same. With common passion and complementary skills, you can segregate your roles. A common vision is also very important—then it is worthwhile. It can at times consume you, but you have to be disciplined about it. Otherwise it can get into your home life, your personal life—it shouldn't be like you go home and at dinner or breakfast you want to talk about it.
Shakeel: It is difficult—you have to be disciplined. I respect her judgement on marketing matters and she respects mine on the operational and technical requirements of the business. I bring the deep product knowledge and total clarity of what I want to achieve and how. Combining this with Zia's customer experience and knowledge of how to build markets and products is what makes us a successful entrepreneurial couple. There is also deep respect for each other's capabilities and a high commitment to succeed. We believe the sum of the two parts is larger than the whole.
Managing work-life balance
Shakeel: That has been one of the biggest challenge for us. This is completely uncharted area, we don't know where this will grow, how fast it will grow. It requires a lot of persistence, deep involvement and it can be all consuming. And also because we love the sport, your desire is to make it a success at much faster rate. Your determination makes you get very deeply involved. We however enjoy what we are creating and believe deeply in it. The family too is very supportive and loves what we have created.
Zia: I think people who are committed to excellence are single-minded. Shakeel has always been focused and it has worked for him. He spent free time and holidays sailing and focusing on the Sea Cadet Corps or sailing and later on his career. What works for him is that he is a very deep and authentic person and that helps him build relationships and connects at a very deep level. So we find time to connect with each other and with the family and the very large group of friends. The important this is to have purpose and to believe in what you are doing and to love doing it and work life balance automatically takes care of itself.
How would you describe each other?
Shakeel: Zia is more extrovert, she enjoys friends, relationships and connects with a lot of people. She is of course very talented, good in music, communication, very creative, and very good at connecting with people. She is exceptionally diligent, has a talent for detailing, has immense capacity and energy to work. I marvel at her exceptional hardworking capability.
Zia: He is very single-minded and focused, with a very strong passion for sailing and immense talent for sports. As a person he is an exceptional leader—authenticity is a very strong leadership skill, which he has and is inherent to him. He says he doesn't connect with people and he is an introvert, but whoever he connects with, he makes a very deep connection.
Dream Sailors
What dynamic husband-wife duo, Shakeel Kudrolli and Zia Hajeebhoy have done is taken the sport of sailing and created it into a tourism product—bringing the joy of sailing to others. They started Aquasail with the desire to grow leisure boating. Today, they are pioneering the leisure sailing industry in India. Their brand is all about sailing, engaging and getting wet, they say. Shakeel is passionately into sailing, Zia is a marketing and sales pro and with these complementary skills, they make perfect synergy. The journey they say happened because they reached out to people and people believed in them. In an exclusive interview with Corporate Citizen, Shakeel and Zia talk about their entrepreneurial journey, how they got attracted towards their natural talents, and how they brought their dream to succeed
Corporate law is big money. Moving out from the law profession and then getting fulltime into sailing—how did that transition happen?
Shakeel: One has to balance things—whatever free time I found, I spent on the water after studies, work, coaching and volunteering at the Sea Cadet Corps. Nothing is easy but when there is passion and focus, one gets the energy and the drive to achieve. Discipline is required and I would train early morning, get to office and find the time for sailing, coaching and the Corps.
As a lawyer I enjoyed law practice and I enjoyed arguing in court. I also then moved on to more corporate work, doing intellectual property rights, technology law, and cross-border transactions. It was an exciting period. The idea of Aquasail emerged and I found myself focusing on wanting to achieve a dream of getting people to sail—safely and responsibly. I gave up the law practice, after having practiced law for over 20 years. Commitment is required to make anything succeed and we have not looked back—we now have 80 boats, 3 sailing centres, 29 global destinations and 30,000 customers who have sailed with us. The dream of course is to create a truly vibrant sailing community in the India.
Tell us about you being selected for the Asian Yachting Championship in 1989, in China?
Shakeel: I was the National titleholder in 1989 and won the selection trials and represented the country. We managed to beat the 3 time Asian games gold medallist and won the first gold for India on international waters taking the competition to a different level and bringing India and Indian sailing into focus on the world map.
How was the journey to becoming a world championship?
Shakeel: The focus was not to become a world champion but to excel and peak in sailing. I somehow knew I had the talent. The tough parts were getting equipment, getting recognised for the talent—I did not have access to funding and also in those days there were severe restrictions on getting equipment from abroad. But as they say, 'Where there is a will there is a way.' I started with second hand equipment and a second suit of sails. I Dynamic Duo: 45 Zia Hajeebhoy & Shakeel Kudrolli started doing very well at the national levels. The lack of resources made the journey longer and harder but today it was well worth it—that taught me much more than sailing and the lessons are invaluable and the rewards so much more fulfilling.
"The draw towards the sailing was too high-I felt that this was something that I needed to do, that I need to get people on the water. Commitment is required to make anything succeed and we have not looked backwe now have 80 boats, 3 sailing centres, 29 global destinations and 30000 customers who have sailed with us. The dream off course is to create a truly vibrant sailing community in the India" - Shakeel
Once the skill was recognised there was no looking back and I went on from the Asian Regatta to compete and win at the world championships. What of course gave me most pleasure and pride is the training of young minds to believe they could win and in 1988, we won the Junior World Cadet Championships when I was the coach of the Indian squad. I set up a full training programme never done before in India, with mental training and getting kids to experience monsoon sailing to prepare them for tough conditions abroad and it worked – the kids started believing they could win which is half the battle won and they trained as a team ultimately bringing home the Gold. Many of them are highly successful and fulfilled individuals and nothing gives me more pleasure than to meet some of them as they successfully cross important milestones in their personal and professional lives.
What was your aim in founding the Indian Marine Federation?
Shakeel: Any industry to grow requires a congregation of like-minded people in the trade—to come together and work on policy, safety, on engaging with the government and all the stakeholders. The industry was growing and norms are required and someone had to get people together to share a common vision, to define self-regulatory rules and to help define sensible policies that would help all players and customers alike. We took guidance from age old organisations like the British Marine Federation and worked on our constitution and are working on getting members to put help champion the industry needs and imperatives so that all can benefit from the growth of a vibrant leisure boating industry—growth that is responsible and sustainable.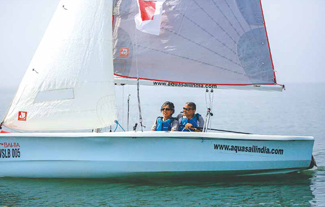 How did you get into entrepreneurship and convert your lifelong interest into a business?
Shakeel: For an entrepreneur to succeed first and foremost you need a vision—a clear vision that is beyond just a business goal. However, you must have the maturity and the capability to convert that vision into a commercial success. Passion gives you the energy and the resilience, but business acumen is required to translate that into a commercial success. We started with one small boat and now have a fleet of 80 boats and three world-class centres delivering a range of product experiences catering to diverse market need. We are truly pioneering leisure boating in the country. The business models is based on my observations on how the rest of the world developed but keeping in mind the uniqueness of the Indian customer.
What did you aim to do through the products Aquasail offers?
Shakeel: For me, it is growing the sailing market and to evangelize the sailing to create a destination of sailing in India and also a vibrant community of people who love to sail.
We have built clear product segments and verticals catering to experiential markets, to those seeking a hobby and to those seeking a lifestyle. We have club memberships and holidays products. We have developed unique products for Corporate India including team building, client networking programs and superb formats to deliver reward and engagement and learning based experiences. In a short time, we have created a brand that stands for 360 degree sailing and also for highest levels of safety and quality.
You have been coaching youngsters for the last 20 years, is the sports catching up with youngsters today as competitive and leisure sport?
Shakeel: Again, it is about opportunity and about evangelising sailing. In a new market you evolve the market and the market evolves with you. In a short span of time we are confident that people will move from trying or experiential sailing to learning and sports based formats. Sailing is a multi-dimensional sport catering to adventure, leisure, relaxation, training based and more. Aquasail is unique in the suite of products we offer and the quality we deliver for a diverse set of needs and a unique target audience.
Every youngster today wants to be an entrepreneur. How do you see this growing trend?
Shakeel: I think there are many opportunities today within organisations that allow people to indulge in entrepreneurship without actually taking the risks of running a business. It sounds romantic to be an entrepreneur but one must have a great idea, be passionate about it and the knowledge of how to translate that into business success. One also has to have deep resilience and knowledge on matters which may be quite mundane but key to success like cash flow management, building teams, managing for profits etc. Also key to running a business is the ability to stay on and make it work. One has to face unplanned challenges and obstacles. So excel in whatever you do and do it for the right reasons—whether running a business or pursuing hobby or a professional career.
Zia: It is important to have the right reasons to be an entrepreneur. There has to be deep drive that is sustainable, a great idea and the ability to back that idea with execution. Entrepreneurs dream but successful entrepreneurs dream and make it a reality by focusing on nuts and bolts of the business. It also requires knowledge of the domain area. So as long as the reason is strong and sustainable it's great. But, today's youth also needs to realise that opportunities are vast in the professional world and they must know their own mind set and personality before embarking on an entrepreneurial journey. Then again, nothing ventured nothing gained or as we say in sailing "A ship is safe in harbour but that's not what ships are meant for". So if you want to be an entrepreneur do it for the right reasons and be prepared for a long journey.
Has your earlier work experiences, helped you in your entrepreneurial journey?
Zia: Yes certainly—the how to do things, the ability to build a foundation for growth comes from the corporate experience I was fortunate to have— for example we have invested in CRM, SOPs, data management and IP all of which are key to build sustainable growth. We also built a great support system along the way and people have been amazingly helpful at different points in time on our journey.
At Aquasail it is all about teamwork, how do you prepare your team members for role play?
Zia: There is no comfort zone in start-ups and people who succeed are those who are problem solvers, builders and people with positive attitudes. Shakeel is a motivator, he is a coach, and he is an inspiration. I bring in processes that help people perform. This combination is what helps create a team. What binds a team is ownership and a common vision and in a start up there has to be a passion for excellence and high levels of resilience and an undying attitude to win.
Did you face problems initially while setting up your leisure boating business in India and how did you overcome them?
Zia: Problems are always there—regulatory, setting up of financial systems, finding the right talent at the right time. However, we have found the market support to be positive and the trends are highly encouraging. We also innovated considerably, literally creating market segments out of nothing—and that is a rule in new markets that there are no rules on market creation. You have to find opportunities and select the right ones to back.
Shakeel: Being focused on what one wants to do and not do is also critical— and choosing the opportunities to ride on and letting go those which don't fit into our vision or plan. Sailors by nature are flexible and the sport of sailing taught me to tack when the wind shifts but to keep my eye unfalteringly on the goal. And that has helped through this journey. We spotted opportunities, we created some and we slowly built the dream we had—no short cuts at all.
How did you benchmark your products and courses to international standards?
Shakeel: I have travelled the sailing world during my competitive period and already had in depth knowledge which is quite unmatched. When I started Aquasail, I visited and studied different sailing companies focused on different market segments as well shared experiences and thoughts with leading personalities at boat shows and other events. We were hosted by many and all of these helped us pick and choose our strategy. We picked the best of all observations—top boat brands, high quality equipment, right processes and SOPs. However one fundamental rule—we customized significantly to our knowledge and understanding of the Indian market and the Indian customer. This we believe makes Aquasail equal to the best of the sailing centers in the world. In fact in many ways we are actually better—we are unique in the range that we offer and we have products that no one in the world has delivered so far and have really catered to a market for the first time sailor.
Tell us about the progression of Aquasail from a simpler to a more complex form.
Shakeel: In an early market, it is about creating simple, to understand and execute products. However, our vision is to grow fast so we have a range catering to diverse needs. We therefore have verticals—Retail and Corporate Sailing and within each we have product formats that deliver diverse objectives. For example, a person can simply come to try sailing or they can learn and keep learning with us going thru a range of certified courses. On the corporate front organisations can simply use sailing as a onetime exciting dimension to a conference or take it to the next level as a training and leadership tool. All this has been fine-tuned in terms of product design, pricing and delivery framework based on deep customer insight and feedback. The result is 500-plus corporate organisations and 30,000 delighted customers and growing.
But how will you define Aquasail growth over the years?
Shakeel: Growth can be defined in many ways: getting new people into the sport, defining your pricing, defining your product, finding processes, seeing acceptance for a particular product. We have gone into deep detail giving real value to the customers. I would define my company as a leisure boating solutions company. If you give me a brief, I will provide a solution using my sailing practice.
We have been very careful on our capital investment into boating. We have spent a lot on building the products, building the market for the product, making sure the product is really right because of its quality. Presently I think we can scale up this business in many ways. It's all a factor of investing and marketing and investing in resources, there is nothing else I need to do. It has a market here, but you need the right resources. I will not allow any compromise on safety or quality.
"Entrepreneurs dream but successful entrepreneurs dream and make it a reality by focusing on nuts and bolts of the business. It also requires knowledge of the domain area. So as long as the reason is strong and sustainable it's great" - Zia
How can sailing be a team building activity and be part of character building for school children?
Zia: Sailing is a team sport, which involves leadership and team building skills–more or less like how you handle company management dynamics. In company dynamics, the biggest challenge is about dealing with uncertainty, change, adapting, working with the team—with different strengths and different levels of capability. When you make a person sail a boat, he has to deal with many variables. Sailing has the maximum number of variables, which makes it an ideal sport. Then it's got team dynamics. With Shakeel as a racer and the combination of the boats and people we have, we are able to organise first timers' racing events. In racing event you have a goal, which is to win, come first, to sail well, to do better in each set of races—it's like a business environment. So, we use all those metrics related to business. There is a very powerful sailing term that we use, "You can't control the wind but you can adjust the sails". So, when you look at it like that, it makes business sense.
Shakeel: Sailing moulds a child – teaches him respect for the environment, it develops self-confidence and self-esteem. I have coached and taught more than 22,000 kids through the Sea Cadet Corps and have seen many transform and grow. Many draw on their sailing experience as a child in their adult life. It is a life skill which is invaluable. At Aquasail I use my deep experience as a coach and a sailor to ensure that kids who come and sail really enjoy every moment on the water and for them it is often a self-discovery that can be transformational. We teach much more than sailing—environment consciousness and respect for the sea, for equipment and for each other. It is a life skill we impart.
By Rajesh Rao