CRADLE OF LEADERSHIP : Challenges of a New IIT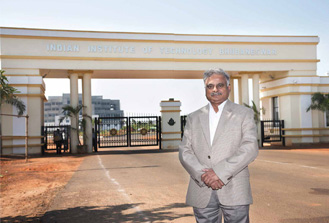 Prof R V Raja Kumar, Director, Indian Institute of Technology, Bhubaneshwar, and a Professor in Electronics & Communication Engineering speaks about how IIT Bhubaneshwar came up from scratch in 2008 and how in a short span of time stands tall on its own sprawling 900 acre campus, providing education to over 1250 bright engineering aspirants of the country and aims to find its place among the top IITs in the country through academic and research excellence
"If you have money, it is easy to build the physical infrastructure. Most important, however, was of raising quality faculty, the most important of resources, and ready interim infrastructure to run the operations. That was the issue. Getting the right faculty remains a challenge even today. This faculty scarcity exists since all the IITs recruit from the same pool of available PhDs in the country"
You have always been an academician. Tell us a bit about your educational journey.
I have always been in academics. I did my engineering from Andhra University in Visakhapatnam. After that I did my masters as well as PhD from IIT Kharagpur. While pursuing my PhD, I was selected for faculty position at IIT Kharagpur. Initially, pursuing a career in academics was not on top of my priority. My dream was to take part and contribute through a lead role in Research and Development for big national projects. But then an academic career, I realised, has a beauty of its own, dealing with students, not with machines. So I continued in academics and also pursued my other dream of contributing to important national projects like, for example, designing of communication systems and sonar systems for defence through DRDO, besides other projects executed for companies. These systems are in use by the defence sector, today. So while serving as a faculty at IIT Kharagpur I could also contribute to such national projects. Now, for the last six years I have been engaged in institutional creation through founding or near-founding assignments as Director or Vice Chancellor.
Tell us about the birth of this new IIT in Bhubaneshwar. How was this institute begun from scratch?
Let us go back 15 years. How many of our youngsters had the opportunity to get educated in IIT after their plus two? Merely 4,000 to 5,000. The next 10,000 aspirants were also nearly equally brilliant and deserved IIT quality education. Therefore, with the objective of providing admission to a large number of such meritorious students, new IITs were started. One difficulty was that each of the eight new IITs started simultaneously. They should have been spaced apart. But not having opened an institute for a long time, perhaps the ministry thought that these institutes should be opened simultaneously and it is possible to have them come up at the same time.
Thus IIT Bhubaneshwar was started in 2008 along with its seven other sister institutes. I was a professor at IIT Kharagpur, heading the Vodafone-Essar_IIT Centre of Excellence in Telecommunication. IIT Bhubaneswar got started with IIT Kharagpur playing the mentoring role. Students were admitted and they were taken to IIT Kharagpur. The first batch of 120 students lived in IIT Kharagpur for one year.
Prof Damodar Acharya, by being the director of IIT Kharagpur, acted as the director of IIT Bhubaneswar. MHRD requested the state government for space and the response from the state was quick. I heard that Chief Minister Naveen Patnaik was keen that the IIT should come up on a sprawling land of around 1,000 acres. So the state government generously provided land of 936 acres.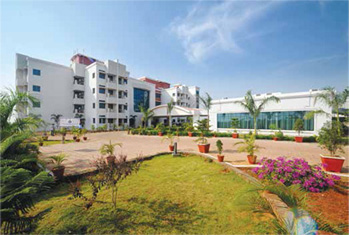 What teething problems did you face?
If you have money, it is easy to build the physical infrastructure. Most important, however, was of raising quality faculty, the most important of resources, and ready interim infrastructure to run the operations. That was the issue. Meanwhile, there was a concern about availability of quality faculty adequate for the eight new institutes in the country. Almost about a couple of decades back, there was concern in the country about the number of PhDs produced in the country.
So, fortunately, it was out of that concern that the IITs had enhanced their PhD intake. Therefore the turnout of PhD scholars was good to some extent, and it helped IITs to recruit the best of them for faculty positions while a fraction was raised from applications from abroad. However, getting the right faculty always remains a challenge even today.
This apart, in the meanwhile IIT Kharagpur lent its extension centre located at Bhubaneswar for use by IIT Bhubaneswar for its operations which could be started at Bhubaneswar in 2009. Also subsequently the state government gave part of Toshali Bhavan which was unfinished to IIT Bhubaneswar to serve as an interim infrastructure. Construction of the permanent campus was started in 2011. Somehow, the academic infrastructure was not ready even by April 2015, when I took over as its Director. Getting the infrastructure ready from the Project Management Consultant (PMC) and shifting the operations to the permanent campus was a very big challenge.
You have called for applications for permanent faculty from across the globe. Is this unprecedented?
No, we conceived this global search for faculty ambitiously and consider it as a crucial step. Through this process we intend to reach out to NRI PhD students and bring a select of them back to India in the role of faculty of IIT Bhubaneswar. Though some IITs have done it earlier, we are going global one-step ahead with several innovations.
We are inviting applications for selections to be carried out at Boston and Los Angeles from across global universities. We are going to draw experts from reputed universities abroad into our selection committees and carry out permanent faculty selections. Also we have been sending notifications for faculty positions to several universities.
In the beginning, the Bhubaneshwar IIT campus was spread elsewhere besides the IIT Kharagpur premises…
As I mentioned, IIT Kharagpur accommodated the first batch of IIT Bhubaneshwar in the first year, i.e., in 2008. Later some constructions were quickly made in the extension centre of IIT Kharagpur at Bhubaneswar and the students were moved to Bhubaneswar in 2009. A large sized workshop building was constructed to accommodate some laboratories and classes. In the space of IIT Kharagpur at Bhubaneswar two small buildings and a hostel were constructed to serve as transit infrastructure. Newly constructed apartments belonging to bank officers but which were not occupied were taken on rent. So we converted 200 such apartments into a hostel and also as faculty quarters. That's how the beginning was made for IIT in Bhubaneswar. Subsequently, Toshali Bhavan, where I operate from, was identified for administration and to house a few of the Schools. It belongs to the Govt. of Odisha and at that time it was unfinished and unused for several years. The state government offered this facility to us. IIT Bhubaneswar completed the finishing work and it became another transit campus. Another building was taken in Madanpur to serve as a hostel. Even the laboratory equipment was put up in the premises of the Institute of Minerals and Materials Technology (IMMT) and some Workshop equipment was put in the Central Tool Room & Training Centre (CTTC). IIT Bhubaneswar has been operating from eight different transit places till June 2015.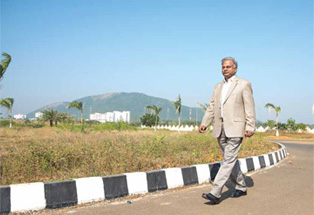 So when did it finally move to the present campus at Aragul?
When I joined as Director, IIT Bhubaneshwar on April 22, 2015, I asked colleagues about the date for moving to the new campus. The initial uncertain plan was to move 50% of the operations to the permanent campus as soon as an academic building was available, which meant the year 2016. I found out that two hostels, the mini market, guest house and one block of staff quarters were ready. It did not take time for me to decide about what to shift and said, 'We are moving all students and some staff to the campus in July 2015 itself.' Only two months' time was left from May to July. I found newspaper reports from early 2013 onwards saying that IIT Bhubaneswar would be moving to the new campus in the next six months, but that did not happen till mid-2015. So it was a constant six months away, and unless a drastic step was taken to make a beginning, the same status would continue. It would seriously delay the growth of IIT. To shift academic operations or administrative offices, there were no academic buildings any way near the completion stage. So then it seemed practical to shift the students into the hostel buildings that were ready and provide them good transport service to bring them to the various transit centres in the city. We had to work on a war footing, put up all services including a make-shift, round the clock medical facility in the staff quarters, filled the big gaps in the boundary wall (the largest one was nearly half a km in size) against stiff resistance from some local miscreants by providing police protection to the contractor and officers of the PMC and made it habitable. Unless we completed it by mid July, the new semester would begin and we would not have been able to move till the beginning of the next semester, i.e., Jan 2016. We shifted the students, volunteering faculty and staff families to the permanent campus on 18th July 2015. Then on, steadily, we began working on the completion of the Aragul campus by claiming speedy construction, weekly inspection for quality check and regular progress monitoring, applying pressure on the PMC. By the end of December 2015 we got one lab complex, equipped the same within one week through several proactive steps and we promptly shifted academics of the first two years of BTech to the complex by the beginning of Jan 2016.
Subsequently, the buildings of the Schools of Electrical Science, Basic Sciences and Civil Engineering were completed in July 2016 and we shifted all classes and the majority of the laboratories to the new campus. In almost all the buildings some unfinished works and defect clearances are pending, but it did not deter us from shifting, and we have been engaged in getting these done, though after occupancy. By August 2016, 85% of the operations of the institute have been happening in the permanent campus, starting from zero one year back.
How many of our youngsters had the opportunity to get educated in IIT after their plus two? It was merely 4,000 to 5,000. The next 10,000 aspirants were also nearly equally brilliant and deserved IIT quality education. Therefore, with the objective of providing admission to a large number of such meritorious students, new IITs were started
So instead of students continuing to stay in the bankers' colony you shifted them here?

Yes. From three different locations where they were staying, we shifted the students to one location in the Aragul campus. What I realised was that if you do not move aggressively, the procrastination would continue and that would not be not good for the reputation of the institute. Some of our colleagues felt, certainly with a good intention, that girls should be shifted subsequently for security. I said, "Shifting girls subsequently will unsettle everything. All that we need is extra standard of security. We will put security of that standard right now and move them." All my colleagues supported the decision, and worked on a war footing with me in this endeavour. We put all types of services like telephone, networking, electricity, water, security, house-keeping, mini-market, hospital, ATM and catering and made them operational. Overall, we could save a lot of money going in the form of rentals and other facilities. Within one year, 85% of all our operations have been happening at the Aragul campus, housing 1250 students. The students could get their much needed hostel and campus life and stability for the institute.
Is this the biggest IIT campus?
Typically a new IIT has around 500 acres of land; IIT Kharagpur has the largest campus as it rests on 1,400 acres. And of course the second largest is IIT Bhubaneswar. We presently have 1,250 students because from this year, the BTech intake was increased from 180 to 260. And from the next academic year we are going to increase the student strength by another 90. We are doing this in spite of shortage of hostel facilities (our two hostels at the permanent campus were already saturated in July 2015) to compensate for the earlier shortage of growth and to match with the mandated growth. We took a hostel of NISER which is only 3 kms away from our campus and housed the postgraduate students there to facilitate the growth. Around 60 of our research scholars are still at the IIT Kharagpur Research Centre. MHRD set a target of 2500 students by 2020, to help serve the aspirations of the society. The next phase of construction of hostels, play fields and academic buildings is now being taken up.
What makes a class of institutions differ from another class is its academic culture. IITs are known for their academic culture and standards. Academic culture is defined by what typically happens between the four walls of a classroom, a laboratory, what kind of examination is held and how students pursues their studies and how a teacher takes their classes
Coming back to the question of increasing the number of students for IIT admissions, could you elaborate on how it would not affect the quality of students…
There are serious challenges in raising quality while expanding. But the challenges can be faced and taken care of if we work in a spirited manner. I would like to quote from my previous assignment, wherein I was the first full-time Vice Chancellor of Rajiv Gandhi University of Knowledge Technology (RGUKT), in Hyderabad. It is a six year B Tech degree course and it was started with a startling and very risky figure of 6,000 students. Have you heard of any institute starting with 6,000 students in its first batch? The new IITs started with an intake of 120 because that is reasonable. Added to that, selecting rural students, making them employable with no history of the university, was another formidable task. But I believe that nothing is impossible. I took up the challenge and worked to make it a reality.
Tell us about the difference between a new IIT and an established one…
For a new institute, it is always easy to script its future history at a higher level than a senior IIT and work towards that and make it happen. It is easy to create a better beginning than to start with a lower beginning and make a cultural change later, because the cultural change is the toughest thing and also you may make a lot of enemies who may create nuisance and hamper constructive work. Therefore new IITs and for that matter, any new institution, has a very high potential to have a better beginning than a senior IIT and realise it. New IITs can leverage on the well-established brand name of an IIT. Today, the eight new IITs started in 2008 are already established to certain levels. The academic and administrative practices are almost like the senior IITs because people from the senior IITs have gone as directors, though there are some variations in the culture across them.
What exactly do you mean by 'difference of culture'?
What makes a class of institutions differ from another class is its academic culture. IITs are known for their academic culture and standards. Academic culture is defined by what typically happens between the four walls of a classroom, a laboratory, what kind of examination is held and how students pursues their studies, and how a teacher takes their classes. On high level attributes, it depends on what standards of education happen, and on the low level attributes what percentage of classes are typically taken, Also the type of home/self-work assignments given to a student and even the standards of question paper and research carried out by the faculty also come under academic culture. Certainly, the quality of faculty is an important factor in defining academic culture. After academic culture, comes governance and transparency and then infrastructure. The academic culture and governance of the new IITs are almost the same as the old IITs, whereas the infrastructure is still coming up.
So do you rate Bhubaneshwar as among the highest?
I would say that so far, it has been somewhere in the mid-range of the new IITs, but I am hopeful that within a year from now, it will come to the forefront of the new IITs. On some fronts, we are also aiming to be ahead of the senior IITs.
What about the students' culture? Youngsters everywhere, in any profession, have a certain psyche, mindset, and attitude. What have you observed?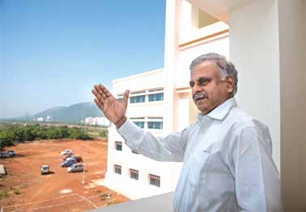 In the past when I myself was a student, what the students used to ask for was, treat us as equals and give us representation in the academic senate and other bodies. Now, unfortunately, parents have been typically distancing their kids from the society in the name of cracking the entrance test. They are sent to coaching classes after school. As a result, general awareness and proficiency has seriously come down, despite the availability of the world of information at the touch of a key. Creative pursuits are put on hold - all in the name of success in the entrance test. Most of the coaching centres concentrate on examination success than actual enlightening, development of critical thinking, intuition and analytical capabilities of a student. That is not education and it is undesirable at this crucial stage of development of the student.
Therefore, normally when the students come here, we find that they also need to be trained on what is right and what is wrong. A fraction of them appear to be burnt out by the coaching centres and show lack of interest in education, in spite of having cracked the JEE. Today they appear to be more guided/misguided by seniors rather than self-guided. Also we find a lack of variety and variation in thinking, whereas we desire and expect a lot of diversity. A number of them are still mould-able and therefore there is a good chance for bringing them back to education in their chosen direction.
Only a small fraction of them have the habit of reading newspapers. General awareness is very low and therefore you need to bring in a culture where you promote general awareness and give them an opportunity to carry on creative pursuits. I will give you an example from my experience here. Because of the huge campus, we had to provide transportation for mobility between hostels and academic buildings, initially. Certainly I did not like students waiting for up to even half an hour for the bus and wasting their precious time, instead of walking or cycling in the beautiful and green environment. Therefore, we encouraged them to adopt the cycle culture which got set in to some extent only with some level of reluctance. Then, one fine morning, we declared in advance that from the next month onwards the buses would be withdrawn. To show their displeasure, students got misguided and boycotted classes for one day before listening to the logic behind the move. That was not expected from a mature IITian. Of course, now they acknowledge that with a change in the culture, their physical reflexes and activeness is much better. I am sure that I don't need to mention here about the benefits of cycling and expected the students to understand the wellness aspect of the cycle culture and never expected them to use the boycott mechanism to communicate to us.
But did the boycotting continue or did you put the buses back?
No. Fortunately, they returned to their classes, but after being counselled. Certainly, they needed counselling in such cases too. It is 100% cycle culture now. We didn't put the buses back. Now they keep coming and saying, 'Sir I am feeling so good!' Almost 80% of them go on bicycles, and the rest by foot. Earlier, if you asked them to run for 200 metres many of them found it difficult. Now they are able to run.
Tell us about your effort to make IIT Bhubaneshwar a green campus…
The campus had some greenery earlier with cashew trees. Unfortunately the cashew trees were cleared to a good extent when the buildings came up. But then it is such a huge campus and a lot of valuable plantation can be done. Therefore, after my joining, we took up massive plantation drives. During the last year we planted about 5000 trees, and 15000 this year. They were all theme based plantations. We have over a 21 km periphery and we planted 7000 teak trees to cover the entire periphery at 3 m spacing. The ones we planted last year are already eight to ten feet tall. I didn't want to wait and in order to get the value we did peripheral plantation even in the other three campuses which are not inhabited-we broke open and made them accessible. For the avenues within the campus, we planted 10-12 feet tall trees to give a mature look. As a result, suddenly within a couple of months, people found out that the campus looked different.
How many trees are there now?
We have almost 20,000 trees. Last year it was 5000 and now an additional 15,000. So we have about 20,000 trees planted along the periphery and along the roads, and all as per some theme. We had mango orchards with 62 varieties of mangoes. That's the exciting point. Then we thought we will plant some small varieties of trees also, like blackberries which have additional value. We also have amla, blackberry, litchi as well as several flowering varieties. The avenue plantation is of the flowering type with multiple colours. When it is in full bloom, it looks like a garland with multiple colours over stretches of 250 mts each. Then, we went in for some leafy varieties and some medicinal varieties of plants like neem and kadamb in the second row along the avenues.
"Bright students from IITs are not coming forward to join research programmes. We want more and more BTech and masters' students to join our PhD programmes. How to do that? Creating high valued fellowships is one way"
Do you use solar energy?
Yes, in fact the campus is planned such that it draws zero energy. Whatever is our energy requirement, is generated within the campus. And we also have zero discharge-reusing waste water. it is available in abundance and it needs disposal.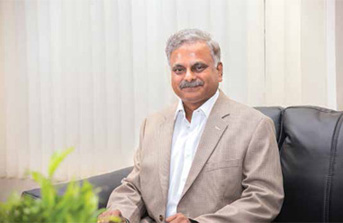 IIT Powai and others get huge funding from big corporates. How is the situation for Bhubaneswar IIT?
Actually, right now the HRD Ministry is providing the fellowships to PhD students from IITs and NITs. This fellowship is sizable, even a man and wife can live on that, after paying the institute fees.
But in spite of that bright students from IITs are not coming forward to join research programmes. We want more and more BTech and masters' students to join our PhD programmes. How to do that? Creating high valued fellowships is one way. Some industries and well established alumni of senior IITs have been coming forward to create endowments to provide high valued fellowships. While industries are coming forward to institute such fellowships at the new IITs, it will take some time for the alumni to rise to the level of creating fellowships.
HRD Minister Javadekar was talking about giving autonomy to IITs...
IITs are governed by a Board of Governors. The finance committee has a government representative and follows government approved salary structures for faculty and staff, government rules for procurement of equipment and building infrastructure and for staff leave. IITs enjoy academic autonomy and flexibility and scope for innovation. Common issues of the IIT system is dealt by the IIT Council comprising Chairpersons of the Boards of IIT, Directors of IIT, Secretary of MHRD and chaired by the HRD minister.
The present model is working out well. Certainly, as Director I cannot go overboard and take a brilliant faculty member at a salary higher than what the government has fixed, nor can I fix up and order procurement of equipment worth Rs. 1 crore within a day, bypassing government financial rules. While there may be some rare instances when a director may feel constrained, most of the times a director may feel like going as per commonly accepted, or government approved norms. Autonomy is important for creating excellence, and certainly IITs enjoy a relatively higher level of autonomy than other categories of institutions today.
What is your vision for IIT, Bhubaneshwar, in the next five years?
Thank you for this question. Personally, I would like IITs to be amongst the top global class institutes and IIT Bhubaneswar may be smaller in size, but should be nothing short of the top three IITs in the country as far as standards are concerned. What counts is the faculty, academic culture including programmes and teaching-learning, research, governance, and infrastructure. I called upon our faculty and staff to stop thinking that we are a new IIT in functioning and in spirit.
Soon after my joining, I realised that while there were some strengths, there were some gaps in the institute's culture. Though it is not easy and also not appreciated, I have personally engaged myself in fixing the gaps, particularly those in the culture. A good part of the work has already been done with fairly good success in the last one year and it will continue for one more year. I took the preparation of a perspective plan for growth on my shoulders, involved all and created a detailed one, including academic programmes. Very high standards are being adopted in faculty selection. Thanks to the central government, each of the IITs started in 2008 is sanctioned a grant of around Rs. 1200 crore for the next three years, for the institutes to grow and I am confident that we would be able to achieve a good level with that. Though in the process we are ending up with numbers, there is no short cut, we shall be patient and shall raise faculty of global class. To get adequate numbers, we are going across the globe in search of faculty. Next month we will have selections abroad, apart from in Bhubaneswar.
Students are the main stakeholders. We collect student feedback about teaching of courses and teaching standards, centrally share it with the faculty and use it for positive purposes. Faculty who have exhibited excellence in teaching and research are felicitated every year. Efforts are being put to make the education holistic, participatory and encouraging creativity and innovation. The existing design and innovation centre is going to be expanded many fold in size and objectives. We give high importance towards finding solutions for national and regional technology-related problems. We are focusing on areas like energy, water, climate change, waste utilisation, affordable infrastructure, rural connectivity, micro-manufacturing, energy materials, Internet-of-things and signal processing.
Do you have Counsellors for students?
Yes, particularly because students need guidance, more today than yesterday. Fortunately, I have found that the student culture here has been better than in senior IITs. But then, every human being can face different kinds of problems due to the complexity of life today. Recently, our student counsellor got a faculty position elsewhere and resigned. We are now in search for another and shall find one soon, though every faculty does the job. We are also calling upon students to rise to the level of providing guidance rather than be in a position where they need counselling. It will certainly take a year more before I expect significant improvement in the culture.
What is the percentage of girls and boys?
The percentage of girls is 13% – it is on the lower side. In fact, it is the same ratio in other IITs too. Unfortunately, this year the number of girl students figuring in the merit list of JEE for IIT admissions dropped slightly below 10%. A concern that was discussed in the IIT Council too under the chairmanship of HRD minister Javadekar. Very contrastingly, at RGUKT, where more than 85% of students are from rural areas, 51% were girls against 49% boys in 2014. For those admitted at RGUKT, government provides free education, including free books, clothing and stay in hostels. On the other hand, IIT coaching is expensive and the lower middle class may still be giving priority to the education of the male child, and restricting the education of the female child to the nearby areas.
The percentage of girls is 13% – it is on the lower side. In fact, it is the same ratio in other IITs too. Unfortunately, this year the number of girl students figuring in the merit list of JEE for IIT admission dropped slightly below 10%. IIT coaching is expensive and the lower middle class may still be giving priority to the education of the male child, and restricting the education of the female child to the nearby areas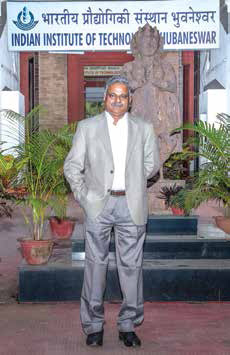 What social background do IIT students generally hail from?
The majority of them self-declare in the JEE application that they are from lower middle class, but when their parents come in big cars, you wonder. There is a spread of students coming from different social backgrounds. Recently, the HRD Ministry launched the IIT-PAL, an important initiative in which study material for IIT JEE preparation is made available online. The objective is to make this facility available to everyone, by leveraging technology. This could also perhaps draw more girls and the lower middle class into IIT education and may be a good step to curtail the commercialisation of the coaching system. Therefore, according to me it is a great step taken by the HRD Ministry towards the democratisation of IIT education by providing universal access including for girls, rural and economically weak candidates.
Are students with vernacular education at a disadvantage?
There are weaknesses when it comes to speaking or written communication skills. They need special training. We have put such a training in place. They are able to understand or grasp subjects well, as that much of English is taught even in vernacular schools. It is the expression that becomes a problem. So, some of the students need to be given different kinds of English coaching-while a fraction of them are trained on literature, others are trained on basic conversational English language itself. We, at IIT Bhubaneswar are trying to make English language training participatory, for effectiveness.
What is the philosophy that you live by?
Whatever life has given you, explore it to the fullest extent, live up to what it offers and return as much as you can to the nation by putting in your best. The director's position is an opportunity to shape up an IIT which can be realised only if you can set the right aim, or dream about, give your best, struggle if necessary, realize it and contribute in the process. Honesty, integrity, vision and hard work are pre-requisites for a genuine contribution. When you are straight forward, your doings are honest and are there to serve a pious objective, you need not fear anything. Finally, what can be more rewarding than self-satisfaction? Though it may sound Utopian, it is the naked truth.
What is your advice to aspirants of IIT?
True education including subject learning and developing associated cognitive skills is more important than training on blind procedures aimed at only cracking the entrance test in a short time, else it may make you lose your appetite for education. True education can also get you into an IIT.
The majority of IITians today go into a mould-they fix the timetable of their academics and career as per what most of their peers and seniors do-complete academics and then go abroad or take up a job. So, their course of journey is fixed, more by their peers than by their heart. I would advise them to pursue what their hearts want, dream big and realise it, while also becoming a good human being with your own personality and stamp your own signature. An educational institution should not be like a poultry farm where you cannot distinguish one bird from another. You may have a much better chance to be in your career if you listen to your heart. Examination success may get you into an IIT, but it is your true education which will matter and there is no short-cut for true education. Lastly, at this juncture the country needs your performance excellence at least at par, if not more than you and your family needs.
By Vinita Deshmukh