STAR CAMPUS PLACEMENT : Patience, confidence, keys to success
From a small hamlet in Himachal Pradesh, Pooja made it to the one of the most coveted placements on the campus. Pooja shares her campus placement experience with Corporate Citizen
Coming from a small hamlet in Palampur in hilly Himachal Pradesh little did she know that one day she would shine among many in an urban place in the country. Thanks to her parents she was able to get the best education and completed her schooling from DAV Public School, New Shimla and graduated with a B Tech in Computer Science from Shoolni University and finally got into the corporate world, at HCL Technologies, starting a new league in life. Patience and confidence were the key words for Pooja's success. She was always an active participant in all activities in school, both in academics and extra curricular.
Grilling Time
The process of campus placement was a grilling and testing time where you required lots of patience. Around 300 students had applied for four different profiles in HCL Technologies.Out of these she preferred the one for the project management office (PMO) in IT Infrastructure."There were around 70-80 candidates for this profile, and my profile did fit into the job my background in IT and my management skills in MBA. I went through three rounds in which the first was Group Discussion(GD).The topic was general, on which I could articulate very well. The GD was not so tough but the further rounds were grilling in which our knowledge, confidence and flexibility to work were tested. My confidence paid off and I was shortlisted. In the second round, Human Resources(HR) wanted to conclude on the candidates.I was among the four chosen. This led to an even tougher test, because now I had to showcase myself in 4-5 minutes competing with other three contenders. HR wanted to check on my flexibility to work at different locations with different timings and shifts. This round went well, as one question was put to all four and we had to grab the opportunity to speak first and convey the message. I was confident to speak and grabbed the opportunity whenever I got it.I had no constraints on location or timing and I conveyed that very well. I cleared the second round. The last round was the technical round with HR. I went for the third Personnel Information(PI) interview, I was asked different questions from my CV, my qualities of being suitable to this role, etc. I answered them trulyand with full confidence and quoted my experience with each quality I possessed. I was clear about the organisation as I had done my homework about the company well. I was prepared for the role and had done a complete R&D on the job profile through seniors and through some known people who could guide me well. I was nervous when I sat for the process but when one knows that you need to achieve the target, you do everything to get that.
I was confident to speak and grabbed the opportunity whenever I got it. I had no constraintson location or timing and I conveyed that very well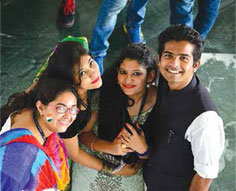 Five picks of her tricks
One should be confident enough to speak and communicate.
Before applying to any company,one must be clear of one's goals and profile.
Whichever company you apply, you should be crystal clear about their work, the profile they are offering, and everything.
You must be clear of what you want to do and what is good for you.
You should also ask about the experiences of the seniors and alumni so that you get a clear view of the company and its profile and what would be the growth
Fears about the placement
"I had some fear when we went through the technical round. The technical mainly involved Excel. But I had practical knowledge on it, and with the help of my friends constantly helping me in clearing all my doubts, it helped me over come my fear."
The new journey
"Yes, I have a very good opportunity to show case my talent and move towards my goals and thing big in life. And I am sure my confidence and thinking positive in all walks of life will help me in taking the new road ahead in my life."
Testing mettle
"One time my mettle was tested when they wanted to know why I wanted to get this role and this organisation. Therefore, to answer this question, one had to be ready and quick and prepared."
Credit for your success
"I would credit my success to my brother, my parents, my teachers from school and all my friends who constantly helped me in my studies and helped me achieve this.
Family background
"My father is working as General Manager at SJVN Ltd., and my mother is a house wife. They both live at Palampur, and my brother is working as manager at Vodafone, Chandigarh.
By Joe Williams