LOVED AND MARRIED TOO : When North met South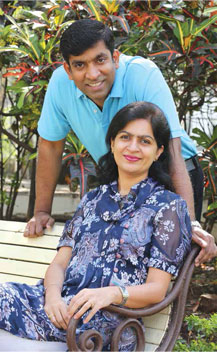 It is not often these days that a college romance fructifies into a wedlock.Corporate Citizen unlocks the storyof love that has culminated into marriage,for we believe in the stability of a relationship and family unit. We bring to you real life romances got sealed in marriage
The Roys are the quint essential cosmopolitan couple. He's a Keralite; she's a Punjabi kudi—together they've built a little world that stands on the simple but time trusted edifice of mutual respect and trust. Two little boys complete the picture
Megha Roy still remembers the first meal with her in laws after marriage. "It had been a lovely day so far. It was nice to meet my new family everyone was sweet and accepting. And then suddenly to my surprise as we sat down, everyone started whispering chor! chor! "Surprised, she started looking around to find out who the chor was until someone enlightened her: the chor was no thief or indeed even a person! It was quite simply Malyalam for rice!!!
It has been 12 years since—and the journey with her husband, she says has been just like that moment:surprising, enriching and memorable by turns.
Back to the beginning
It was 2001 and Megha Khetarpal and Libin Roy fresh marketing post graduates were employed with a travel agency. He, with foreign exchange, and she in ticketing.Being colleagues it was natural they would interact.
"He is outgoing, friendly and spontaneous. You could put him in a roomful of 50 people and he'd manage to make friends with all of them. I really liked that about him," shares Megha. "Though, I am quite a reserved person myself, the conversation with him used to flow quite easily."
Gradually, group lunches with colleagues gave way to quiet dinners on their own. "Honestly, the entire process was very smooth and non dramatic. So if you ask us as to when a formal proposal happened we don't remember," smiles Megha
They had both spent considerable time together a little over two years. Nevertheless, both families were concerned about the cultural differences. "It's a North South Divide quite literally. He's a Keralite, I am Punjabi both our diets and life styles are radically different. My parents expressed their worries but I told them I quite like idli and sambar,"she grins.
"So her parents had me over for a meal. They had one question: how did I plan to take care of their daughter? Was I financially settled?" shares Libin. "But regular conversations and meetings with both sets of parents convinced them that we knew what we were doing."
"He is outgoing,friendly and spontaneous.You could put him in a room ful of 50 people and he'd manage to make friends with all of them.I really liked that about him. Though, I am quite a reserved person myself, the conversation with him used to flow quite easily" - says Megha
Finally, both sides gave their blessing and the duo were wed in 2004. "We had both: a big, fat Punjabi wedding as well as a South Indian ceremony," says Megha.
Post marriage they lived on their own with both sets of parents a little distance away. "In any case we all live in the same city. While my folks have always been in here, Libin's side, a retired defence family have also made Pune their retirement home."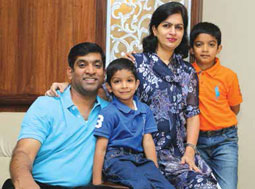 The building blocks of matrimony
"From the outset, we have lived by ourselves taking our own decisions,and fulfilling our own responsibilities.I have been a Pune girl through and through, but Libin's been an army kid, used to back packing across the country so both of us can adjust pretty quickly. In the beginning we both had demanding careers and we enjoyed that phase to the full. Hours were hectic, but we would have a meal together at the end of the day," expresses Megha. "Soon the kids came along and again we managed on our own, handling work and babies together. But gradually, it began to get very hectic and it was a considered decision to quit corporate life. (She was then working with Barclays.) As of today, Libin is Zonal Sales Manager with American Express, even as Megha has opted to join her dad in his road construction business."The hours are more flexible, and allow me more time with my boys Vivaan (7) and Ayaan (5), " she says. Amidst all this, the cultural differences did not emerge as much of an issue. "I think it's all about trust and mutual respect,"says Libin. "Be it an arranged or love marriage, both these factors are crucial in making it work. It also helps that she is a practical, down to earth realist."
For her part, Megha would recommend "an open mind" that is accepting of differences. "There is much joy to be found in celebrating each other's rituals and way of life," she says illustrating her point by citing her first ever karva chauth (an annual North Indian fast observed by women for the long lives of their husband). "My mother in law understood that it was quite important for me and went all out to make it special even though she had little clue as to what exactly was involved," Megha smiles fondly at the memory. "We are supposed to rise before dawn and have a quick meal called sargi which is supposed to sustain us throughout the day. The sargi is usually a sweet milk pudding with dry fruits. But in my case, my sargi consisted of hot and fresh dosas made with a lot of love and care. However, the spirit of the festival and the bonding between us two ladies was maintained. Isn't that important?"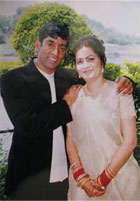 Given that they both work how feasible is to maintain the crucial work life balance? "It's not that tough," says Libin. "With a little planning and care you can do it. Personally,I don't carry work home. Sure, travel is an integral aspect of my life but planning a good holiday together or a long weekend out is a good way of spending family time."
From little get aways to Goa to a longer cruise to Sri Lanka, they make it a point to take off as a family by themselves. Parenting is another crucial arena of teamwork. "Both of us love kids, and like to be as hands on as possible," says Megha. "For example, be it their first day at school, first annual function or any little event in their lives we take equal pride in being there for them, handling them like a team. These days, Libin has long hours but even so, we share the duties. While studies and grades are my domain sporting activities are daddy' sturf and the boys really look forward to their matches together," she says. Both are united in their stance that kids must be given the due space and leeway to work things out for themselves instead of spoon feeding them. "At the same time, we believe it's important to be friendly,communicative and approachable," says Libin.
The mantras of a marriage
Mutual trust and respect
Giving each other due space
Believing in the institution of marriage
Celebrating differences
Amidst the pressures of day to day living, the couple is particular about going out for meals by themselves, every once in a way. That, and not letting differences fester. "If one person is angry, it's better for the other person to back off a bit. Also, decisions both big and small, are meant to be taken fifty: fifty," rounds off Megha.
By Kalyani Sardesai