HR TALK : Managers, bosses responsible for employee engagement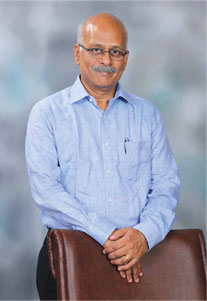 Highly satisfied employees need not necessarily be highly productive, employees who are mentally engaged with their job, their boss and their organisation ultimately make the difference
Demystifying the heap of definitions around employability and fixing it as the ability to understand what is communicated in a work environment is all about understanding things which are fundamental, was what Muthukumar Thanu, Group Chief HR Officer, Tractors and Farm Equipment (TAFE) put in a nutshell, at the 12th National Business conference.
Highly satisfied employees need not necessarily be highly productive, employees who are mentally engaged with their job, their boss and their organisation ultimately make the difference. The role of HR is more of a facilitator.In short, great managers create engaged employees; who in turn create engaged customers, which ultimately leads toan increase in the value of the company, argues Muthukumar.Excerpts from an interview with Corporate Citizen,on these and other topics with him:
What do you think about women's employment? Is it less in numbers? Is that due to a constraint on ability and compulsory restraints of the home or the Indian culture?
Women are more into the services sector. Their number is increasing in the core sector too. In my company, we have an equal number of men and women employees.Interestingly, my boss is a woman. Opportunities are a plenty and the role of women is changing. There is also economic compulsion for women to work. The girl child is now being accepted as someone who is equal to a boy child. The transition is slow, but it is taking place at pace faster than one thinks.
Do you think the talk of gender parity will succeed though it is not happening even in economically advanced countries?
We pay absolutely equally whether it is men or women. There is no disparity. In rural areas, it still exists. There women are paid less than men labourers, but that is also changing.
What according to you is loyalty? Does that play a role in an employee's contribution to the growth of the company?
The most important thing is how one connects one self with the company. Loyalty is nothing but a psychological bonding. Every company and every boss will have to focus on this issue, and loyalty will be the resultant factor. It's like a grown up child-how good he is will depend on how we focus on the character and values, which will make him a better citizen rather than saying he should get his master's degree come what may. It is about building character, and this also applies to the employer.
Attitude and performance are significant. Passion, zeal and ethics are other very important qualities. What is your take on all these qualities?
You recruit people for attitude and train them for skills. Skill becomes a hygiene factor. You can get a brilliant student but if attitude is an issue the company will have a big problem. People with attitude can be good only in their individual capacity, not working in a company. Scientists can have attitude when they are individual contributors. In a company, they need to be team contributors, so in a larger context it is the attitude which plays a major role.
You are in a stellar corporate career. What have been your best moments in this corporate setup?
The best moments were when the maximum was demanded out of me and I have been motivated to do that. The best phase happened in Tamil Nadu when we did a project execution of a landline. We used to work morning to night, never bothering when we left. We even worked on Sundays. My boss used to come and tell me let us go for lunch. This kind of connectivity and bonding helped. It was empowering, which I enjoyed the most. This happened to me at BHEL. BHEL gave opportunity. Though they did not give good money, the pay was decent. But I worked and I was satisfied. Satisfaction at the workplace is what one needs. That has happened to me in all the companies I have worked for, from BHEL to the place I am now in BHEL was a great learning ground. The unfortunate partin BHEL was that they could not differentiate between a good, better and bad performer. I gave my best and turned out to be the best, but unfortunately the company could do very little for me. I feel that BHEL employees can work anywhere. So we cannot underestimate a public establishment over a private establishment.
"People with attitude can be good only in their individual capacity, not working in a company. Scientists can have attitude when they are individual contributors. In a company, they need to be team contributors"
Do you feel that the present education system needs fine-tuning?
The teacher and the taught should learn the fundamentals which go a long way. In our system,fundamental science is not a major factor. We should do something on fundamentals and concepts which willenrich our education.
Do you believe our government officials are delivering duty to the maximum, or are there loopholes?
I will not be able to comment, but there are government employees who have gone to become the best. In that context it all depends on each individual to take the job and do his best to make India a better place to live in.Yes we are proud when Indians hold big posts in the corporate world. It is the system which has given us a bad taste with bureaucrats.
By Joe Williams