COVER STORY : Freedom of space
For Dr Prachee and Prakash Javadekar, marriage is walking together but giving space to each other. Friendship culminated into love, when Emergency was declared in 1975. Until then, they were good friends, with a soft corner for each other. Both held official posts in the Akhil Bharatiya Vidyarthi Parishad (ABVP), of which they were volunteers as college students. Incidentally, love got its expression in the prison and thereafter, when he underwent an unexpected open heart surgery while he was detained in Yerawada Jail, under MISA. Prachee also served in Yerawada jail for four and a half months. They could not talk to each other, so they exchanged letters. The love story blossomed into marriage, which is now of 39 vintage years.
Dr Prachee, a research scholar and educationist, has been a dynamic Director of the Indira Institutes for 11 years. She has several books to her credit and significant education-related stints with the government. She had founded the Javadekar Educational Consultancy and offers expertise for the establishment of new educational institutes. She is a very creative housewife and a fantastic cook. Her approach to child upbringing is practical. She has single-handedly taken up the responsibility of bringing up their two sons, as Javadekar, being a politician, hardly had time for home. Corporate Citizen unleashes the beautiful story of love that has cemented into a wonderful marriage through conversation with Dr Prachee. Read on…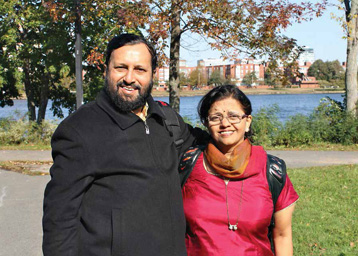 Jab We Met
I was in pre-degree year of college in 1973, when I started working for the students' organisation, Akhil Bharatiya Vidyarthi Parishad (ABVP). Then, I took on an active role by assuming the official role of Mantri for ABVP and was its spokesperson too. It is here that I met Prakash. He was quite senior to me and was already working in the bank. He was the Parishad karyakarta and would often talk to all of us, juniors. Somewhere along the line, both of us got more connected because of our common interest in reading. Also, each time that he would tell us something, he would ask me particularly, as to whether I had understood what he said or not, and would prod me to read so and so book to get better knowledge of that subject. I remember that both of us attended many Parishads and conferences together. We used to also have lots of academic debates and discussions. Prakash used to often visit my house. My parents were really ahead of the times – they never said you should not talk to boys. I am talking of four decades back when the community was very conservative in this regard. There was no open culture then, but all my friends, whether boys or girls, used to come home and my mother used to lovingly serve them idlis, appes and many other delicious dishes.
So, were you just friends or had you already fallen in love?
We had not exactly fallen in love with each other but we were judging each other. We were thinking that yes, we could get tuned better over the course of time, but then the Emergency came in 1975. On 11th of December, Prakash sat in satyagraha at the University of Pune and I sat at MES Garware College. Prakash was soon detained under the Maintenance of Internal Security Act (MISA) and I too got imprisoned for four and half months. Both of us were lodged in different sections of Yerawada Jail.
How was it like there?
I learnt most of my life's experiences in Yerawada Jail. No University could have taught me better lessons that the Yerawada Vidyapeeth.
Can you elaborate?
I had an opportunity to stay with eminent women leaders of our country like Jaywantiben Mehta, Ahilyabai Rangnekar, Pramilabai Dandawate. Sumatibai Sukdikar, Hansaben Rajda amongst several others. Noted littérateur Aruna Dhere became my good jail friend. We used to sit together and Ahilyabai used explain Marxism with greaproficiency. I got an insight into the principles of Samajwad; what is the difference between Hinduism and Samajwad? What is the commonality in all `isms'? The answer to which is that all `isms' are for the ultimate welfare of the people; only, the ways and means are different and different tools are used for their manifestation.
The toughness that all these leaders demonstrated and the family values they spoke about, when in jail, taught me a big lesson of life. Jaywantiben told me, "Medha (that was my maiden name), our family life is always like this. When I am in jail, Naveenbhai takes care of my family." Pramilatai used to tell us that Madhu's first love was the Samajwadi Party – that's how I learnt what it takes to build and keep family unity. I think we could sustain with each other for the last nearly 40 years, despite Prakash, like other political leaders, being too busy with party work because of my upbringing in the Yerawada Vidyapeeth which laid the fundamentals and the foundation for my married life.
'I used to go and meet him in the hospital. While he was recuperating, we used to sit under one particular tree, and a policeman would escort us there. So, our love story flourished in the premises of the Aundh Hospital'
Where was Prakash Javadekar then?
He was put up just across where I was imprisoned. Men were kept in one cell and women in another. There was no opportunity to talk to each other so we started exchanging letters. They were not love letters but I think both of us started liking each other and mutually expressed that we would like to make a life together. So the mental process of our togetherness started in jail then. I was in the second year of college and gave my examination from the jail itself. I got the lowest marks of my life as I had not attended a single day of college. Finally this took a toll on my overall percentage and I could not get a first class in B.Com. There was a time when I felt bad about it but I think that whatever has been planned for you - your destiny takes you there. You have to keep doing what you think is right – what they call, dil ki suno. The movie, 'Three Idiots' which shows this philosophy, came much later.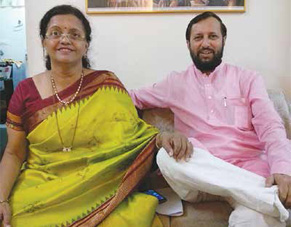 So, how did your love story continue?
I was released from jail in early 1976 and Prakash, who was detained under MISA, was released in January 1977. However, while in jail, Prakash was operated for open heart surgery. It so happened that you had an option to go for medical check-up when in jail. So Prakash one day requested for a medical check-up so that he could meet his friends when he came out. Instead, the doctor detected a hole in the heart and he had to immediately go in for an open heart surgery. He was on parole and was operated upon at the Aundh Chest Hospital by Dr Ashok Kanitkar. I used to go and meet him in the hospital, which was surrounded by policemen. While he was recuperating, we used to sit under one particular tree, and a policeman would escort us there. So, our love story flourished in the premises of the Aundh Hospital.
When I met Prakash on 11th June, just before he was to be operated upon, I asked Prakash what he had planned for both of us. He instantly said, "Don't dream about your life with me. I don't know whether I'm going to survive after this surgery or not. You please don't count on me. For, even if I survive, I don't know if I will get my job back. Also, I don't know when I will be out of jail. You are aware that Nelson Mandela is in jail for many years." I don't blame him for saying that, as, in those days, such a surgery was the rarest of the rare and the survival rate was almost zero percent. Also, he used to give global examples to point out the uncertainties in his life. He suggested that I should concentrate on finishing my graduation. He said, "You are quite brilliant and you need to get more degrees and make a good career."
However, I was then determined to have him as my life partner. I told him, "No, I will wait for you. You will come out of this, and whatever it takes, I shall take care of you and family." I was only in the second year of college and knew nothing about what it meant to take care of a family or what it meant to earn, but I gave him my word. I had small experiences though, of giving private tuitions, working for Lakme and selling soap for Lux when it was first introduced in the market. I had done door-to-door selling so that I could pay my college fees. This was training by my parents to be self-reliant.
Prakash smiled and said, "Now you come to see me after ten days, on 23rd June, which is my birthday." I agreed and went to meet Prakash on the designated day. He never uttered a single word about our future. I reiterated that I would take up the responsibility and he should not worry about that. He said he would like to dedicate his work for the country and we left it at that.
After he recovered completely, he went back to jail but when he came out on parole, I still remember he came to our house, which was in a wada. He could not climb up the stairs, so he asked me to come down. My father also came down to see him. I took this visit as a positive note from his side. He was released in January and resumed his bank job. That's when he said I could talk to my parents about our marriage.
Prakash waited for his sister's marriage to be fixed and done before he told his family. We got married in 1977.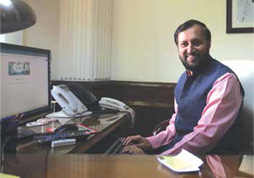 And you never felt afraid as a young girl as to what could happen if he got a heart attack?
I am a very positive person – I tend to indulge in wishful thinking, but positivity helps me realise it. I have always said to my colleagues and people who work for me – don't get depressed – go step by step and you can achieve what you want. WhenI took up as Director of Indira Institute of Management, there was not a single faculty who had completed his/her doctorate. I appealed to all my faculty members to do their PhD. Seventeen faculty members completed their doctorate, subsequently, during my tenure as the Executive Group Director of the Indira Group of Institutes.
You are now married for 39 years; what is it that you like about him?
He is a very honest man, he is very committed, he is very logical, rational and his grasping power is amazing. He is a very fair person; he will never pass any judgment on anybody. I think he is one of the rarest of politicians who works with the brain – meaning, his ideology, his commitment and his intellect go hand in hand. He can think, design and execute was manifested as Minister of Forests, Environment and Climate Change at international level too.
How did you cope up with children?
I recall that he left his first and last job in 1980. He was working in the Bank of Maharashtra while I was lecturer at Wadia College. One day, Vasantrao Bhagwat who happened to be our sanghatan mantri visited us and asked me if I understood the meaning of Prakash working full time for the party. It meant that Prakash did not belong to me, as much as he belonged to the party. I said yes, fine. He told me I would have to earn, look after the family, raise the kids and also take care of Prakash, without getting angry with him. I really admire that in those days the sanghatan mantri used to come and talk to us. They used to visit me at least four to five times in a year to see me, not to see Prakash. He might have been out somewhere because all these years he used to be out at least 265 days in a year, and the 100 days that he would be in Pune, he used to attend political functions or baithak (meeting).
I needed to enhance my earnings so I started writing for the first time in Loksatta for which I used to be paid Rs.75 per column. I used to write four articles in a month and this Rs.300 was kept aside to pay the fees of the rickshawala who took my children to school. Then I started giving tuitions while working as a Lecturer in Ness Wadia College for extra income. So though it was a low period, I said let me cope, I could not lose the battle like that. I had no right to disappoint my kids or Prakash. I also wrote a few books. In 1990 Prakash got his ticket for the graduate election. He got elected, but I said there is no guarantee that he will become an MLA so I decided to pursue my doctorate. I think, during that period I realised what it meant to take up the responsibility of a family - financially, physically, and mentally.
When did you get the time to write so much?
Once the children went to bed, I used to read and write between 11.30 pm and 2.30 am. I said to myself that I couldn't keep complaining that I didn't have time. I had to see how I could take out time. I had become mobile, as by that time I had a scooter of my own, otherwise Prakash and I used to share a Luna. I still have that Bajaj Scooter - MGF 3248. In 1990, Prakash got elected as an MLC so I had decided that, politics being an uncertain field, I had to further climb up the next ladder of my career. I could not do injustice to my children. The earnings that Prakash would get as MLC would go towards expenditure for his stay in Bombay, for party work and would contribute some part to me, but my children were growing; we had different needs, we had to see how to cater to them. We were never able to give them any branded shoes, something that they never even yearned for. They enjoyed simple things in life like me taking them to the Kamla Nehru Park, buying balloons, eating sweet corn – bhutta -- in the rainy season and enjoying reading out and reciting poems. Prakash used to share lot of national and international geography, history and related socio-economic environment with them. Both of us believed in the theory of 3 E's-Explore, Experience and Enrich and till the date they feel they had an enriched childhood.
'The most important value is to make childern think. For this, we have to expose them to different kinds of experiences to make them understand on their own as to what is good and what is bad; what is right and what is wrong'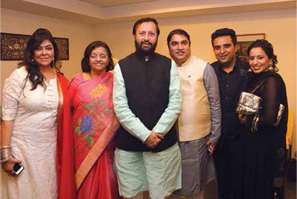 So what is value child upbringing, according to you?
The most important value is to make them think. For this, we have to expose them to different kinds of experiences to make them understand on their own as to what is good and what is bad; what is right what is wrong. I never sat with them to take up their studies; I used to read a lesson and ask them to tell me the substance of it and how they could connect it to other subjects. I used to have a connector for the chapters – I've written the book `Reet Abhyasachi Khatri Yashachi (way to study for success). It was recommended by the Maharashtra Government for its Operation Blackboard Yojana.
Whenever Prakash used to get some time, he would take them to the gardens to make them understand the process of growing; he would take them to Rasayani to understand what environmental pollution is, or take them to see why the river had turned black. And of course that time, we never thought that one day he will become a minister for environment.
In 1992, when I was pursuing my PhD, I met Late Dr. Smt. Kumud Bansal, the then, Secretary for Higher Education, who asked me to work with her for the DPEP (District Primary Education Program) Project. I told her I would love to work but I needed to earn because I had to sustain my family. Then she made an exception and I became the only person taken on deputation on this prestigious government project, which was a joint project of World Bank & Maharashtra Govt. I was the media and documentation incharge at DPEP. I worked on this project for eight years. I got a deep insight into the policies, the way of preparing reports by international agencies, so that the results portrayed were the way they wanted to project India's image. And today I take pride to have the right image of India and Indian education system, where Prakash is Minister of HRD.
How does it feel to be a minister's wife?
It's a normal custom that the would-be ministers would be informed the day before by the PM to take the oath. Both of us, were ready to join the swearing -in ceremony of PM on 26th May, 2015. Prakash was supposed to join PM at Rajghat at 7 am in the morning. We were clueless about his inclusion in the Council of Ministers. And he got a call that morning at 6.20 a m from Hon. Modiji himself who said, 'Aapko shapath leni hai (you have to take oath as minister) and Prakash instantly said that he would take up any responsibility that he gave him, with full commitment. When I called up both my sons and family, they said that perhaps he had dreamt of such a moment, but he had never uttered anything about it. But he must have visualised that one day he would have to shoulder such a responsibility, and the preparedness of the mind reflected in his reply to Modiji. We all felt very happy for him.
How do you keep yourself busy?
I was the founder Director of Javadekar Educational Consultancy Services Pvt Ltd. (JECSL), which was pioneer consultancy firm giving advice and guidance to educational institutes.
The education scenario is changing – more than MBA and engineering, preference is steadily shifting to skill development and hence, Skill Academies will be the flavour of education in the near future. When I joined Indira Institute of Management in 2000, it was the only institute with a 60 student intake for MBA. When I left Indira, it had 14 institutes and 14,000 students, and every institute had been formed by me. So, I am well versed with every application, every procedure and every norm. JECSL have consulted the Brick College, Indira's Architectural College, Anant Kumar's Bangalore Engineering College, Tolani Institutes, to name a few.
But however, as Prakash became HRD Minister, the issue of conflict of interest was raised by media. In the next two hours of his swearing-in ceremony, I resigned from all my posts from AICTE, UGC and advisor roles in various institutes; inspite of my 40 years' experience in education. This is to present the ethical practice in front of the country.
Currently, I am CEO of Parigha Research & Consultancy Services. We undertake primary research to project Indian contribution in various domains before the entire world. We are developing research-based case studies for Indian PPP projects which we intend to publish in renowned journals. Presently, we are also working on setting up skill centres under PMKY (Pradhan Mantri Kushal Yojana).
'Parents should be telling their sons and daughters what it takes to be together in marriage – both should be trained to handle stress, they should know what it means to support your spouse in every way, including what equitable distribution of work means'
What do you think it takes to keep a marriage going?
Mutual trust and giving space to each other is very important. I have decoded what goes to build a harmonious foundation to marriage, which revolve around Samanta (equality) Swatantrata (freedom), Samwad (dialogue)and Sahayog (collaboration).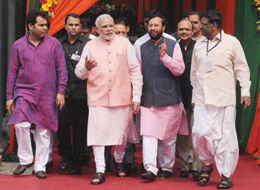 Why do you think youngsters these days are less to lerant in a marriage relationship?
At the Hiraben Nanavati Institute, there is a certificate course in marriage counselling and I am one of the guest faculty there. I always tell students there that we do not share our experiences of being with each other. Every mother passes through lots of stages in her life in terms of experiences, but when it comes to discussion about marriage with her son or daughter, it is all about festivities, shopping, mehendi ceremony and what's going to be the menu for the wedding reception. Nobody has time to sit together, to talk about how the young couple will complement each other; whether they have understood each other or not; whether the boy's family has made the girl familiar with his relatives and friends. You have to be fair to the girl and give her some time to adjust to the new family. You cannot expect all the transitions from her from day one. The boy does not shoulder the immense responsibility that she does, in her role as griha laxmi. The boy and the girl should be on equal footing. We have to accommodate, we have to adjust, but many youngsters don't understand that complementing each other means they have to do it at various levels. They have to adjust with each other over four quotients – financial, intelligence, social and emotional. However, we never talk about these important criteria – we only delve in superficial and materialistic things when it comes to the vital relationship of a young couple – that is, marriage.
Parents need to train them…
Parents should be telling their sons and daughters what it takes to be together in a marriage – both should be trained to handle stress, they should know what it means to support their spouse in every way, including what equitable distribution of work means. If she knows how to make rotis and he knows how to clean the toilet - I think that is equitable distribution of work.
Prakash used to help me so much in the running of the house – he used to volunteer to get the wheat milled from the flour mill. He never said it was not his job. It is important that a couple respects and has faith in each other. Responsibility and enjoyment go hand in hand. In fact, responsibility should be seen as a beautiful moment to share and enjoy. You have to feel comfortable with your own company too, and this kind of walking together has taught me how to enjoy one's own company. We both enjoy being together as well as enjoy being by ourselves. We give space to each other and yet we are there for each other.
What are your activities as the wife of a prominent political leader?
Since the last six years, I am convener of the forum in Delhi called `Kamal Sakhi Manch' which is a forum of all spouses of elected MPs and we meet three to four times in a year. When I started it, Nitin Gadkariji was the president and Advaniji was there as our senior leader. The objective was to establish a bond between the families of MPs who were otherwise strangers to each other. The theme was 'ek paksha ek parivaar' (one party, one family). When I started it, there were only 30-40 women. Many would hesitate to leave their homes and come to Delhi for the get togethers. Their Personal Assistants would call me up and say how can they come alone to Delhi? I used to tell them that there would be people to take care of them. Gradually, it started picking up; everybody started knowing each other. Now, Kamal Sakhi Manch around 200 sakhis will attend the forum and each one gets a turn to host it.
What are your sons doing?
Our elder son, Dr. Ashutosh is a dentist and a well-known writer. My daughter-in-law, Manasi is working as a professor at the Hiraben Nanavati Management Institute. They have a daughter, Arohi. Our younger son, Dr. Apoorva has done his PhD from Boston University. He has joined as Research Director at CAFRAL centre of RBI.
Your philosophy of life…
Having a positive attitude is very important in life. One should never shunone's responsibilities. Finally, do what you do with happiness and give happiness to others.
Revamping of our Education System
Union Human Resource Development Minister, Prakash Javadekar, completed his graduation from Pune's MES Garware College of Commerce. During his graduation, he became the member of ABVP. For 12 long years he was the senate member of Pune University (now Savitribai Phule Pune University). As part of the students' movement, he was quite active during the Emergency declared in 1975. Before making his debut into politics, he was a banker. He worked in a bank for almost 10 years. He was elected to the Maharashtra Legislative Council from 1990 to 2002. He also held the position of the Executive President of the State Planning Board, Maharashtra; and Chairman of the Task Force on IT, Government of Maharashtra. What is the scenario of education in India under his leadership as Union Minister of Human Resources and Development (HRD)? An overview...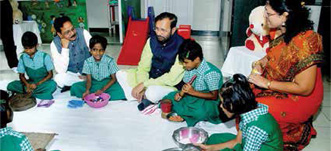 Focus of education of the HRD Ministry
Accessibility: access to primary, secondary and higher education
Quality: comprising innovative education and good quality teachers
Affordability: that is, lack of money should not be a hindrance in anyone's education
Accountability: All teachers, institutes and everybody involved in education should have accountability as they shape the future of India
Equity: means that personal or social circumstances do not become obstacles in achieving educational potential and that all individuals reach to their potential. This is social justice.
School education
Envisioning one common syllabus across the country for IBs, ICSC, CBSC, and SSC instead of having several patterns that puts students on different standards of secondary school education..
On higher education
IIMs and higher educational institutions to get more autonomy so that they are able to compete in the market based on their quality and grow accordingly.
Under the proposed IIM Bill, IIMs will get more autonomy. As of now, they cannot offer degrees as they are incorporated as societies. Government is planning to make amendments in the law so that they can offer graduate and post graduate degrees in future.
Favouring autonomy in colleges...
To encourage institutes to come forward and volunteer to become autonomous by providing degrees on their own strength. There are three types of autonomy in the education sphere. There are those that are affiliated with the universities. In this case, although they are granted degrees by the host university to which they belong, they are given the freedom to have their own curriculum and conduct their own examinations. Then there are colleges which are fully autonomous wherein they have their own courses and also give degree certificates. Javadekar had stated that, "However, the one institution that is recognised internationally is the Indian School of Business, Hyderabad, despite the fact that it does not have any recognition from the AICTE or affiliation with any University. I feel this is a typical sample of a world class institute as envisioned by our PM, Narendra Modi. Thus, our aim is to free education institutes of higher education, from the clutches of the regulatory regime and help them blossom, where quality in education there, would reign supreme.''
Execution plan for autonomy
Colleges will get different levels of autonomy depending upon their grading. It goes beyond only the National Assessment and Accreditation Council (NAAC) ranking and are scrutinising the educational institutions by the National Institutional Ranking Framework (NIRF), which was launched by the HRD ministry in September 2015. This is a methodology to rank all institutions of higher education in India. There are separate rankings for different types of institutions depending on their areas of operation like universities and colleges, engineering institutions, management institutions, pharmacy institutions and architecture institutions.
NIRF uses several parameters for ranking purposes like resources, research, and stakeholder perception. These parameters have been grouped into five clusters and these clusters were assigned certain weightages. The weightages depend on the type of institution. Around 3500 institutions voluntarily participated in the first round of rankings and the first result of grading was out in April 2016. It is uploaded in the public domain in our website www.mhrd.gov.in.
'Under the proposed IIM Bill, IIMs will get more autonomy. As of now, they cannot offer degrees as they are incorporated as societies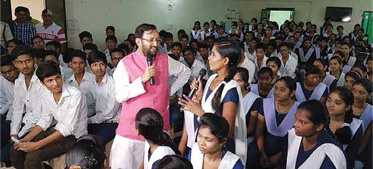 Reforms of regulatory bodies like AICTE and UGC
The University Grants Commission (UGC) undertakes maintenance of standards in teaching and research and quality assurance in Universities, frames regulations and schemes and disburses grants to the eligible institutions.
The UGC has now notified several regulations with the objective of sustenance and improvement in the quality of higher education and for undertaking academic reforms. The regulations are available at http:// www.ugc.ac.in/page/UGCRegulations.aspx.
In order to encourage research and development in the country, UGC has laid out schemes, awards, fellowships, chairs and programmes under which financial assistance is provided to institutions of higher education as well as faculty members working therein to undertake quality research covering areas of knowledge across disciplines including revival and promotion of indigenous languages. These schemes are at http://www.ugc.ac.in/page/XII-PlanGuidelines.aspx.
UGC has also notified Choice Based Credit System (CBCS) for enhancing student mobility and providing a wider choice in subjects and for facilitation of quality education through innovation and improvements in curriculum; teaching-learning process; examination and evaluation systems; notifying a credit framework for skill development for aligning skill education with formal education; launching several skill development schemes; enhancing the coverage of scholarships/fellowships; undertaking equity promotion on a wider scale; strengthening university-industry linkage and; student centric initiatives.
The Rashtriya Uchchatar Shikshan Abhiyan (RUSA)
The Rashtriya Uchchatar Shiksha Abhiyan (RUSA) is a Centrally Sponsored Scheme (CSS) to provide strategic funding to eligible higher educational institutions of the state. The central funding would be in the ratio of 60:40 for general category states, 90:10 for special category states and 100% for union territories. The funding would flow from the central ministry through the state governments/ union territories to the State Higher Education Councils before reaching the identified institutions. The funding is based on critical higher education plans of the state. A total of 316 state public universities and 13,024 colleges will be covered under RUSA. Funding will be made available to private governmentaided institutions also, subject to their meeting certain pre-conditions for permitted activities based on laid down norms and parameters.
The key objectives of RUSA are to improve access, equity and quality in higher education through planned development of higher education at the state level.
RUSA's funding pattern
RUSA adopts a completely new approach towards funding higher education in state universities. The key principles for RUSA funding will be performance-based funding, incentivising well performing institutions and decision making through clearly defined norms. These principles will help establish and rely upon a management information system to gather the essential information from institutions. RUSA will aim to provide greater autonomy to universities as well as colleges and have a sharper focus on equity-based development, and improvement in teaching-learning quality and research.
'The yardstick for deciding the quantum of funds for the states and institutions comprise the norms that reflect the performance in key result areas (access, equity and excellence)'
RUSA's funding eligibility
In order to be eligible for funding under RUSA, states will have to fulfil certain prerequisites which include creation of a State Higher Education Council, creation of accreditation agencies, preparation of the state perspective plans, commitment of certain stipulated share of funds towards RUSA, academic, sectoral and institutional governance reforms, filling faculty positions and so on.
Under the scheme, an initial amount will be provided to the State governments to prepare them for complying with the above requirements. Once eligible for funding under RUSA, after meeting the prerequisite commitments, the States will receive funds on the basis of achievements and outcomes. The yardstick for deciding the quantum of funds for the states and institutions comprise the norms that reflect the performance in key result areas (access, equity and excellence). The State plans will capture the current position of the states and institutions with respect to these indicators, as well as the targets that need to be achieved. The State Higher Education Council will undertake this process of planning, execution and evaluation, in addition to other monitoring and capacity building functions.
IIT initiatives
IITs are modern temples. Javadekar had earlier stated that, "The IIT council has given a nod in principle to our proposal to increase the IIT student strength to 1 lakh from the current 72,000 by introducing a new concept of 'non-resident students'. This should be achieved by 2020. "
The council has also approved the Prime Minister Research Fellowship programme that will select 1,000 bright BTech IIT students and give them direct admission into PhD programmes with a higher scholarship. IITs will become part of the Global Research Interactive Network which entails foreign faculty, joint supervision of PhDs and students spending a semester in foreign universities.
In B.Tech, 4,000 additional seats will be added to the current 10,500. In MTech, seat strength will go up to 12,000 from 8,000. In PhD programmes, it will be enhanced from 3,000 to 4,500. Through the PM Research Fellowship, the government wants to solve the problem of faculty crunch in IITs. Even BTech passouts from IITs who have job experience and are interested in research would be enrolled in PhD. Research initiatives have begun on IIT campuses, including incubation centres. The Uchchatar Avishkar Yojana, aims at more interaction between industry and academia. Industry-specific research proposals or requests are taken up by teams from IIT faculties and students.
Reversal of brain drain
Under the Global Research Interactive Network, the best brains, doing PhDs, will be given PM's scholarships of Rs. 60,000 a month. Javadekar had stated that, "The best brains are going to foreign labs only because they get research funding and opportunities. We're offering funding, research infrastructure and an opportunity to go to top labs abroad, where we have contracts. They would go there for six months or a year and can come back and complete their research This would curtail brain drain.''
IIT in Jammu too…
According to news reports, Javadekar had stated when he inaugurated the transit campus of Indian Institute of Technology (IIT) in Jammu, that , "Ninety students have enrolled. I appreciate that Jammu and Kashmir has been keeping pace with education despite decades-long turmoil with gross enrolment figures higher than the national average. Compared to the national average of 23.6 per cent of gross enrolment in higher education, girls pursuing higher studies in Jammu and Kashmir have a 27 per cent gross enrolment, more than the 25 per cent of boys, and both the figures are higher than the national average.''
About NPTEL…
NPTEL is an acronym for National Programme on Technology Enhanced Learning which is an initiative by seven Indian Institutes of Technology (IIT Bombay, Delhi, Guwahati, Kanpur, Kharagpur, Madras and Roorkee) and Indian Institute of Science (IISc) for creating course contents in engineering and science.
NPTEL as a project originated from many deliberations between IITs, Indian Institutes of Management (IIMs) and Carnegie Mellon University (CMU) during the years 1999-2003. A proposal was jointly put forward by five IITs (Bombay, Delhi, Kanpur, Kharagpur and Madras) and IISc for creating contents for 100 courses as web based supplements and 100 complete video courses, for 40 hours of duration per course. Web supplements were expected to cover materials that could be delivered in approximately forty hours. Five engineering branches (Civil, Computer Science, Electrical, Electronics and Communication and Mechanical) and core science programmes that all engineering students are required to take in their undergraduate engineering programme in India were chosen initially. Contents for the above courses were based on the model curriculum suggested by All India Council for Technical Education (AICTE) and the syllabi of major affiliating Universities in India. Presently, there are 420 web courses and 509 video courses developed and hosted, which can be accessed freely through the websitehttp://nptel.ac.in.The web and video courses comprise Aerospace Engineering, Chemical Engineering, Biotechnology, Civil Engineering, Environmental Science and so on.
'Uchchatar Avishkar Yojana aims at more interaction between industry and academia. Industry-specific research proposals are taken up by teams from IIT'
The SWAYAM Project…
With a view to providing access to the best quality learning resources across the country, the project 'Study Webs of Active Learning for Young Aspiring Minds' (SWAYAM) has been started. SWAYAM provides an integrated platform and portal for online courses, using Information and Communication Technology (ICT) and covering high school till all higher education subjects and skill sector courses to ensure that every student benefits from learning material through ICT.
Progress of Swachh Vidyalaya
Swachh Bharat: Swachh Vidyalaya is the national campaign driving 'Clean India: Clean Schools'. A key feature of the campaign is to ensure that every school in India has a set of functioning and well maintained water, sanitation and hygiene facilities.
Water, sanitation and hygiene in schools refers to a combination of technical and human development components that are necessary to produce a healthy school environment and to develop or support appropriate health and hygiene behaviours. The technical components include drinking water, handwashing, toilet and soap facilities in the school compound for use by children and teachers. The human development components are the activities that promote conditions within the school and the practices of children that help to prevent water, hygiene and sanitation related diseases.
Water, sanitation and hygiene in school aims to make a visible impact on the health and hygiene of children through improvement in their health and hygiene practices, and those of their families and the communities. It improves children's health, school enrolment, attendance and retention and paves the way for new generation of healthy children. It is the role of policymakers, government representatives, citizens and parents to make sure that every child attends a school that has access to safe drinking water, proper sanitation and hygiene facilities. This is every child's right.
On night schools
Javadekar had stated that, "Night schools as important institutions that make education inclusive and our government's top priority would be to improve their condition. I have myself studied in a Zilla Parishad school so I can identify their problems and challenges."
"Education is essential for uplift of society. I salute the spirit of these poor students, who are pursuing education in night schools, after putting in 8-10 hours of hard work during the day."
Doing away with Rote learning
States Javadekar, "Positive transformation of children is only possible if they are allowed to be curious and ask questions. If a child asks questions in school, he is asked to sit down. This should not go on. We need to promote inquisitiveness. Why do we lack innovation in India? It's because we don't allow questioning. Innovation is essentially a process of rebellion. Unless you rebel, unless you challenge the status quo, how can you innovate anything? The emphasis will be on education that contributes to character building and not merely help in getting jobs. I know that many states are opposed to no-detention policy in RTE Act.''
By Vinita Deshmukh