COLLYWOOD : PEOPLE IN THE NEWS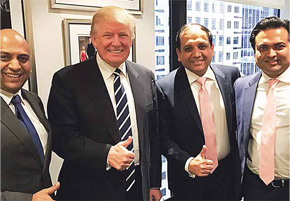 On a Tr(i)umphant not e
Leading real estate entrepreneurs Atul and Sagar Chordia and Kalpesh Mehta,business partners of US President elect, Donald Trump, were elated with the visit to Trump Towers in New York, after his win. Terming it as a `friendly' visit,Atul Chordia believes that apart from the 'Trump Towers' residential project in Pune which has received accolades for its sophisticated and quality construction."Trump loves India,'' says Atul Chordia and is looking forward to further cementing the business relationship. While New York Times reported that it is a hint at Trump to allegedly use his position to further business interests. While Chordias as stated that they have discussed further partnerships with his company, in India,the Trump Organisation clarified that his business interests which are steered by his children would be separate from his political career.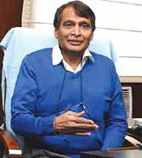 Blessings from the sun
Now, Railway Minister Suresh Prabhu has decided to use 10% energy from renewable sources for environmental sustainability as well as to bring down costs. The Indian Railways has set up 1,000MW solar power plants and about 220 MW wind power plants.Presently, it is already harnessing about 50 MW green energy from small installations put up by the Railways. Other environmental friendly measures include waste water recycling, plantations along the tracks and revival of water bodies in lands belonging to the Railways. Surely a great vision which must also accompany serious efforts towards rail safety.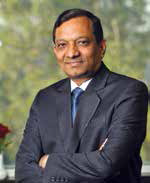 PawanGoenka tobe M&MMD
Pawan Goenka, the executive director of homegrown automaker M&M was elevated to the position of managing director. Anand Mahindra,the existing chairman and managing director is to be designated as the executive chairman. Goenka will continue to report to Mahindra.The company said the decision is in line with the practice followed by companies across the Mahindra Group, where the position of managing director or CEO is distinct from that of the chairman. Mahindra emphasised that as the executive chairman he will continue to oversee, and be responsible for shaping the growth strategies of the company and its portfolio of investments. Goenka joined M&M as general manager(R&D) in 1993, after working for General Motors in Detroit, USA for 14 years. He was instrumental in growing the R&D capability of Mahindra and also the launch of the Scorpio, its popular SUV.He became president of the Automotive Sector in 2005, of AFS (Automotive and Farm Equipment Sectors) in 2010 and was appointed executive director on the company's board in 2013.

THE IDEA MAN
Anil Bokil, founder of ArthaKranti Pratishthan,has made headlines thanks to his interaction with PrimeMinister Narendra Modi(since 2013), that supposedly triggered off the latter's nation wide action of Demonetisation.Bokil who has been working on this issue since the last one and a half decade, feels that he is happy with Modi's decision but thinks it could have been implemented in a better way. As per news reports, he calls it "currencycompression" and not demonetisation.His suggestion was that Rs.50 be kept as the highest denomination. In fact, he had proposed with drawal of high denomination notes. He is happy that Prime Minister Narendra Modi has set in motion one of the big ideas that ArthaKranti Pratisthan,the Pune-based think-tankhe founded 12 years ago, has proposed. The reason, heargues is because 70% of the population earns around two dollars and there fore there is more need of such low denomination currency. He has also proposed banishing of most of the present day taxes and have it deducted instead at bank transaction point, amongst several other reforms.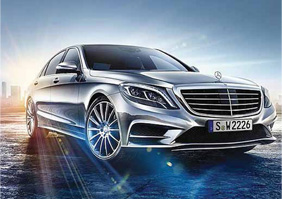 Merc to beef up India R&D
Mercedes-Benz, one of the major luxury automotive is set to hire 1,000 engineers in the country next year for its research and development (R&D) initiatives in India. "Currently,its staff in India accounts for 3,500 people which has risen from a 700-strong headcount five years back. Next year we plan to recruit another 1000," MD and CEO of MercedesBenz Research and Development India (MBRDI), Manu Saale said in a release. The Indian research team is currently undertaking important assignments to develop safety features in Mercedes-Benz vehicles, he said on the sidelines of the Safe Roads roadshow. "We carry on R&D exercise not just for the luxury cars, but for trucks, buses as well as vans from the Indian R&D centre," he said. MBRDI grew up to become a 3,500-employee strong organisation, making it the largest R&D centre (in terms of headcount) for Mercedes-Benz outside its headquarters in Germany. Mercedes-Benz, through MBRDIcurrently owns 500 patents in the country. Last year, the company extended the MBRDIc entre in Pune in Maharashtra across 23,318 sq ft of floor space. "There is a bit of India in every Mercedes-Benz car," Professor Schoeneburg, director of development, safety,durability and corrosion protection at Mercedes-Benz Cars said.
No to Demonetisation
Muhammud Yunus, Nobel Peace Prize winner and founder of Grameen Bank is not in favour of demonetisation. "Demonetisation does not solve the problem of the process that created it. We may cleanup once but again it will come back with full force unless the government pays attention to the processes''. Speaking to the Economic Times, he gave this example, "Iwas cleaning up the water on my floor and I was working very hard to get everything cleaned but I did not close the faucet that produced this water. The faucet has to be shut so that it doesn't flood the floor again.''
Maria, UN good will ambassador again
The much controversial tennis player Maria Sharapova who was originally banished from the sport for two years, a suspension that was later cutto 15 months will resume her role as a United Nations(UN) good will ambassador when her drug suspension ends. Five-times Grand Slamchampion Sharapova became an ambassador for the UNDevelopment Programme(UNDP) in 2007, but was dropped after admitting she had used the banned substance meldonium. The United States based Russian, will return to action in time to contest three of the four grand slams next year, missing only the Australian Open. "The UNDPis glad to learn that MariaSharapova can return to the sport she loves sooner than expected and we will lift the suspension of her role as our good will ambassador once the reduced ban expires," the unsaid in a statement.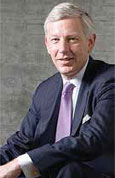 'India is good now'
Dominic Barton, CEO McKinsey stated that for the last several years, people had given up on India and they were rather opting for countries like Africa, Indonesia and the USA. However, under Modi'sregime, he believes interest in India has risen as he feels the government seems serious about business. He refrained from advising clients earlier, as doing business in India seemed complicated and clients used to get frustrated. However now, Barton feels that agriculture and food sectors are the biggest two business areas in India.
Adil Malia to write new story
Adil Malia, Essar's long-time group president-HR, has called it quits. After being with the company fora decade, Malia was heading people management globally for the $40 billion conglomerate, employing over 70,000 people world wide. Malia, who began his career at the age of 19 as a legal assistant, reached the top management echelons working with esteemed organisations such as Godrej, GE, Al-Futtaim and Coca-Cola before joining Essar.Malia is leaving to wear the entrepreneurial hat along with a few other industry veterans. Together, they plan to enter the management consulting space. Mali a reportedly said, "We are a group of five people and we plan to establish a management consulting organisation which is going to look at business transformation, be spoke HR practices, change management and more. It's going to be a boutique of specific solutions for effective management of businesses."A much sought-after speaker, mentor and coach, Mali a thought fully shares his reasons behind this move,as he says, "No matter how great the words be, if you do not pause sufficiently in between words, the sentence loses its meaning. Careers are no different. One needs to pause in between and periodically redirect the course. However great a story may be, a new story has to be told. The old story, therefore, has to end!"Malia will be serving his notice till January, 2017 and from then onwards he will dedicate his time to planning and executing his new venture, which should be out and running a few months later. A regular writer and doodler, Malia also plans to start writing a bookon 'future-smart people enterprises' that he has been pondering over for some time.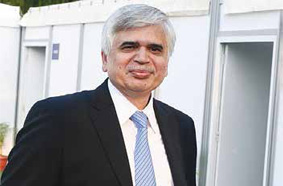 KPMG India CEO Rekhy to hang up his boots
KPMG has revealed that its CEO Richard Rekhy plans to retire but will continue to serve in the position till a successor is found. The board has respectfully accepted his decision after due deliberations while a new CEO will be appointed over the next few months after the board runs the succession process and the successor is ratified by KPMG India partners, the company shared with the press. Rekhy has been serving as CEO since 2012 and this year, in January, Rekhy won a second term that would have seen him holding the post till 2020. During his tenure the company has attracted over 70 partners from other industries services sector. KPMG in India has around 11,000 staff. However, inrecent times the company witnessed attrition of various partners. KPMG India Board said that it has respectfully accepted Richard's decision to retire, after due deliberations and recognising his stellar professional as well as personal contributions to the India firm over the last many years as the CEO, and in his prior leadership roles. The India Board recorded its sincere appreciation of Richard's commitment and his drive to lead the firm as being the clear choice for its clients and people alike. Rekhy said he has been incredibly privileged to have the opportunity to lead KPMG India through a time of such strong growth. He expressed that he believes it is the right time for the firm to choose its next leader.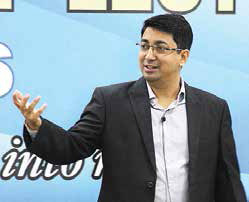 ABP News' Subhankar Ghose joins Zoom
Subhankar Ghose, the former head-HR of ABP News has moved back to the BFSI industry as chief people officer, Zoom Insurance Brokers. In his new role, Ghose will be leading the human resource function and be responsible for talent acquisition, talent management, leadership development, compensation and benefits and employee relations. His additional responsibilities will include administration and information technology. He is also a member of Zoom's executive management team. Ghose, an engineer who got his degree in electronics and telecommunication from the National Institute of Technology and holds a PG Diploma in HRM from IMT Ghaziabad, has spent a significant part of his career – around eight years – in the BFSI sector. Prior to this, he worked for companies such as Muthoot Fincorp and ICICI Prudential Life. Ghose spent a little more than a year at ABP News. He started his career with a travel company, Tybros, in July 2003, where he spent close to three years. In 2006, he moved to Sahara Global and a year and a half later to ICICI Prudential. He also has a six sigma certification from the Indian Statistical Institute and a certificate in Industrial Relations & Labour Laws from the Symbiosis Centre for Distance Learning.

Revathy Reddy, HR director at Inside View
Revathy Reddy was appointed as the HR director of Inside View,the San Francisco headquartered marketing intelligence solutions company for its India operations. Reddy will be responsible for innovative HR systems and processes, delivering strategies and providing overall leadership to the HR function. She will also be responsible for Inside View India's strategic framework for talent management and engagement,leadership development and further refining the organisation's strong culture, aiming to make Inside View an employer of choice. "Inside View has a strong and proven team of leaders and we are delighted to have Revathy join us. We are relying on her deep experience in leadership development, talent management, and employee engagement to further enrich the value of the organisation's human capital. Revathy has taken to the rudder from the very first day and the initiatives she is planning are sure to put us on the map of one of the most favoured organisations to work with, in India," says Sesha Rao, MD, India operations,InsideView. "This is an exciting new phase for me. The culture in the organisation is electrifying.I would like to carry forward my professional passion," said Reddy. A postgraduate in human resource management from XLRI, Jamshedpur, Revathy joins InsideView from Microsoft India Development Center .
by Joe Williams