DIGITAL INDIA SURVEY : DIGITAL INDIA REPORT CARD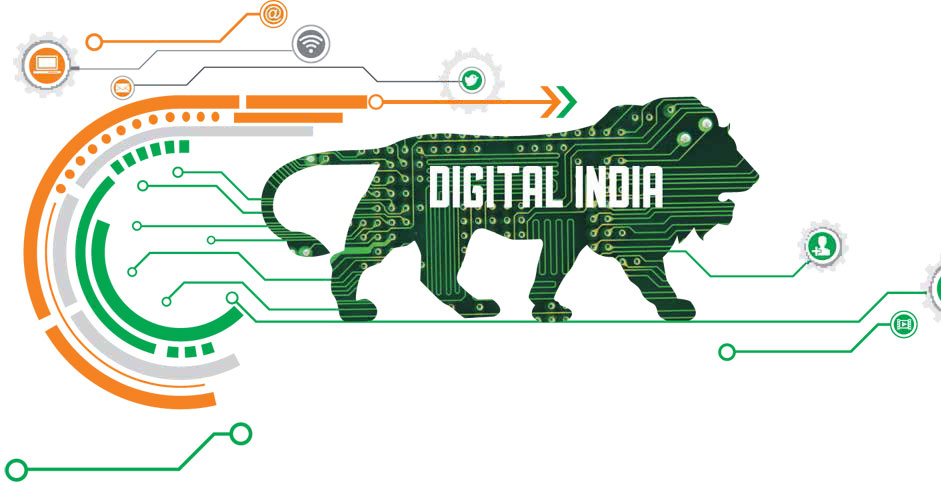 In 2014, the Indian Government under Prime Minister Narendra Modi's leadership had set up a digital initiative which aimed at connecting the entire country via the Internet. Projected as the flagship programme of the government, the initiative was the first of its kind, and was promoted as such. Now, two years since its inception, the government has released a newsletter chronicling the success of Digital India. Corporate Citizen takes a closer look.
One of the chief highlights of the BJP campaign trail was its promise to make India digitally connected. Once elected, Digital India was launched on a priority with considerable promotions countrywide. Starting from bringing essential government services online to building a better digital infrastructure, the Modi government has been committed to the cause. Digital India has seen a lot of citizen participation, from the extensive use of using the MyGov service for feedback, to tweeting about issues to the respective government department, Indians seem to have adopted Digital India wholeheartedly. The Prime Minister seems quite pleased with the progress as he quotes
Being the flagship programme of our Government, the success of Digital India is unmatched and is reaching people across the country which makes their everyday lives better. It's our dream to see a new India which changes the face of the country through a digital makeover.— Narendra Modi, (Prime Minister of India)
Governance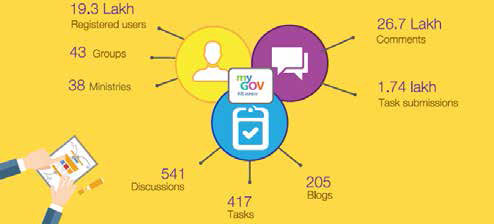 Launched on July 26, 2014, the MyGov service is based on the principle of 'discuss', 'do' and 'disseminate' where the citizens can actively take part along with the domain experts on national issues. Polls and nation-building tasks are also implemented on this platform. The service has 19.3 lakh registered users with 26.7 lakh comments; users can interact and rate 38 different ministries via this service.
AADHAR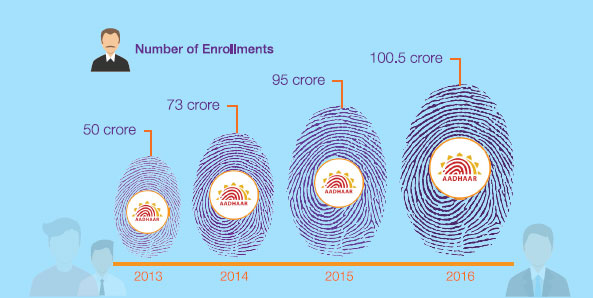 Aadhaar is a unique 12-digit number given to every Indian citizen using biometric inputs. It can act as their identity verification anywhere without any problem and also help them access government services seamlessly. Biometric identification process removes the loopholes of fake documents. It enables direct transfer of government benefits to the under-banked areas. By using Aadhaar platform the government has extended DBT services to 30 crore beneficiaries, amounting to a transfer of Rs.61,000 crore. Also, 3.5 crore duplicate beneficiaries have been eliminated, resulting in savings of Rs.14,000 crore in 2014-15. As of 2016, there are 100 crore Aadhar cardholders.
BOOST IN ELECTRONIC MANUFACTURING

High priority has been given to boost manufacturing of electronics and IT hardware in India due to its potential to generate employment and connect Indians digitally. The Union Budget of 2016-17 extended the differential duty structure to some electronics items. It also seeks to promote manufacturing of semiconductor wafer, LCD fabrication units and populated PCBs among other things. Since the launch of Digital india, electronic investment proposals grew by an astounding 985 percent in 2014, 37 percent in 2015 and 83 percent in 2016.
MOVING TOWARDS PAPERLESS GOVERNANCE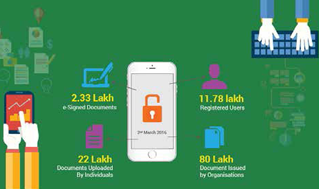 India paved the way towards paperless governance through Digilocker. A highly secure cloud based platform, Digilocker provides the opportunity to organisations and individuals to issue, verify, store and access all their legal documents. Digilocker enables the users to secure online storage of documents, facilitates automatic issuance of documents by government agencies. The stored documents are electronically signed before sharing, which further eliminates the need of submissions of paper documents. Users can register via mobile phone, sync their Aadhaar identity and upload documents. This eliminates the need for physically visiting government offices and standing in long queues. The government has so far issued 80 lakh documents through this service.
MAKING INDIA DIGITALLY LITERATE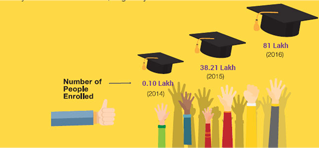 The government has launched Digital Saksharta Abhiyan (DISHA) to make one person in every Indian household, digitally literate. The progress in this initiative has been tremendous. With 1,937 training partners, 80.88 lakh candidates enrolled, 54,78,903 candidates enrolled and trained, and 22,94,718 candidates trained and certified, India certainly seems to be on its way towards digital literacy.
CONNECTING THE UNCONNECTED INDIA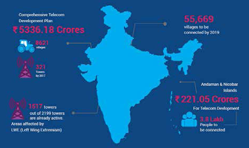 This initiative aims to bring connectivity to the most isolated regions of India by 2019 though expansion of mobiles and Internet services. It focuses on services pertaining to education, farming, health and finance. This will ensure the remotest communities of India are included in the digital transformation of the country. Information is key to development. Seamless Internet and mobile connectivity in all communities will enable them to elevate their knowledge, awareness & therefore socio and economic status. It will also ease access to a gamut of services offered by government and private sectors. Rs.5,336 crore has already been sanctioned with an aim to connect 55,669 villages by 2019.
INTERNET FOR ALL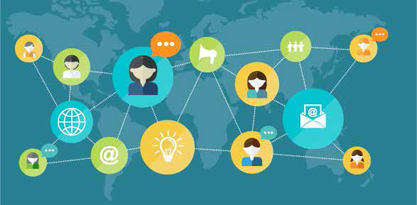 Internet access to every citizen, BSNL is installing Wi-Fi Hotspots at important locations like Taj-Mahal in Agra, Bengaluru, Vijaywada, Hampi - Karnataka, Haridwar, Ajmer - Dargah Shareef, Sarnath-Varanasi, Sun Temple - Konark etc. BSNL has planned to setup 40,000 Wi-Fi Hotspots. Also, 2.05 lakh Common Services Centres (Digital Seva) and 21,319 post offices are the important components under Public Internet Access Programme. This initiative will enable citizens to easily access wireless Internet, promote the use of digital platforms, and make e-Services available to people on-the-go.
CONNECTIVITY TO RURAL INDIA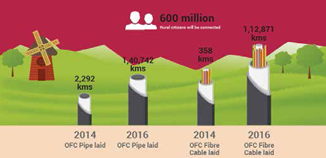 BharatNet focuses on bringing high-speed broadband connectivity to rural India. In collaboration with Bharat Broadband Network Limited (BBNL), the Government has taken a step forward to connect nearly 2,50,000 Gram Panchayats. The usage of BharatNet for various e-Government services like tele medicine, tele-education, e-Health and e-Entertainment, etc. is meant to create local employment opportunities and drive socio - economic growth in the area. By this year, 1,12,871 kms of optical fibre has been laid to connect 60 crore rural citizens.
ALL NEW MOBILES TO HAVE PANIC BUTTON FROM 2017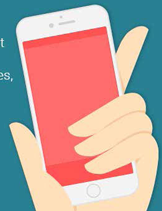 Starting next year, all mobile phones sold in India will come with a dedicated "panic button "' that can be used to send out a signal in case of distress. The panic button and Global Positioning System facility in all mobile phone handsets Rules, 2016, notified by the Department of Telecommunications in April 2016 are aimed at improving the safety of women and ensuring a quick response from security agencies. An official notification dated April 22, said, "With effect from January 1, 2017, no mobile phone handset manufactured company shall sell in India without feature phones without the facility of panic button by pressing 'Numeric key – 5' or 'Numeric key – 9' to invoke an emergency call."
By Neeraj Varty