BEYOND MONEY : Mantra4Change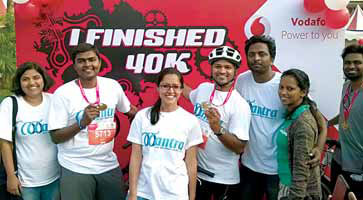 A scholastic model for underprivileged students
The complex path for equitable education for all children between ages six-14 via the Right to Education Act (RTE) of 2010, did prove a silver lining as conscientious citizens and non-governmental organisations too embarked on parallel proposals to bring in quality education amongst less-privileged students and first-time learners. However, is this spirit tangible enough for fixing the colossal disparities in content and quality in our educational framework? In questioning the anomalies in the current educational system, while also exploring the possibility of CSR in education, six youthful minds shaped up MANTRA Social Services in 2013. Mantra4Change is a Bengaluru-based non-profit organisation that attempts to transform public schools and low-cost private schools for empowering underprivileged children in acquiring quality education
"The question is not whether the system is failing but rather, what model of delivery or implementation has the best chances of success in empowering students in the context of such schools (in underprivileged localities)," remarked Santosh More, co-founder, MANTRA Social Services.
What began in 2013 as a one-year pilot run in one of the low-income private schools in Bengaluru has shaped up under Mantra's current key project, STEP that is operational across seven under-resourced schools, including three government — aided and four private schools in Bengaluru.
"Our intent is to create proof-points for quality, irrespective of the socioeconomic conditions or past struggles of the schools we engage with. This, in turn is expected to help us in scaling up our model of intervention targeting under-served schools", said Santosh. The team aims to create scalable learning curves across 80 schools, 2,000 teachers and 30,000 students in the next five years. Mantra's belief seems to be speaking for itself as it has been stepped up by none other than S D Shibulal, former CEO and co-founder of Infosys and Kumari Shibulal by way of funding support recently.
'Mantra' of Transformation
The six-member team co-founded by Rishi Singhal, a technology enthusiast and a software architect, Khushboo Avasthi, a TISS alumni and Santosh More, a mechanical engineer with experiences with NGOs -'Teach for India' and 'Janagraha Centre for Citizenship and Democracy' is supported in its endeavour by team members, Charag Krishnan, an ex-CSR coordinator with BPCL, Anoop Erakkil, an ex-'Teach for India' fellow who previously collaborated with Isha Vidhya rural schools and educational consultant, Medha Krishnan.
Santosh explained that schools serving students from less-privileged localities are the ones often stuck in a cycle of poor performance and under-achievement. Although the system, supported by various policies and interventions initiated both by the government as well as non-governmental agencies, strive to address the gaps in quality and equity in education, the key is in a sustainable model that works in sync with the school community, rather than through policy measures that are often imposed upon these schools.
The team takes a comprehensive approach in transforming schools by physically being present at these schools. Through this approach, Mantra's involvement with key stakeholders (including government authorities) engages them as the pivotal point for development and implementation of any school transformational programme.
"During our engagement, the team attempts to mobilise monetary and non-monetary help from external organisations. For instance, we have set up computer labs and libraries with such help in three of our partner schools in the current academic year", added Santosh. "Our project is supported by donations from HNIs (high net-worth individuals) and foundations like Infosys Foundation," he added. While targeted funding is via donations, the team envisages to gradually charge private schools a small amount for running a part or, the complete STEP initiative serviced by Mantra in their premises.
For Team Mantra, 'their volunteers are not paid, not because they are worthless, but because they are priceless', as is the underlying belief. They rely a lot on youngsters such as Mitisha Dodderi and Prakhar Saxena, third year engineering students, who, when they are not busy decoding computer logic and science, teach mathematics to the students of grade 10th at Mantra's partner schools.
Bridging the Learning Curve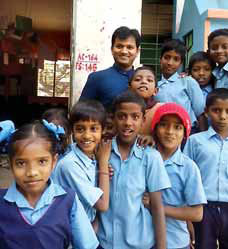 With a target group, essentially first-generation learners, Mantra has chalked out the STEP (School Transformation and Empowerment Project) initiative to bridge the learning curve. STEP is a two-year holistic intervention programme that bids to improve the quality of education in under-resourced schools for children from underprivileged communities. It is designed to empower all four key stakeholders in any school, viz the administrators, teachers, students and the community.
"We work as part of the school team over the entire two-year period for implementation of STEP by conducting sessions with the school leadership, through teacher training sessions and classroom interventions for better learning outcomes and also work towards community engagement".
Santosh noted that as 'Teach for India' fellows, the exposure gained on the existing school system showed them that it was not enough to merely make an impact in the classroom but to also try and change the face of education in the country. "Schools are like any other organisation, whose performance depends on multiple factors. Hence to improve the quality of education that a school provides, a holistic approach is needed. STEP is a culmination of our efforts. The model will keep evolving as we grow and expand to multiple schools."
'We need to conduct assessments that give us talking and reflection points with the school head. If the school head is willing to engage with us for next two years, based on the findings of need analysis, we go ahead with that school'
Unique Mantra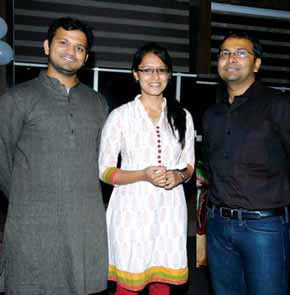 Under Mantra's guidance, the choice of school is based on the key entry parameters of location and fee structure. For urban Bengaluru, school fees charged should be below Rs.1,000 for semiprivate schools or a fully aided government school.
A detailed analysis of a school is based on various parameters, including teaching, learning effectiveness, learning outcomes, competencies of school head and other rubrics are brought into play that comprises of 10-day-long scheduled assessments, adding another week of data compilation and analysis that ultimately help to chart out developmental goals. 'We need to conduct assessments that give us talking and reflection points with the school head. If the school head is willing to engage with us for next two years, based on the findings of need analysis, we go ahead with that school'.
The STEP initiative is thereby a holistic approach that differs from similar initiatives by other organisations in the school education domain. While some organisations primarily cater to one-off initiatives of either improving English language skills or technology based interventions, teacher training modules or leadership skills development, Mantra's perspective is to pool in resources from all stakeholders for bringing in the larger shared vision of quality education.
Mantra4Change model and its partnership with organisations - BEETF (Bangalore Effective Education Task Force) and the STIR initiative, a global teacher-led movement for improving children's learning in developing countries, could perhaps lay the much-needed foundation for students in under-served communities in India.
By Sangeeta Ghosh Dastidar