Star Attraction : Schauna and Bikram Saluja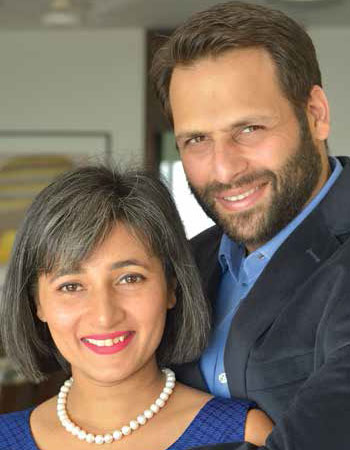 Schauna Chauhan Saluja is the CEO of the Rs 2,500 crore Parle Agro that produces some of the most popular and leading soft drink brands of India. Her husband Bikram Saluja is famously known as the first ever Beauty King of India when he won the prestigious Graviera Model contest in 1994. He is also popular as a film actor and an international tennis player. Corporate Citizen interacted with this charming Mumbai based celebrity couple to find out what makes them click.
The Parle Agro website proudly announces, "We are the largest Indian food and beverage company. With brands that have won the hearts of consumers everywhere, we are in almost every home across the length and breadth of India. Be it Frooti, India's first mango drink in a tetra pack, or Appy, India's first ever apple drink, or Appy Fizz, the country's first sparkling apple drink, our beverages have, over the decades, acquired iconic stature in one of the most competitive markets in the world." Admirably steering this Rs. 2,500 crore company is petite and polite Schauna Chauhan Saluja, CEO, who began her tryst with her father's company since the age of 22 as a Board member, after procuring an MBA degree from Switzerland. Bikram Saluja, the famous hunk, whose good looks hit the public eye after he won the Graviera Modelling Contest to become India's first Beauty King in 1994, is also well known as a Bollywood actor for his role in Page3, Fiza and Umrao Jaan. His passion though, is tennis, in which he had his limelight in junior international tournaments such as the US Open.
Jab we met in 2001
went beyond just dreaming and ensured she captured him for herself and forever. That was none other than Schauna who quite literally used her influential corporate position to hook Bikram, who was caught unawares. Schauna candidly confesses how she laid the trap. Says she, "One weekend I happened to seen him at one of the night clubs in Mumbai and as soon as I had a first glance of him, I told myself `he is the one who I'm going to marry'."
With a twinkle in her eyes, she narrates how she pursued him after that: "I said to myself that I had to get in touch with him because I knew he was not going to do so. I don't think he even noticed me. So I got his number and I left a message to call back. He didn't do so, and I thought I had to move on. And so when he called me back later, even though I was there I didn't answer the phone. Anyway, I answered when he called me up again and I said, "You know, why don't we meet up?" He obviously thought it was work related, but I had a different agenda in my mind (chuckles).''

By Vinita Deshmukh