Tete-A-Tete : The Corporate Chanakya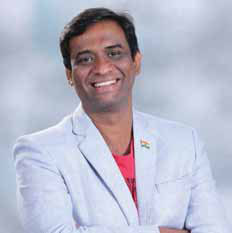 The author of three books including the most aptly titled "Corporate Chanakya", Dr Radhakrishnan Pillai holds a vision regarding the modalities of management in the present and the future, with a perspective on the past, through Chanakya
As modern technology gallops toward the future, a sudden hearkening to the past occurs, signaling that it might be disconcerting and discomforting as well. On a closer look however, this connection is so succinctly brought out and made relevant to the present that one is astounded as to why this association hadn't been thought of by management experts earlier. The man, who has been highly successful in connecting the past through Chanakya to the present system of Corporate Management, is Dr Radhakrishnan Pillai.
The author of three books including the most aptly titled "Corporate Chanakya", Dr Radhakrishnan Pillai holds a vision regarding the modalities of management in the present and the future, with a perspective on the past, through Chanakya. Pillai spreads the knowledge of Chanakya to millions of people across the globe through lectures, workshops, training programs, radio shows and articles. Director of SPM Foundation and part of the University of Mumbai team, he designs various leadership programs.
A conversation with Dr Pillai is not only enlightening but also invigorating vis-a-vis the different aspects of management. In an interview with CC, Dr Pillay made some interesting points and also gave a lot of information that will make the reader learn so much more with reference to Management
How did you manage to meld two time-frames, one in which Chanakya existed, and the present with its stress on Corporate Management?
Any Indian who has been to school and studied history will be well acquainted with the intricacies of Chankya's teachings. What is important is for the casual reader of history to incorporate the sayings of Chanakya in a modern era. When we look at history, we impose our present on it, instead of dissociating the existence of certain modern-day features. However, human feelings and behaviour no matter what the period of existence, is by and large the same over huge periods of time. Chanakya's sayings were limited to a population that did not even think of globalisation but his prudent advice can be easily seen on a global plane e.g. "When opportunities are lost, obstacles arise." If this saying is not applicable to management all over the world in today's scenario, then what is?
Through "Arthashastra" Chanakya has more to do with Economics, then how did the idea strike you that Chanakya can be easily associated with Management?
Economics and Management are inextricably linked. While studying for my MA in Sanskrit in Kerala, I perused the sayings of Chanakya in Sanskrit. I found that many of his sayings can be easily adapted as well as interpreted with special reference to Management studies. It didn't take me long to get the association of ideas joining hands with Management. My teachers and professors also lauded my ability to relate Chanakya's sayings more with Management than Economics. They also guided and mentored me into looking at the Management aspects of Chanakya's teachings
Is there any aspect of Chanakya's teachings in the Arthashastra that may not have got the importance it deserved and you would like us to know?
Yes, there is the whole philosophy of Anvishikee i.e. the higher intellect. By the "higher intellect" we do not mean the intellect of a highly intelligent human being but the intellect that is full of training toward ethicality. Ethicality has its own importance and at times gives way to pragmatism. Nonetheless, it is always prudent to behave in an ethical fashion. This aspect is very much relevant in today's corporate scenario for MNCs that operate in different countries and cultures, and therefore while pursuing business interests, need to draw a moral line somewhere.
How do you see youngsters today? Do you think that they can relate to the sayings of Chanakya? What is your advice to them?
There is no end to the suggestions that one can give to youngsters. Suffice to say however, that they should a) have a vision for their company if they are owners or are thinking of venturing out on their own; b) the higher they go up the corporate ladder, they have to be within the learning curve and take care not to fall off. Stagnation is the first step toward decay and c) they shouldn't fall into the trap of thinking that what happened during Chanakya's time today is irrelevant. Events have an uncanny way of telescoping themselves through time. We, as human beings with our definition of time, also need to channelize events in a systematic fashion so that we don't get caught in a time-warp
You have also presented Chanakya's ideology to audiences abroad. How do they relate to it?
Surprisingly, the attitude to Chanakya's ideology is more positive in people who belong to countries such as the US, Indonesia, Japan and Sri Lanka. As an example I would like to illustrate the place of enlightenment of Lord Buddha Bodh Gaya which is looked after in such a systematic fashion
Yes, there is the whole philosophy of Anvishikee i.e. the higher intellect. By the "higher intellect" we do not mean the intellect of a highly intelligent human being but the intellect that is full of training toward ethicality by the Japanese who revere Lord Buddha. As Indians we need to set our priorities right. That is happening, slowly but surely and you will see huge changes in India in many of its professionals by the year 2020
As a member of the University of Mumbai, and SPM what kind of a role do you visualize for it in the spread of the education of Management?
Management in today's world has got into a groove that is of its own making. It needs to address a wide variety of issues. While looking at macro issues because of the growth of MNCs, unfortunately management, unlike economics, is straying from micro issues. Of course, there are areas where quite a lot of work has been done, but still much more needs to be and will be done. At SPM we are now working on a range of issues such as designating and focusing on specific fields so that micro possibilities do not get neglected
When putting Chanakya into a modern perspective of Management, what areas did you focus on?
If you will look closely at the broader areas, management has a lot to do with leadership skills, the intricacies of management and of course, the most important, in today's highly competitive fields, training. Chanakya has dealt with all these with a high degree of sophistication. It is not simply taking a mantra from a historical book and making it applicable today. Every aspect of it has been handled with an eye on modern-day relevance.
Chanakya has dealt with all these with a high degree of sophistication. It is not simply taking a mantra from a historical book and making it applicable today
How do you deal with stress, at work and at home? What do you think discipline is all about?
Let us first look at discipline. There are two, external and internal. Simply put, one with internal discipline needs no external discipline. Conversely, no amount of disciplining externally will help if there is no discipline within an individual. Discipline is another word for control, and when one has control over the thought process in one's mind, discipline automatically follows. To sharpen this aspect of human life, yoga is the best way. Today the world has also acknowledged the salutary effects of yoga in all kinds of stress situations. There are thousands of stress-busters, but yoga is the mother of all stress-busters
Where do you think is India headed in today's climate of political instability and uncertainty in international areas?
I see India's future as bright with Mr. Modi's stress on development. I believe in him we have a Prime Minister who knows what is best for the country. His trips abroad have been highly successful and we have a situation in which we can be sure of foreign investment to a huge extent. Now, it is up to the people of India as to how they manage these funds and what kind of signal we are going to send to the world. Development of each and every Indian is just round the corner under the able guidance of Modi.
On this happy note, as we took leave of each other, I was struck by s the way history repeats itself, and had no doubt at all that the man I had spoken with i.e. Dr. Radhakrishnan Pillay, was Chanakya himself reborn in a different period, but with a purpose.
By Vinay Sethi