Travel : Rugged 'n' breathtaking Capri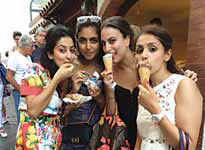 Travelling to Capri, Italy, with Mira Gulati, founder and principal designer, Mirari
Mirari's founder and principal designer, Mira Gulati, created the Mirari brand to satisfy India's growing demand for luxury jewellery with a contemporary edge, as well as to cater to the international market's craving for aesthetic and incredible Indian treasures. Her collection is fresh and innovative in terms of design and you know it's a Mirari when you see one. Here she talks about her favourite travel spot, Capri, in Italy.
Which is your favourite holi- day destination? Why?
I visited Capri at Amalfi Coast in Italy last year and ever since it is my favourite holiday destination.
What do you like about the place?
I like everything about Capri, from the hotels to the restaurants serving Italian delicacies, the picturesque beauty and picking authentic Italian souvenirs. The crags and grottoes of Capri are the major attractions of the island. Whenever one thinks of Capri, the first images that come to mind are of the rocks of Capri known as Faraglioni. These rocks are over 100 meters high and are located just a few meters from the coast. We took a private yacht and sailed around the Amalficoast. We also went swimming in the grottoes.
Which restaurants you like to visit over there? Why?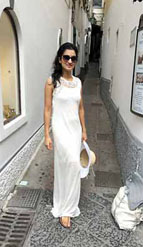 Eating in Capri is bliss. There are so many outstanding restaurants to enjoy Italian delicacies. The Ristorante Da Paolino is beauti- fully located and has a splendid environment where eating under lemon trees is extremely delightful. Another wonderful restaurant at Capri is the beachside restaurant, Il Riccio which is known for its seafood salads and pastas and fresh fish dishes. As the restaurant is perched on the cliff edge above Capri's Blue Grotto, one can also enjoy the glorious view of the Is- land's sun–drenched coastline with seafood served on the table. The restaurant at the JK Palace Hotel, JK Kitchen is another place where you can enjoy the delicacies. The restaurant is a charming place that serves traditional Mediterranean cuisine and has an incredible view. My favourite pick at the same was "AcquaPazza" sea bass with esca-role. The hotel is designed to look like someone's living room, mak- ing it very easy to become cosy in that warm atmosphere. There are a couple of other restaurants as well which are a must visit in Capri, like Ristorante Villa Brunella which is known to have splendid views in Capri and Ristorante Aurora is known for serving the best pizzas across the region.
Which are the good hotels to stay there? Which is your favourite hotel?
There are plenty of good hotels. I enjoyed my stay at Tiberio Palace, which is located in the heart of Ca- pri's movida - a short stroll away from the famous Piazzetta, it is still a private getaway with its intimate and privileged position.
Any tips you can give to fel- low travellers for that place?
My tips to fellow travellers visiting Capri would be to sail through the crags and grottoes of Capri as it will give you an experience like never before.
According to you how can that destination be im- proved?
Nothing as such. My experiences were all amazing and the people very kind.
The Ristorante Da Paolino is beautifully located and has a splendid environment where eating under lemon trees is extremely delightfu
Any interesting episode of your holiday over there which you can share with our readers?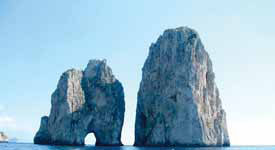 While collecting souvenirs around the place, we visited the boutique, 100 percent Capri, one of the world's most exclusive boutiques. The owner, Antonio Aiello, better known to me as Toni, was personally there to take care of my requirements and make his customers fall in love with his creations. Toni's passion for the perfected garments and accessories he designs are not only beautiful but they make a woman look lovely. His presence made my visit memorable.
What kind of a traveller are you – planning well or more impulsive?
I am a 'planning well' traveller but at times get impulsive. As I feel visiting random places and doing spontaneous things can equally be fun sometimes.
Lastly, what tops your mind when you travel – sightsee- ing, food, shopping ...
For me it's a mix of relaxation, scenery, shopping and food.
Local Transport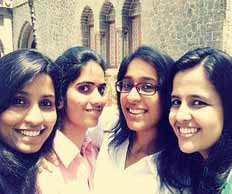 Since non–residential vehicles are not allowed in Capri for most of the year, one cannot bring your own vehicles to the island. Most of the roads are pedestrian and there is very little parking space available. Travelling in Capri from one place to another on foot is a very feasible option. The public mode of transportation in Capri is via Bus and Funicular. A funicular, also known as an inclined plane or cliff railway, it is a cable railway in which a cable attached to a pair of tram-like vehicles on rails moves them up and down a steep slope, the ascending and descending vehicles counterbalancing each other.
A Bit About Capri
Capri, an island in Italy's Gulf of Naples, is famed for its rugged landscape, upscale beach resorts and high-end shops selling handmade leather sandals and signature limoncello liqueur. One of its best-known natural sites is the Blue Grotto, a dark cavern where the sea glows electric blue, the result of sunlight passing through an underwater cave.
How To Reach There
The nearest airport to Capri is situated in Naples. So there are connecting flights from Delhi/Mumbai to Naples. From Naples one must go via the sea to reach Capri. Ferries take about 2 hours to Capri and depart quite frequently.
By Sharmila Chand