Top Position : The art of Tough Love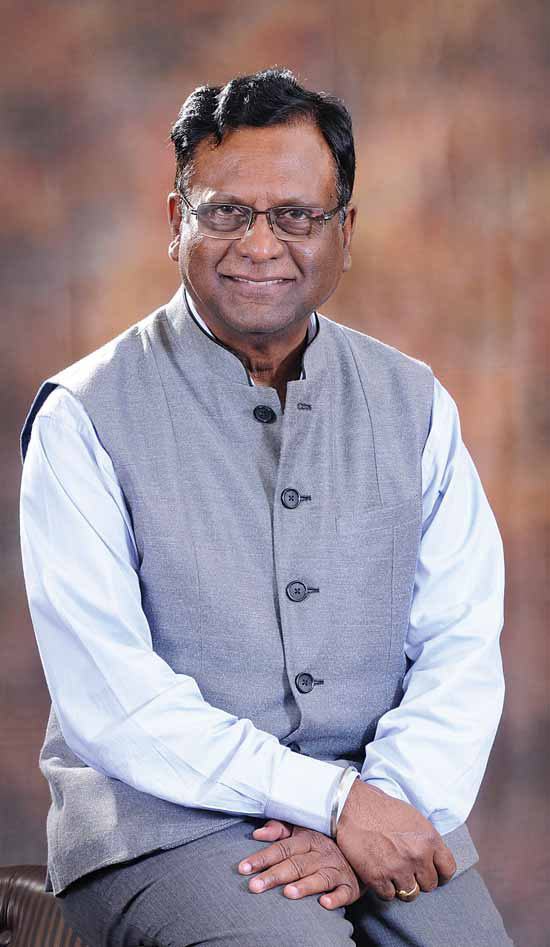 P. DWARKANATH, former HR chief of GlaxoSmithKline Pharmaceuticals and current Advisor - Group Human Capital of Max India Ltd., a multi business corporate with Max Life Insurance, Max Bupa and Max Healthcare under its umbrella, grossing a consolidated revenue of over $2 billion in the insurance and healthcare space, shares lessons and observations gleaned from his own personal life and career...
For those who attend conclaves of HR professionals, he needs no introduction. A frequent speaker at most corporate events, P Dwarkanath is probably one of the most respected authorities on subjects of business leadership and strategic management. Widely hailed as "India's leading expert on acquisitions and mergers," he believes that you need to have a "mission in life" if you really want to succeed as a corporate leader.
Currently he is Advisor – Group Human Capital of Max India Ltd, which is a joint venture partner in Max Life Insurance, Max Bupa and Max Healthcare.
Dwarkanath has held management positions in various professional bodies: President of National Human Resources Development Network (NHRDN), President of Delhi Management Association (DMA), Regional President – Northern Region of All India Management Association (AIMA) and the Treasurer of AIMA, to name just a few.
He has won several prestigious awards for his valuable contribution in the fi eld of Human Resources, including the "Pathfi nders Award" by the National Human Resource Development Network; "HR Professional of the year" by Mid-Day in association with DAKS, London, and the "Career Achievement Award" by GSK International, "Life Time Achievement Award" by Asia's Best Employer Brand Award and "Chairman's Award" by Max India Group.
At a recent three-day conclave of top corporate leaders and marketing gurus in Pune, he opened his heart to Corporate Citizen and recalled valuable pieces from a long career in several different industries. Excerpts from this candid interview:
BEAR IN MIND, YOU HAVE TO DO YOUR DUTY IN LIFE, COME WHAT MAY. AS LONG AS WHAT YOU ARE DOING IS RIGHT AND YOUR CONSCIENCE IS CLEAR, YOU SHOULD NOT WORRY ABOUT ANYTHING ELSE
What was your first recollection of experiencing great leadership?
Most defi nitely it was at home. I'm very fortunate to have great parents. My father is a judge. He has retired now but is still hale and hearty. My mother, a graduate from Madras University, brought me up with a lot of discipline and values, my father taught me that life is nothing but duty. I can never forget an incident when I was preparing for my ten-plus-two final exam in Hyderabad where he was posted as a metropolitan magistrate. It was around 4.30 a.m. as I was studying that I saw him properly dressed and walking away quietly. I asked, 'where are you going?' He said, 'Today is your exam, best of luck. I'll come in the evening and talk.' There were lots of cops and vans waiting for him and so he left. In the evening, after I finished my exam, he came and told me that he had gone to execute a death sentence. Th is kind of duty comes by turn and very rarely. Most of his colleagues were ducking it for one reason or the other. However, he did it and told me, "Son, bear in mind, you have to do your duty in life, come what may. As long as what you are doing is right and your conscience is clear, you should not worry about anything else. Don't duck your duty and do it wholeheartedly with full commitment and dedication." I can never forget that. Thus I experienced many such lessons in effective leadership at an early age, right at my home itself.
Did such lessons help you face difficult situations in your own career?
Th ey had a profound impact. When I was in GlaxoSmithKline, I was the plant HR Manager in one of the factory towns and my father was a district judge at the same place. We used to have a meal together. My son, who was 2-1/2 years old used to see me off when I left for office. Often I used to find a lady with a small child falling at my feet, saying bachao, begging for mercy and help. Maybe I was very young, very disciplined, very process driven, thus sacked people for absenteeism. Seeing all this, my wife and son would want to know what I'd done to cause misery to this poor lady. Naturally, it touched me too and I began thinking, "Am I doing the right thing?" While talking to my father that night, I said, "I've been sacking people at my plant and you know this is what is happening at home every day." He smiled and said, "OK, we'll talk tomorrow." The next day, my father gave a death sentence to someone. But he did not express any feelings or emotions. Then he said, "I didn't talk about it yesterday out of tough love. My suggestion is that you be tough on issues but soft on people. People may say you are cruel, but you carry on not because you are cruel. This is the rigor of discipline and commitment to your job. As long as what you are doing is right, ethically, morally and otherwise, you should not duck out of the job. But think twice before you take a call. Once you take the call, you should not keep reflecting." That helped me a lot in my life because when I did mergers and acquisitions, I had to close many factories and it was not their fault.
How did you take a call in such scenarios and be tough on issues but soft on people?
These are aspects of strategic management while dealing with buying, selling, valuation and combining of different companies. But quite often these are difficult decisions, particularly in India. What I ensured in each such case was that I treated the affected people very fairly. You can't get them a job but you can certainly take due care of their medical needs or subsidies or compensation and all that. This is what I developed as the art of tough love: Tough on issues but soft on people. Jim Collins in his book, Great by Choice also reinforces this very thought. As you know, I've been with one company GlaxoSmithKline Consumer Healthcare for more than three decades. But it had four names: Horlicks Ltd, Beecham Ltd, SmithKline Beecham and GlaxoSmithKline. Why do you think the company's name changed four times? Yes, it's all because of mergers and acquisitions!
In the beginning of your career, you worked with business leaders like Charat Ram in the DCM Group. Tell us a bit about those experiences?
Oh yes, I had great fortune to work with some very good people who were very inspiring colleagues and leaders. One such was Dr. Charat Ram. I started my career as a management trainee at DCM in 1970-71 and what I still remember is the human touch of the founder- chairman of my company. Dr. Charat Ram is no more now. But he was such an inspiration to me. I fondly remember how he trained and mentored his staff through heavy workloads in his quest for perfection, quality and ethics. When I was confirmed, while giving me the letter of confirmation in 1971, he said, "Dwarka, your luck starts now," as I was going to Lucknow, which was a difficult and challenging assignment. But leaders like him were so inspiring that they motivated us to go much beyond our capabilities. This is what we call the Pygmalion Effect of Management which is a psychological principle that has relevance to managing people effectively. If your boss says you are great, you do well, and you inspire and motivate others also to do equally well!
How do you define success?
It is the ability to go to bed each night with your soul at peace. But it also depends on how you mattered in other people's lives because ultimately it's team work. You need to have a mission and at the same time, you also need to be contented with what you have. The moment you say you want to gain materially or fi ght for fame at any cost, then it will cost more heartburn and anxiety and tension. So, even though money is great, it is contentment that matters most.
You mean money is not that important in measuring success?
Yes. Money is not the only criterion. People ge swayed by money. What is important is whether you are treated well, given self-respect and whether there is human touch or not. These are the important things. I've worked in a British MNC and worked with a promoter. People said, you cannot withstand that even for one year. But I've been with him for eight years now and he doesn't want to leave me. I want to loosen myself a little bit because I have other priorities too. So, that too is an art you need to develop. You've got to learn how to cope up with change. Ultimately, you have to deliver. If you don't keep scoring, you are just practising. It'll not take you anywhere.
HAD GREAT FORTUNE TO WORK WITH SOME VERY GOOD PEOPLE WHO WERE VERY INSPIRING COLLEAGUES AND LEADERS. ONE SUCH WAS DR. CHARAT RAM
Dwarkanath' s Words of Wisdom "Management is nothing but common sense"
While the meaning seems pretty clear, the stuff we call common sense is "not so common", feels veteran HR guru, P Dwarkanath.
Dwarkanath believes that though many people have great knowledge about the concepts and practices of marketing and HR, they don't know how to apply it when required. "This is where most people go wrong. Management education can give you theoretical concepts and project experiences, but your actual learning begins only when you face difficult situations in the field and start using your own common sense to find solutions."
Spelling out how and why people fail to deliver when it comes to getting an idea executed in today's world of competitive corporate strategies offering too many options but too little time, he asserted, "experiential learning is the key to a successful career in marketing."
Offering fascinating examples and case studies that support his beliefs and life philosophy, Dwarkanath delivered a classic speech on the theme of "leadership lessons in today's fast changing business landscape," at a recent HR conclave in Pune
In his hour-long, highly interactive address, full of characteristic wit and humour, Dwarkanath had essentially this to say by way of elderly advice to his extremely young audience:
The current business landscape is very dynamic – In today's highly competitive world of ideas, things change very fast. You can plan only a few things, because change is constant. The entire globe has become a village and the world, as top American columnist Thomas L Friedman said, is "flat." Today there is a level playing field for business and commerce where all competitors have an equal opportunity. It is not just digital technology or globalization or financial factors, there are a whole lot of other things also that make life extremely challenging. Hence success is not possible unless you understand the current global context in which you have to operate.
Don't think only about becoming a good professional, try to become an institutional builder–If you want to become a creative brand for yourself, you must aim higher to get higher returns. Thus, you must not just develop yourself as a good professional but also learn to develop others. Growing in the midst of a social media culture, you must learn new age marketing methods to become an entrepreneur so that you can build your own institution and provide jobs to others. There can be no better role model than Prof A Balasubramanian who has built so many institutions of higher learning in Pune that he has become a brand himself! He could do so because he developed not just himself but others also and hence became a great leader.
A leader is one who can cope with change -- Though this is the standard definition of a leader by the Harvard Business School, we hear it more clearly today because while a manager is one who can manage the complexities, the processes, the delivery and the business intersections, a leader is someone who can act as the change agent. If you truly want to become a leader, you must learn to comprehend change, take chances, take calculated risks and try to move forward with a positive attitude of 'I can' and 'I will'
Organisation is hero–It is important to understand that you may use top leadership tactics to bring the desired changes in the functioning of your organisation, but ultimately it is the organisation that succeeds. Though you may have sacrificed your personal interest in the overall interest of the organisation, at the end of it, it is the organisation which is more important than you. For instance, it was Jack Welch who led GE for over 20 years and whose name people remember even today. But not many remember the name of the CEO who succeeded Welch because leaders come and go but it is the organisation that stays. It is the organisation that will be remembered as the hero.
Be a team player – If you want to rise to positions of great responsibility in your organisation, you have to develop the ability to function well as team member. This tendency towards cooperation rather than confrontation is considered the most critical attribute among the competencies for a person to be considered for a job in GlaxoSmithKline. Remember Shah Rukh Khan starrer Chak De India which showed how the impossible was made possible when a key player who would never give a pass to her team-mates changes her attitude and starts giving passes? It worked like magic and the team was able to score the winning goal at last!
Attitude is everything – It is important to execute your marketing ideas with energy and enthusiasm and with a firm resolve to succeed. Have you heard the story of Sudha Chandran, an accomplished Bharatnatyam dancer and actor who overcame her disability after losing her leg in an accident in 1981 with the help of a prosthetic 'Jaipur foot,' and became one of the most highly acclaimed dancers of the Indian subcontinent? So, unless you have a positive attitude and a personal mission combined with personal resilience, you cannot succeed in life. Develop your strategic communication skills – A successful leader of change must possess a variety of communicative skills. How you convey the big picture and articulate the clear vision of the company to its employees will determine how big a leader you are! Since English is the corporate language in India today, you must have good communication skills in English to overcome natural resistance to change. For example, tomorrow, if you go for a campus interview or for a sales pitch or to convince somebody to invest in your project with a two hour power point presentation, nobody will listen to you -- they don't have much time. However, if you could say all that in just five minutes, chances are very bright that they will not only listen to you but also agree to be on board for whatever you ask from them. You operate in global markets today – Times have gone when you will do business only in Pune or Gurgaon or such other city. Today, we all operate not just in India but in the global market. Hence you must have a global vision for the success of your products. The hard stuff is the soft stuff – Many working adults admit that they would work harder if they simply received more praise for their work. That's it. They don't look for more pay or stock options, of Sudha Chandran, an accomplished actor who overcame her disability after nt in 1981 with the help of a prosthetic ne of the most highly acclaimed dancers So, unless you have a positive attitude Combined withpersonal resilience, you Communication skills – A successful leader variety of communicative skills. How youarticulate the clear vision of the companyrmine how big a leaderyou are! Sinceuage in India today , you must have goodglish to overcome natural resistance tor row, all they need is some specific and sincere thanks now and then and your job is done! Remember, if you want the full cooperation of your staff, praise them in public but criticise them in private and recognise their achievements!
Don't talk the talk if you can't walk the talk – As a leader, you must remember that your actions speak louder than words. You must practice what you preach, otherwise people will reject you as someone only given to empty boasting. Innovate or people will soon write your obituary–There was a time when many organisations survived for years with very limited innovation in the quality of their products. Today due to globalisation and outsourcing, having a good product is not enough to survive. You've to constantly innovate. Otherwise, you will soon have to remember the sentence: What Apple did to Sony, Sony did to Kodak. The smart ones know the story very well. There was a time when Sony defined its market as audio (music from the Walkman). They never expected an IT company like Apple to encroach into their audio domain. Come to think of it, is it really surprising? Apple as a laptop maker has both audio and video capabilities. So, what made Sony think that he won't compete on pure audio? So also, Kodak defined its business as film cameras, Sony defined its business as 'digital'. Both markets meshed. Kodak was torn between going digital and sacrificing money on camera film or staying with films. Left undecided, it lost in both. It did not ask the question, "who is my competitor for tomorrow?" So, the message is clear: Innovate to survive or else be prepared for your obituary!
Whether you're from an IIM or from any other institute, it doesn't make a difference. It all depends on how you conduct yourself
Be humble – When we think of traits leaders naturally exhibit, many come to mind including charisma, strength, enthusiasm and vision. One important trait is often overlooked: humility. Being humble becomes all the more important when you keep moving up higher in your life
Be humble – When we think of traits leaders naturally exhibit, many come to mind including charisma, strength, enthusiasm and vision. One important trait is often overlooked: humility. Being humble becomes all the more important when you keep moving up higher in your life. If Amitabh Bachchan is today admired the world over, it is because he is extremely humble despite being a living legend. There was a time when he was rejected as an "anti-hero" because he didn't fit into the definition of a Bollywood hero symbolised by actors like Dev Anand, Shammi Kapoor, Rajesh Khanna and the rest. But he maintained his personal humility and did not allow success to go to his head when he became the guarantee of a film's box-office returns.
You're judged by your personal credibility, not the authority – Positions may come and go but some people are respected even after they don't have the position they once held. For instance, respect for the late President Dr. Abdul Kalam did not come down even after he left Rashtrapati Bhavan because he had earned it not because of any position but because of the massive contribution he had made to make India a technological super power. Be a distinguished minority – There are four kinds of people in the world. People who watch things happen; people who do not know what's happening; people who think and wonder what's happening but there is a distinguished minority of those who make things happen. I wish you become one of those distinguished minority because to be successful, you have to be people who make things happen
What is the best advice you would like to give to today's youngsters who will soon join the corporate world?
One, you need to be savvy. You may be a gold medallist and an outstanding guy, but if you're not savvy, you'll not be able to achieve incredible things in life and business. There are lots of people who fail in their careers, especially in the initial phases, because their mindset is very different. "Oh, I'm a gold medallist; I'm bound to do well." Whether you're from an IIM or from any other institute, it doesn't make a diff erence. It all depends on how you conduct yourself.
Two, understand the dynamics of the organisation. When you have an induction program, the fi rst thing they say is, please ask questions. You are given full freedom to ask questions. Don't misuse that freedom. Once you cross the line, people will tick you off. Some people, even from premier management institutes, start asking stupid questions. 'Tell me why are you only a one-product company?' The MD would naturally get upset. So, because you've got the freedom to ask, don't try to go for one-upmanship: 'I want to show it to my peer, I've got the questions and the ability to ask.' That's a mistake they must avoid.
Three, it's not enough to do your job well. It's important to understand the work culture of your organisation. Do it fi rst. When you play cricket or tennis, you fi rst try to understand what the surface is like? Is it slippery? Is it a fast court or a slow court or a medium court? Is it a turning pitch or a medium pitch? Who is the bowler? Depending on all that, you have to take your stance. You have to change your pose as per the field setting. If you say, I'm a hitter and keep hitting on a slippery pitch, you'll get out very soon. My advice to all such youngsters is to give up this "I-know-everything" attitude: 'If not this company, I'll join another company'. But I'm afraid, he'll lose everywhere because he has not developed that savviness
And last but not the least, remember you cannot align an organization around a goal you don't believe in. You have to demonstrate that you really believe in it. In leadership, you have got to be true to what you are trying to get people to do.
So, what should they do?
First understand your boss. Understand the organisation. Understand your organisational goals. Understand the team. If you understand them all, you'll do well but ultimately it will be your navigation skills, your relationships that matter. You may be a very super-duper marketer, but that will come later. If you don't have acceptability at your workplace, you will be knocked out soon. That is fundamental.
Secondly, beyond a point, you may say, 'I'm simplifying it, it's common sense;' and third, be humble because today you may have done one thing well, but tomorrow you may commit a mistake. Then everybody will pounce on you. So, you need to be humble. Do not suffer from the fear of failure. At the same time, you should not get carried away by your success. It's a stepping stone for further things. Those are the few parameters that you must keep in mind.
IN THE CORPORATE WORLD, PEOPLE HAVE BECOME BRIGHTER, YOUNGER, SHARPER, MORE TECH SAVVY, HAVE A VERY GLOBAL OUTLOOK AND HAVE EXTREMELY GOOD COMMUNICATION
Also, do not promise what you cannot deliver, but deliver what you promise. Over-promise or under-delivery is just not acceptable. That is one aspect you have to be very clear about.
But what should they do if the boss remains unimpressed?
If you want to get ahead at your workplace, take very good care of your communication. Your ability to communicate is important. It's not just your vocabulary, it's not English or your power point presentations, this communication differs from one person to another. You need to understand the vibes.
How do you view the changes taking place in the corporate world?
There are some positive changes, some cause concern. Everyone has started taking a very short term view of things. Earlier we used to build institutions on, say, ten year plans, then we came down to making five year plans, then three year plans. But now they use not even a one year plan! You are judged by the quarter's performance. That makes everyone feel extremely insecure. What will happen if I don't deliver for this quarter? So personal interest prevails over the organisation's interest because everybody wants to survive. That is why competition has become the way of life
Secondly, some of the landscapes are very challenging because it's not just the Indian economy which can impact your imports, it's the global economy, which is not in your control.
In the corporate world, people have become brighter, younger, sharper, more tech savvy, have a very global outlook and have extremely good communication. But you have too much of information today which you are not able to assimilate. Moreover, you have a very short term approach rather than a medium-term approach. The human touch with the people is also missing to some extent because of technology. It's becoming more clinical than inspirational and hence I feel sad at the state of things in today's corporate world
How do you see the surge of so many start-ups today?
Earlier management students used to look only for professional careers. But now they are also interested in entrepreneurship because they have plenty of opportunities. People are prepared to spend. You can also borrow. Loans are easily available and all that was not the case in earlier times. So these are good things but at the same time, you should not misuse it. I see a disturbing trend here. Every youngster wants to become an entrepreneur today. But you need to be aware that out of ten, only two succeed. You may think the glass is half full, but you must also ponder on the consequences. Don't become an entrepreneur for the sake of entrepreneurship. Unless you have a 'eureka' idea and the spirit of entrepreneurship, you should not go for it. I agree that not everybody should go for a job. But you should also look for a corporate career. The reason is, if you fail in marketing your idea properly, you're bound to suffer a lot. Then it becomes very difficult to get back into it because it's not easy.
How do you see the changes the Modi government is trying to introduce in India's corporate world ?
The intentions are great but there is a gap between what is being said and implemented. Modi can't change everything in one day. Now they have spent one year, we ought to have seen changes on the ground, but it is a little disappointing. While the PM has great intentions, others are not keeping the same pace. Somebody should have cautioned him not to make such statements because it will take more time. For example, GST is a great idea but he has not yet been able to implement it. Similarly, investor sentiment will be hurt if you stick to retrospective taxation.
So, all his efforts are getting stuck somewhere, and the point remains: Don't over promise and under deliver.
By Pradeep Mathur