Loved and Married too : Friends for life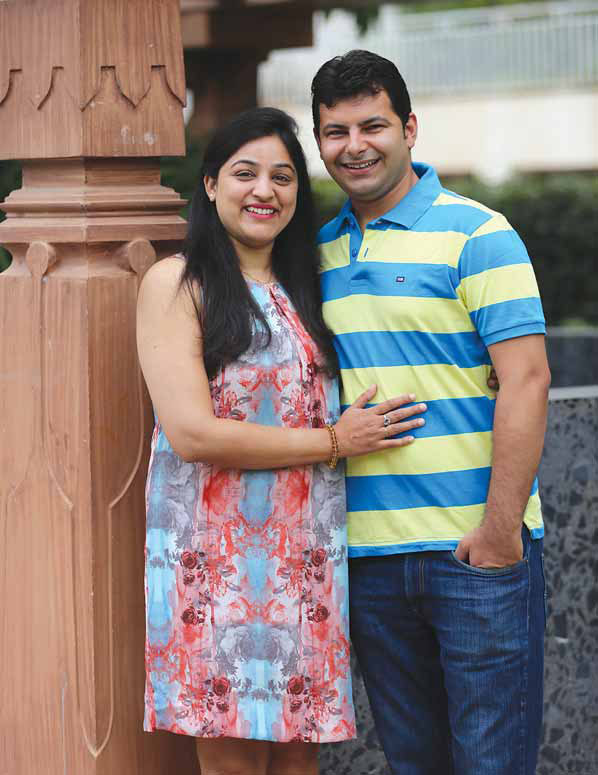 It is not oft en these days that college romance fructifies into a wedlock. Corporate Citizen unlocks the story of love that has culminated into marriage, for we believe in the stability of a relationship and family unit. We bring to you real life romances that got sealed in marriage
At 25, even as Nandita Mathur's parents were looking out for a suitable match for her, something about the entire process put her off. "Somehow, I just could not fathom marrying a stranger. It was awkward and uncomfortable," she says.
Instead, she did the next logical thing; she asked her old friend Tanuj Tandon if he would marry her. And no, they weren't in a restaurant or any other romantic setting; they were in a busy street, trying to cross over. "I knew he was too shy to ask, so I popped the question," she grins. Shocked though he was, Tanuj's answer was an instant 'yes'.
It's precisely this clarity of thought that his wife of three years loves about him, amongst other things. "He is hugely committed and positive. He's someone you can rely on," she says.
For his part, Tanuj, a man of few words and deep sense of calm enjoys her spontaneity and extroverted take on life. "She is friendly and warm and can easily strike up a conversation with anyone. Besides, she is not one to worry about things and I really like that about her."
Both have management backgrounds. Tanuj is an electronics engineer and has a degree in management from Pune's SITM, while Nandita has studied at the Times School of Marketing.
In short, a fine match if ever there was one. They're the quintessential corporate couple working long hours, and aspiring for the next goal. While Nandita is deputy manager (marketing) for the Times of India, Pune, Tanuj is a senior advisory consultant with IBM. However, both are unfazed by the demands of their careers. "It's up to each couple to decide how they are to prioritise their lives," says Nandita. "We support each other in our endeavours and it works out fine, despite the pressures of the job."
Simple things make a difference; you give a little, get a lot. "While I do the cooking with the help of a maid, he makes sure the groceries are in order," she says.
Friday evenings are reserved for individual outings with friends, while weekends are for movies, dinners, drives and precious 'us' time.
"It's very important to give space to the other person; trust is mandatory, so is understanding. My work requires me to travel a lot, but she never makes a fuss over anything. It helps," he says. Even so, he makes sure she is comfortable and has everything she needs to carry on alone for the next few days till his return.
It is this camaraderie—both spoken and unspoken—that they attribute to their long association (they knew each other since grade VI, no less!)
"When Tanuj formally asked my older brother for my hand, he in turn, quipped: Finally! Here's a man who is ready to take you on," giggles Nandita.
For their part, Tanuj's parents were perfectly happy with his choice. It did not bother them for a minute that Nandita was a non-veg loving Kayastha from UP, and that they were a pure veg Punjabi family. The families knew each other, understood that their core values matched and that was good enough for both sides. (Nandita's dad is a lawyer and mom is a teacher, while Tanuj's father is an insurance professional and mom, once again, a teacher.)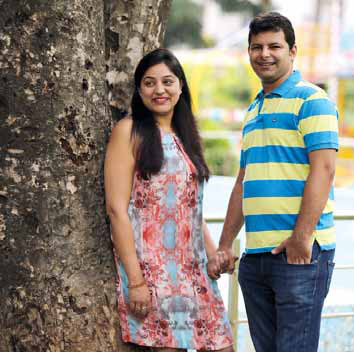 "My parents are very progressive that way. Mom, for instance, would say: we think ten times before selecting a simple T-shirt for you...how can we presume you will be happy with our choice of wife? It's best that you select your own," shares Tanuj.
The happy bonhomie continued right through the elaborate and traditional ceremony in Delhi. "There was no formality or posturing or pretence," says Nandita. "Everyone was simply themselves, and we had lots of fun.
In fact, right through the seven pheras Nandita's brother was cautioning Tanuj: "Bro! There are two or three pheras yet to be complete! You still have time to change your mind!" Not to be left behind, Tanuj was busy instructing the pandit to hurry up before the girl ran away!!!
The sense of ease continues till date. "We never, ever act like the typical husband and wife. We are first and foremost, buddies, and that's how it is going to be," they say.
Both enjoy doing things for the other. "He is a true-blue Punjabi and loves good, home-cooked food. So I enjoy pampering him with his favourite dishes like Rajma and Chhole," says Nandita.
Tanuj enjoys coming up with little surprises for her—without the excuse of a special occasion. "He'll buy me a perfume or some other little thing I have been admiring for a long time. He's very observant that way," says Nandita.
An outstanding memory would be of the time Tanuj had a birthday cake sent for her— just a little before his arrival from Mumbai. "The decoration of the cake was unique, and showed how minutely he knew my likes and dislikes. There were little chocolate fondants in the shape of my favourite footwear, handbags and lipsticks. I was really touched," she says.
Tanuj is also sure to say the three magic words 'I love you' each morning—as soon as he wakes up—to his better half. Neverthless, avers Nandita neither of them much believes in the flowers and candy routine. "Those are just tangible things. Romance is a much deeper emotion than that. It is about understanding and taking care of each other in little ways," she says.
"Honestly, it's each to their own," says Tanuj. "Living in is not something that either of us were comfortable with; besides, with no formal commitment involved everything revolves only around the two of you. On the other hand, when you marry, you have a larger circle to rely on and turn to," he says.
Romance is a much deeper emotion than that. It is about understanding and taking care of each other in little ways
The pillars of marriage
Space. Respect each other's dreams, priorities, friends and aspirations.
Affection ought to be expressed on a daily basis with little thoughtful gestures for the other person.
Friendship is a rock solid basis for a relationship, much more so than the vagaries of a romance. Everything good stems from being pals, first and foremost
Honesty is the best policy— always. Don't hide things from each other.
Trust your spouse.
"It's easy enough to fall in love. But it's a challenge to understand each other.Marriage, honestly, is a much better portfolio, with parents and cousins and an entire support system to fall back on," says Nandita. "It's much more stable and secure."
One reason that corporate romances don't seem to work is the mismatch between overweening male chauvinism and soaring female aspirations. "I think both the man and woman are equally at fault here," says Nandita. "While men need to appreciate the fact that their spouse puts in equally long hours at work and no one cuts them any slack simply because they're women, the ladies too, need to strike a fine balance between home and work," she says. "It is an atmosphere of equality that rules the work place. Both men and women are expected to perform sans excuses, amidst the same pressures. It's therefore a good idea to be kind to each other's challenges." Similarly, she says, both parties need to understand that marriage is not about financial dependence or independence alone. "There's a lot more that is heavily invested in your relationship..your dreams and emotions, amongst them. At the end of the day, it's not a high falutin career but your better half and your family that's going to stand by you," she rounds off.
By Kalyani Sardesa