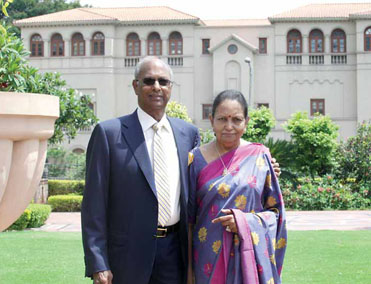 Dr. G.V. Krishna Reddy , Founder Chairman, GVK Power and Infrastructure Ltd, and his wife Indira, Managing Director, Taj GVK Hotels & Resorts Ltd, have gone through a lot of ups and a few downs in their 54 years of married life and business, they tell Corporate Citizen.
He manages his infrastructure empire, she runs luxury hotels. GVK is a name that is recognised everywhere in India, and now in Australia too where it owns and operates coal mines to feed its power plants back home. The group, which had its beginnings when Gunupati Venkata Krishna Reddy took over the family business in 1959, now builds roads and airports besides power plants, and has a life sciences company. Plus, it runs the Taj Group's hotels in Hyderabad, with Krishna Reddy's wife Indira heading the joint-venture company that owns the properties. "She is very intelligent, and has a good memory for numbers," he says. Adds Indira: "I had never done accounts before I got into business – they came into my life very late!" But her intellect, even as a child, is obvious: she went to the sixth standard as a six-year-old and finished school at age 11, though she "only scraped through, with 44 or 45 per cent marks!"
GVK Reddy had always nurtured a wish to go abroad, but had got involved in the family business thanks to his father
A dam full of knowledge
Krishna Reddy, born in Kothur village of Nellore district in what is now Andhra Pradesh on 22 March 1937, was all of 21 years old when he took over the family construction business as the eldest of seven sons and a daughter. Working on the Nagarjuna Sagar dam, he lived for seven years at a small place 40 km from the dam, building the canals on its right bank. "The nearest small village, Shyamarajapuram, was one km away while a larger one, Arigopala, was four km," he remembers. After he finished this work, he moved to the site of Nagarjuna Sagar itself, before shifting to Hyderabad. "That was the best part of my life!" he says in retrospect. "As a youngster, I learnt everything while working on what was then the second largest project in the world."
Meanwhile, his wife-to-be had studied in the temple town of Tirupati for a year and moved to college in Madras. Not only was she born and raised in Nellore district too, she joined the same college where he was studying. "We were contemporaries, though I was very senior," he says. "After studying organic chemistry for two years – I can't even spell it!" she laughs. "But nothing can compensate for education." While it was her grandmother who made her study because she herself couldn't, at a time when society frowned on girls going to school and college, her father wanted her to go on to become a doctor. "But I couldn't get a seat – my results were not good enough!" she says. So, when she was just 16-1/2 years old, she got married. "I had no idea what marriage meant, but I was very excited at getting lots of good clothes," she recalls. "I was the fi rst to get married – I have two sisters, both much younger."
After marriage, children: Shalini and Sanjay were both born in Madras, when the Nagarjuna Sagar work was going on apace. Daughters usually go to their mother's home for at least the first child – but Nellore was 160 km away. Shalini is now an Executive Director in her mother's Taj GVK Hotels & Resorts Ltd, while Sanjay, a year and four months younger, is vice chairman of his father's GVK Power & Infrastructure Ltd. He also oversees the group's interest in Australia, and heads the airports business as well as GVK Biosciences, a drug discovery research and development organisation that was his own brainchild for the group's diversification beyond infrastructure.
The day Krishna Reddy finished his college examinations in Hyderabad, his parents sent a car to pick him up and take him straight to Nagarjuna Sagar. Actually, as a boy, he too had wanted to become a doctor, like his then wife-to-be. "But my father told my school principal not to allow me to go in for medicine," he says. But what his family did was right, he says: those seven years on his first project gave him 'excellent experience' and the confidence to take on anything in any part of the world.
New ventures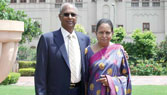 After the dam, his first business venture was to set up Novopan, first in India, and then in Biscoe, North Carolina. "I'm from an agricultural family but got into construction, and wanted to switch to industry,"
he says. And he realised that he was moving from project to project "like a gipsy", without owning anything. He tried to get a licence to manufacture cement or steel, which were things he knew, but got one for pre-laminated particle boards which his company, Novopan, pioneered in India. "It was forced on me, but I took on the challenge without knowing anything about the industry," he recalls. "My wife and parents were dead against it, and I suffered for the first two or three years; but I made it a success!"
He had always nurtured a wish to go abroad, but had got stuck in the family business thanks to his father G. Subbarami Reddy deciding to divide the family's assets. He got a chance to live his dream after he finished his work on the dam in 1967. The dam itself - built across the Krishna in Nagarjuna Sagar of Nalgonda district in what is now Telangana, for optimum utilisation of the river water - was completed two years later, 14 years after it began. Wanting to get into some other business, he however found that the stifling 'licence raj' in India wouldn't let him do anything here.
G. Indira Krishna Reddy, meanwhile, was living a society life in Hyderabad while her husband was away in the US. "I had nothing to do, so I just went to clubs and to movies, made trips to Charminar to buy things, and visited the rich Nawabi families which had a sophisticated lifestyle – with bearers bringing tea and snacks on silver trays, everyone greeting everyone else with the traditional Urdu adaab," she says. "We ourselves had a centrally air-conditioned house at Somajiguda. It was the best of life, though we did not have so much money."
Along the way, they bought the Paigah House in Secunderabad, where the company headquarters is now located. "I had visited the place many times earlier when the owners were living there, and bought antique items that they were selling. They had a dinner set in red cut glass for 101 people, a cut-glass table-tennis table, and punch bowls studded with diamonds! It was a dream come true when my husband bought the house. But we sold all the expensive stuff– we couldn't afford to maintain it," she says.
"Husband and wife have a question-answer session, to "clean up everything in the business." They exchange information on everything done and not yet done, with he giving her full support and she giving "good advice"
Life about-turn
In 1986, when she was 41 years old, her life changed. Krishna Reddy bought a small travel agency, and asked her to manage it. Their daughter and son were both married, so she had even less to do at home, and she found herself getting totally involved in the business: Orbit Travels & Tours, which was losing Rs. five lakh a year. Her life changed from being a housewife who enjoyed a life of card and kitty parties, to running a business. "I was least interested in business earlier – I was a director of a couple of the group companies, but I used to doodle at the board meetings," she grins. "At home, I was very house-proud: I used to make Mr. Reddy carry marble statues from one place to another while I decided where they looked better."
Along the way, they bought the Paigah House in Secunderabad, where the company headquarters is now located
After asking her husband for a tip on what to do, and being told that "money is the heart of any business", she called the accountant and got to the bottom of her new company's finances. The main job was to collect outstanding bills from clients. Within four months, she had begun to turn around the losing agency, and ended her first year at its helm with a profit of ₹ five lakh. "I am a B.Sc in chemistry, with no great understanding of mathematics," she says. "But I realised that raising bills correctly and following up for payment were essential." With her husband still travelling to the US a lot, and she herself not doing anything in GVK though she was a director there, she worked all day – even giving up cards. She turned Orbit around in the very first year to show a modest profit. "If I decide to do something, I do it!" she smiles.
Another turnaround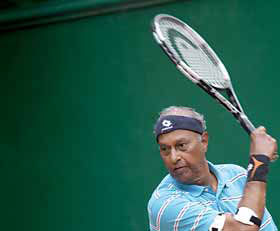 When Krishna Reddy went to the US, he asked his wife to take over his maiden Novopan business - a machine-made furniture unit in which he had invested Rs. two crore. "We had 22 branches, and so many payments needed to be made that I was always signing cheques and doing very little else," she says. When Reddy remarked on this on a brief visit home, she felt so bad that she decided to do something about it – she studied the 27 products they were making and what went into the manufacturing costs. She replaced the German machines with indigenous equipment and cut the waste, to wipe out the Rs. one-crore loss.
She got down to the nitty-gritty, even switching off the air-conditioner in her own office, and worked in the heat with the generator running to keep only the lights on. She also disconnected the STD long-distance calling on the company telephones. "I became really serious about business then," she says. "I went to the plant three days in a week to oversee the operations. I guess I needed to prove myself in the organisation: so I learnt the theory of the manufacturing process, then went and learnt production. I had meetings with all the middle-level and top people on every visit, listened to their ideas on how to improve the performance, and implemented the good stuff.I stood near the machines and talked with the supervisor rather than the vice-president."
Listening to the people who did the actual work, she managed to cut the raw material cost to make a profit of Rs.20-plus lakh after two years – during which she also opened showrooms in Bombay, Bangalore, Hyderabad and Madras. In three years' time, Novopan too recovered from a loss of Rs.30-40 lakh and made a profit of Rs.13-14 crores. Having learnt the important lesson of keeping track of the money, she still sits to do her calculations at 6 p.m. every day - and she collects accounts from her children, too.
"She is more systematic than I am," says Krishna Reddy. Describing her as "a great support to me", he explains that this was moral support for the first ten years, then in business too. Every morning, after his tennis session with a group of old friends on his personal tennis court which is part of the property surrounding his bungalow, husband and wife have a question- answer session, to "clean up everything in the business". They exchange information on everything done and not yet done, with him giving her full support and she giving 'good advice'.
After Novopan became profitable, Krishna Reddy got the idea of merging the loss-making GVK Hotels – which had one property, the Krishna Oberoi – into the furniture company. He had made his foray into the hospitality business when he acquired a majority shareholding in the four-star Hotel Banjara and became the managing director, completing the project in 1976- 77 and opening it in collaboration with Holiday Inn before moving on to tie up with the Oberoi Group.
"He convinced me, and Novopan took on the financial problems of the hotel business," Indira Reddy says. Adds her husband: "She had to say okay – she had struggled to turn the company around and got Swiss, German and Italian collaborations. I had built the hotel because I had wanted to, even when I was a student. But it struggled for ten years before Novopan rescued it."
The Reddys parted company with the Oberoi group, and every other hotel chain was interested in taking on the property. "ITC, Taj, everyone was after us!" he says. But the tie-up with the Taj Group was by accident, too, like so many other facets of GVK's business: it happened after the couple met Tata Sons director Krishna Kumar on a flight back from the US. So the company became Taj GVK, with the hotel giant investing Rs.25 crore for a 25-percent stake in the merged company. When Indira Reddy was asked to run it, she tried to say no, because she was a factory person – but "they insisted, and put me in the chair!" she says. So she had one more losing company to turn around! She took up the renovation of hotel after hotel, to achieve the target of ten properties set by her husband before she would be allowed to retire, from the two hotels it had in 1999-2000. She has almost got there already, with the ones near Mumbai airport and at Yelahanka in Bengaluru on th e anvil – but her company has signed a new agreement to set up and run all the Ginger hotels in Andhra Pradesh too. "That may be another ten!" she says.
Krishna Reddy, recalling how he 'forced' the business on his wife, points out that he was busy with the US plant. "She has been a great support to me," he asserts. "But for her, I wouldn't have been able to build this empire."
Power and infra
And an empire it is, despite the strains that the infrastructure sector has been going through for many years. The parent company, GVK Power & Infrastructure Ltd, chalked up operating income of just under ₹3,050 crore in 2014-15. It has many firsts to its credit, beginning with having set up India's first independent power plant in 1997. "It was the first project to be financed by the Washington-based International Finance Corporation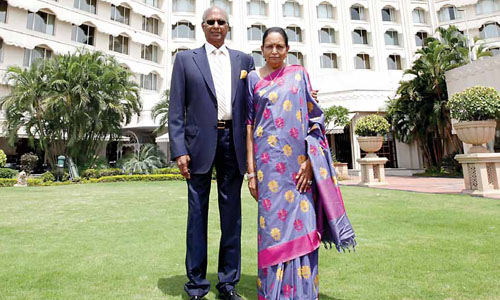 TENNIS FOR DISCIPLINE
An avid sports enthusiast, he not only makes his tennis with friends an inflexible part of his morning routine whenever he is in Hyderabad, he has also encouraged young sporting talent – notably India's current tennis sensation on the global circuit, Sania Mirza. He has even set up a tennis academy in Hyderabad to groom youngsters with potential. Many years ago, he had started playing golf while in the US - but found that he just didn't have the time for the leisurely game in the midst of all his business activities. He is dismissive of the 'corporate' game: "You only swing, but don't sweat, you can talk and enjoy yourself – and half your day goes!" he points out. "I used to play volleyball when I was in college, I've played for the university too," he says. "I couldn't play for a few years after I got into business, because I was a gypsy." After settling down in Hyderabad, however, he took up tennis – and plays for at least an hour every day when he is not travelling, and at least a couple of sets even if he has to take an 8-o'clock flight. "My life starts with my tennis - it gives me the discipline to get up early and be at the court at 6 a.m. every day," he says. "We play serious, competitive tennis – most of us are good players for our age." Fifteen years ago, he started 'veteran' tennis tournaments which are now played in Hyderabad, Mumbai and Bengaluru.
GVK sold the Novopan plant in the US in 2009. "More than money, what we have learnt from that project is exposure to the world," the Group Chairman says. He has come a long, long way since his basic schooling at Kothur, early college from Nellore, graduation from Osmania University in Hyderabad and his start in business when he took control of the family's small construction firm. He later attended an Owner/President Management (OPM) programme at Harvard Business School, US.
Much recognition
Along the way, a number of awards and much recognition have come his way, including the Padma Bhushan - the country's third highest civilian award - in 2011. He also won "Construction World - Man of the year 2011" award, was recognised as the "Infrastructure Person of the Year 2014" at the Construction Week India Awards, and bestowed with the 'Lifetime
Achievement Award' at India Aviation 2014 for his contribution to the Indian aviation sector. Earlier, too, he was awarded "Best First Generation Entrepreneur of the Year 2010" award under the India Business Leaders Awards instituted by CNBC-TV 18 and honoured with The Economic Times' "Entrepreneur of the Year Award 2009". For his contribution to the Telugu cause, he was given an "Excellence Award" at the International Telugu Cultural Conference held as part of the Golden Jubilee celebrations of the Telugu Association of Malaysia; felicitated by The Telugu Literary and Cultural Association, US, and conferred Life Membership of the World Telugu Federation, Chennai.
Today, Krishna Reddy continues to believe that only infrastructure – power, roads and airports, the three sectors in which his Group is actively involved -- can develop the country. After his great firsts in power and roads, he is particularly proud of what he and Sanjay, who leads that business, have achieved at the Chhatrapati Shivaji International Airport in Mumbai. Asked to only expand and refurbish the existing terminal, GVK has built an international airport that does India proud. And it will, he says, last for at least the next 60 years. Mumbai is India's busiest airport, accounting for one in every three fliers in the country – more than 17 million last year - besides nearly half a million tonnes of cargo. With a second operational runway, it can handle up to 25 million passengers.
The 50,000-plus tonnes of steel that have gone into its building are beautifully hidden under what can only be described as an art museum, with a 1.2-km wall to showcase Indian art. It also has a 5,500-car parking lot, something that was earlier not even imagined in Mumbai. It is, however, still very much a work in progress: the total revamp will happen over the next 20 years, thanks to the unique 60-year concession that the GVK-led consortium has, with more than US$1 billion slated to be invested in it over the period. In Bengaluru, it is creating a 'garden terminal' as part of its refurbishing exercise. GVK now has the first right of refusal for the proposed Navi Mumbai airport, and is developing two more international airports in Indonesia.
Coal is gold
The GVK Group's boldest venture has been the decision to invest in coal mining, railway linkages and a port in Queensland, Australia. Mired in a controversy till recently with a group of environmentalists challenging the licence given to it, the mine has now got court clearance to carry on. According to Sanjay Reddy, there are a number of advantages that made it 'very exciting': the scale, one of the biggest resources in the world at 8 billion tonnes, of which 2.5 billion tonnes are measurable and economically extractable; the quality, which is among the best of the new mines he has seen; the government-approved pit-to-port strategy; an existing, full management team that's 'completely aligned' to the project; and greater ease in fund-raising with Australia rated as one of the lowest- risk regions from a banker's point of view.
But Krishna Reddy and his son Sanjay say this is not backward integration of GVK's power business, but a 'resour ce business'. Only 20-25 tonnes of coal will come back to India, while the rest will be sold to premium markets like Korea, Taiwan and China. And that, they point out, is a huge opportunity which will develop in the next 20 to 30 years.
The heart rules
The group's culture is of one where the 'heart rules, not the head' – for example, it still has a couple of octogenarian employees, because the Chairman doesn't want them to go. Krishna Reddy drives the organisation based on relationships, more than being a hard-core businessman. So the Indian part of Novopan, even though it was shut down as an unviable business, will never be sold: it was his first business and he has a sentimental attachment to it.
The man even remembers the lift operator at a bank or financial institution he visits by name: this humane element is obviously what motivated him
to take over and continue running Emergency Management and Research Institute (EMRI) from the erstwhile Satyam. Krishna Reddy is particularly proud of the '108' emergency medical service. The largest operation of its kind in the world - with a fleet of nearly 10,000 ambulances and 42,000 employees in 15 states and two Union Territories of India – has just celebrated its tenth anniversary by tying up with Stanford School of Medicine to set up a training centre in Hyderabad. EMRI has so far served over 35 million emergencies, saved 150,000 lives and assisted 350,000 births, while about 320 deliveries are also delivered in ambulances every day. The GVK EMRI emergency medicine learning centre has trained over 210,000 health care providers, including 12,000 doctors, 32,000 nurses, 50,000 technicians and 40,000 first responders.
I learnt the theory of the manufacturing process, then went and learnt production. I had meetings with all the middle- level and top people on every visit, listened to their ideas on how to improve performance, and implemented the good stuff. I stood near the machines and talked with the supervisor rather than the vice- president - Indira
EMRI's research wing has world-class equipment and facilities which are used to analyse the data and publish the research papers for prevention and better management of emergencies. It also partners with consultants and works in the area of emergency medicine, keeps up with the current status of research in emergency management in other countries. It disseminates the results internally and externally, and maintains a knowledge management portal.
For better living
GVK also lays a lot of emphasis on social development and environmental sustainability, with various projects to improve the living conditions of the deprived sections of society. The GVK Foundation, through which the Group carries out its social initiatives, runs many development programmes on a national level like education, housing for under-privileged people, health and hy giene, community-based programmes, empowerment and entrepreneurship development, art, music, sports and a number of other socio-economic initiatives.
The Foundation manages a degree college at Indukurupet village in Nellore District for students from surrounding areas, and provides scholarships for students across disciplines. It has also given financial assistance under the National Benefit Scheme to 200 eligible beneficiaries in the village. It has provided housing for 1,000 underprivileged people in Kothur village of the same district, and built pakka houses for weaker sections in Manikhera village of Mukatsar district in Punjab.
By Sekhar Seshan