Loved and Married too-5 : "together we overcome!''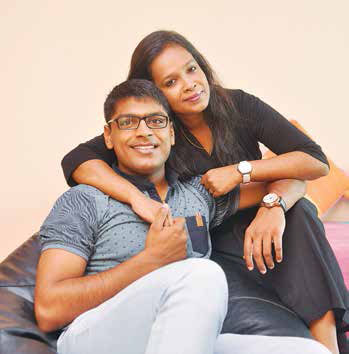 It is not often these days that college romance fructifies into a wedlock. Corporate Citizen unlocks the story of love that has culminated into marriage, for we believe in the stability of a relationship and family unit. We bring to you real life romances that got sealed in marriage
He's a Jain Marwari;she a Bengali. But the relationship Vinod and Anindita Dangi share speaks volumes for the power of commitment. And letting minor quibbles go in favour of the bigger picture
They're spontaneous, fun-loving and newly married. But amidst the laughter and dreams, one thing stands out about the Dangi couple: mature heads on young shoulders. To say nothing of a willingness to go the distance to make it work. At 29 and 27 years old respectively, Vinod and Anindita have been married for all of nine months, and known each other for four years. But, despite the differences in cultural backgrounds and natures, both found out early enough that they were meant to be. So how did they meet? "At the workplace for a business related meet," says Vinod, an MBA in marketing from the Indira School of Career Studies (Mumbai), who was then handling a commercial project for Greenscape Developers Pvt. Ltd, a Vashi-based real estate organisation. In walked Anindita, a management trainee from Shapoorji & Pallonji Construction Material Group (SPCMG) with the determined purpose of finding a few business leads from him (information regarding their clientele) with the objective of doing their interiors.
Fifty minutes later, she walked out, annoyed by the meeting with this stubborn young executive, who despite her finest marketing spiel refused to give her a single business lead. "I was so upset; I told myself I hope we never meet again," giggles Anindita. "Though he was polite and sweet—and asked me all about my MBA at BIMHRD – he would not give me any info whatsoever." However, she had targets to meet—and little choice but to communicate with him again.
For his part though, he was impressed with her confidence, lucidity and communication skills.
Gradually, business meets led to social ones, Facebook, BBM messages, cups of coffee and so on... "I was alone in Mumbai, undergoing a lot of ups and downs at the work place. My parents were in Goa at that point due to my dad's posting, and I had no one to talk to...until I met Vinod, that is. "As I got to know him, I realised he was sorted, balanced and mature. He is also an excellent listener."
The secrets of a happy marriage:
Respect—to both partners' dreams and aspirations. Respect, in both thought and action
Letting go of little things in the interest of harmony and togetherness
Discipline
Patience
Listening to each other Giving elders their due space in the relationship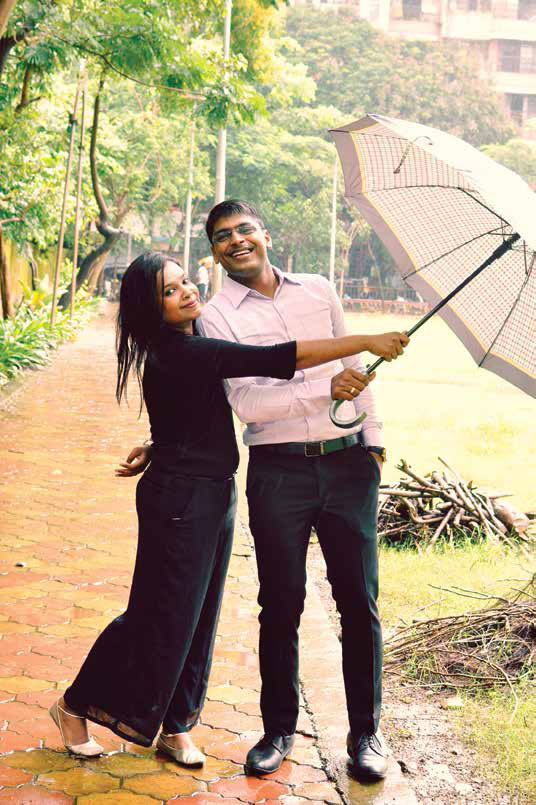 "Till date, though," continues Anindita mock-furiously --"he has not given me a single business lead"—even as Vinod hoots with laughter at the complaint.
As is often the case, opposites do attract. "I am systematic and organised and like to plan everything; on the other hand, she is relaxed and easy going and takes each moment as it comes. I love that quality about her. That, and her curly hair," grins Vinod.
For her part, Anindita is happy to go along with his plans for their future and time—and his insistence on discipline and routine in the course of their life and career plans. "Thanks to him, I have gotten into the habit of jotting everything down. From household items that need a refill to tasks that need to get done," she says. Food is her department (despite the help of a maid), and she has painstakingly learnt to cook assorted, delicious fare—albeit vegetarian fare—for her "choosy" husband.
Which brings us to the contrast in their backgrounds: he is a Marwari Jain from Bhilwara, Rajasthan, while she is a fish-eating "Bong" who has moved all over the country thanks to her dad's job (he is currently an assistant commandant with the CISF). Naturally, it was quite a task to convince both sets of parents about the merits of the match.
"My parents would have preferred me to marry within our own community. But when they saw how determined I was, they gave us their blessing," says Vinod. While Anindita's parents' concerns were mainly centered around how their daughter would adjust in a 'conservative, business set up.'
To make things a little more complicated, Anindita's dad (who was now posted in Mumbai) had seen them together, even as Vinod was dropping her home. "He asked mom to find out more about him; and initially, he was far from happy," she narrates.
But as he got talking to Vinod and found out more, he was relieved to find out that his family was a lot more open-minded than he had thought them to be. Besides, Vinod's dad was not a businessman (another stereotype!) but a General Manager with the Sangam Group of Industries.
"Today, both Vinod and dad are so close, you'd never guess how uneasy a start they got off to," smiles Anindita.
To accommodate both families, the duo first wed in a court ceremony, and then followed it up with an elaborate, traditional affair that paid obeisance to both their Marwari and Bengali roots. "While I was dressed as a Marwari bride, my cousins carried me into the mandap in true Bengali style," narrates Anindita. But the wedding buffet, had to be pure veg—no two ways about it. "My in-laws would not have even entered the wedding hall had there been a hint of fish or chicken," she chortles. Herself a pure vegetarian today, she feels it's a "very small thing" to be with the man she loves. "Honestly, it hardly pinches me anymore; and quite frankly, it's not a big deal," she says. "Both have to make little gestures to accommodate one another; that's how you grow together."
While Vinod is currently working with IL&FS Township & Urban Assets Limited, Anindita is now employed as a Brand Partner with the ad agency Utopeia. Both jobs have their challenges, and demands, to say the least.
Which brings us to the question: how and why do so many marriages (especially in the corporate world) not seem to work?
"The main thing our 20-something generation lacks is patience. We earn well, manage on our own, so we tend to think: why compromise?" she says, even as Vinod adds: "When both earn well, there is a sense of one-upmanship in not ceding the point. But that's ego at its worst; it is damaging in the extreme.."
"Two egos cannot sit in one boat; nor two drivers make a car run smoothly. Depending upon the situation, either partner can take the lead. But, if both insist on having their say simultaneously, no relationship can work," says Anindita.
"When both earn well, there is a sense of one-upmanship in not ceding the point. But that's ego at its worst; it is damaging in the extreme"
Another culprit, according to her is spending more time at work than at home. "That's how a lot of people come to be closer to that companion at work, rather than the person at home," she says. "It's tricky territory indeed."
What helps is a firm belief in the institution of marriage—and mutual respect. "Growing up, I never heard my parents address each other as 'tu'...it was always the more polite 'aap'. I would like our relationship to have that same courtesy for each other," says Vinod.
Even as they live alone in their Chembur home for the better part of the year, various occasions do entail them to stay with each other's families. "It's early days yet," says Anindita. "I still have a lot to learn about their way of life.But I have a good guide in my mother-in-law."
"When both earn well, there is a sense of one-upmanship in not ceding the point. But that's ego at its worst; it is damaging in the extreme"
Respect for elders is very important, stresses Vinod. "When couples start off without the elders' approval, they are at a disadvantage, because there is no one more experienced to guide them and tell them about life, tolerance and adjustment. That's why we waited for their approval—we wanted to do things the right way." Given the pressures of their work schedule, the quality of time they spend together is hugely important. "Every now and then, at the end of the day, we get into our car and drive off to Marine Drive where we simply sit and chat. We take short vacations to Lonavala and Nashik. That's how we unwind," says Anindita.
Believe it or not, they haven't been on a proper honeymoon yet. Here's why: "It's a matter of pride to both of us to have paid for our weddings and home all by ourselves. We will go on a sabbatical soon..."rounds off Vinod.
By Kalyani SardeSai