Interview : "Delivering the best!"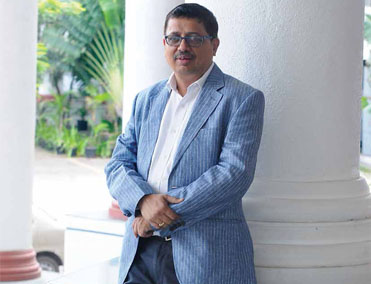 DHL is a household name in India and in many places around the globe, and a name which has become synonymous with reliability. Which is why when we had a chance to have a chat with Shashank Jagirdar, the Director - HR at DHL, we were all too pleased to grab the opportunity. Corporate Citizen brings you a heartfelt conversation with Jagirdar on his career, the supply chain industry and his idea of relaxation
Your corporate career has been nothing short of stellar. What has been the best moment of your professional life thus far?
I would say that my current job has some of the best moments in my career. I am at the helm of affairs at DHL, where I head a team of 40 people, and we collectively take care of 7,500 employees. In DHL, handling the HR function is in our DNA. It is a great place to work and I am having the time of my life here.
DHL is in the supply chain industry. Despite being an integral function, supply chain often comes across as not very appealing or glamorous as a career choice to youngsters. Is that perception changing?
It definitely is changing. In fact, most of the students we hire are in management trainee spots, and the career elevation path is clearly chalked out. This has led to a huge surge in interest amongst students all over India to work with DHL. Students are given the opportunity to directly join middle management, and they are all too eager to grab it. The supply chain industry is gaining momentum and it is going to be one of the top industries which students opt for in the near future. However, this is a very challenging industry. You have to spend more time in warehouses than in air conditioned offices. It is a customer driven industry and the benchmark is set very high.
In the supply chain i n D ustry, you have to spen D more time in warehouses than in air con D itione D offices. i t is a customer D riven in D ustry an D the benchmark is set very high
In the supply chain industry, there is zero margin for error. How do you keep employees motivated in such a challenging environment?
We conduct constant training programmes to prepare employees for every possible scenario. We have continuous employee engagement activities. All the festivals are celebrated in a big way. We even celebrate an 'animal day' as a part of our CSR activities, where we help clean animals on farms and provide them food. Such inclusive activities keep the employees motivated and happy.
How do you strike the balance between work and family?
This is a good question. Earlier on in my career, I struggled to maintain this balance. Now, I usually keep my weekends free for my family. On Saturdays I may visit MBA campuses to share my experiences with students as I love teaching, but Sundays are always reserved for my family.
What is your idea of relaxation?
I read books, I love to see movies. I have a farmhouse which I visit occasionally, where I have a small farm. I try to farm there whenever I can. It is extremely soothing. There is a waterfall and a small lake on the property, where I love to sit and relax.
Do you feel that the current educational system in India provides adequate training required for the supply chain industry, or is some fine tuning needed?
The current education is not geared towards any particular stream. There is a lack of practical application in many streams. There is a difference between theory and practical work, and that gap needs to be bridged. Especially in the logistics field, most students haven't actually ever visited warehouses before they start on their career. We are now working with universities and colleges country-wide to develop an integrated course for the supply chain industry. In our industry, the maximum need is for workers and then for management. We need something along the lines of a six-month course designed for workers, and a one- year or two-year course designed for management.
The supply chain in D ustry is gaining momentum an D it is going to be one of the top in D ustries which stu D ents will choose to opt for in the near future
Any parting words for students waiting in the wings to start their career?
Yes. I would advise them to read a lot. Read books, surf the web, etc., and gain as much knowledge as you can about the industry. Knowledge is never wasted. Also, once they get their first job, I would advise students to spend the first few years just trying to learn the maximum they can from their job. This acumen will become priceless for them as they move up in their professional spheres.
By Neeraj Varty