Collywood : People in the News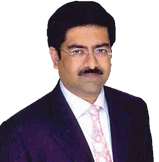 Kumar Mangalam Birla buys Jatia House
Jatia House, Malabar Hill, Mumbai has a new owner as Aditya Birla Group chairman Kumar Mangalam Birla who has bought the coveted mansion for Rs.425 crore. This mansion was owned by Arun M Jatia and Shyam M Jatia, sons of industrialist MP Jatia. This deal is one of the most expensive real estate transactions in Mumbai, valued at nearly Rs. 1.5 lakh per square foot. This 2926 square- metre Jatia House on 38 Gibbs Road, with a built-up area of at least 28,000 square feet, was bought by industrialist MP Jatia in 1971 from Meher Cawasji Vakeel. The Jatia family moved to India from Myammar in 1964 after the political coup in the country. Jatia House has Burma teak wood interiors, numerous gardens and offers a sea view. The property is owned by Chem Mach Pvt Ltd. Pudumjee Paper Mills, the flagship company of M P Jatia Group of companies is now headed by Arun M Jatia and the family. The proceeds of the sale of Jatia House will be divided between Arun and Shyam Jatia, said sources.
Baba Ramdev launches Atta Noodles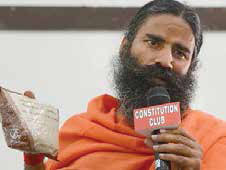 To make an impact, following the downfall of Maggi-noodles in India, Yoga Guru Baba Ramdev, launched his Patanjali group's new brand of noodles made out of wheat named 'Atta Noodles', recently. At the holy city in Uttarakhand, Ramdev said the noodles will not have any maida (flour) and they will provide a healthy alternative to Maggi for children. The yoga guru said that the noodles were completely safe and healthy for consumption, and he was promoting swadeshi products because they were natural and caused no harm. The Food Safety and Standards Authority of India (FSSAI) had clamped a nationwide ban in June on sale, production and stocking of Maggi, a popular snack in the country. It has been alleged that Maggi contained more-than-permissible levels of lead and high quantities of monosodium glutamate (MSG). Besides Baba Ramdev, the Punjab government has also decided to manufacture instant noodles.
Wipro ropes in TCS' Dave Chopra as VP

Wipro has roped in yet another top executive from TCS, Dave Chopra as vice president of its global infrastructure business. India's third-largest software exporter confirmed the development. It may be recalled that, it has been some, months after it poached Tata Consultancy Services veteran Abid Ali Neemuchwala as its operations chief. Wipro has confirmed that Dave Chopra is the vice-president of the company, and will be responsible for driving strategy, marketing and business development for GIS. Infrastructure services business contributes nearly $2 billion, or about Rs.13,200 crore, of annual revenues to the Bengaluru-based IT major. Chopra previously served as global head of strategy for infrastructure services at TCS and spent nearly 15 years at the country's top software exporter.
Saina climbs endorsement charts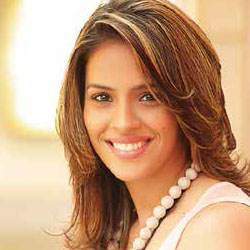 Indian badminton sensation and world number 1, Saina Nehwal has caught the eyes of the endorsement game, inching closer to cricketing icons MS Dhoni and Virat Kohli. Soon after she was crowned the women's world number one badminton player, Nehwal signed a Rs.12-crore, a three-year sponsorship-cum- endorsement deal with financial services group Edelweiss, according to sources. A Rupees four crore a year, this is next only to what top playing cricketers like Dhoni and Kohli earn from such deals. According to market estimates, Dhoni is paid Rs. 8-10 crore a year per brand while Kohli gets Rs. 6-7 crore. The terms of the deal for Saina will sport the EdelweissBSE -1.69 percent logo on the front of her shirt at all domestic and international tournaments she takes part, besides being their brand ambassador. Saina, recently was earning Rs. five-seven crore a year from around 10 endorsement deals with brands such as Herbalife, Star Sports, Godrej No Marks, Emami, Sahara, Indian Overseas Bank, Iodex and Commune Builder. The deal with Edelweiss replaces a similar three-year deal Nehwal had with Sahara for around Rs. two crore annually.
Author Jhumpa Lahiri awarded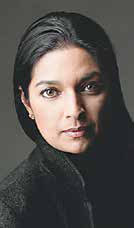 Jhumpa Lahiri was among the 20 other distinguished persons at a White House ceremony. What kept her apart from the rest was she was the lone Indian-American author to receive the award at the White House. It was President Barack Obama who presented the 2014 National Medals of Arts and Humanities to Pulitzer Prize winning to her. Citing that it was his crew, the president said, "I always do good with writers and scientists". Picking up one of the best quotes of Emily Dickinson, president stated, "One of our great poets, Emily Dickinson, once said that `the truth is so rare, it is delightful to tell it. We are honouring them with the award not only because they`ve shared rare truths, often about their own experience, but because they`ve told rare truths about the common experiences that we have as as human beings," Obama said. Lahiri`s novel "The Lowland" was among the other books he took with him while vacations
Mukesh Ambani likely to exit Navi Mumbai SEZ
Mukesh Ambani, the Reliance Industries chief could exit the Navi Mumbai special economic zone (SEZ), as the project has failed to take off in the past 11 years, despite extensions by the Maharashtra government. The SEZ's promoter, Jai Corp (owned by Ambani's close confidant Anand Jain), has blamed the global financial crisis and the withdrawal of fiscal incentives by the Centre for the project turning unviable. According to a source, Ambani, an investor in the SEZ project in his personal capacity, is evaluating offers from a few investors seeking to develop it as an industrial park. The Maharashtra government has already allowed part of the SEZ to be converted into an industrial area and the valuation exercise for the SEZ, spread across 2,140 hectares in Navi Mumbai, is underway. Announcement on this is expected soon. As demand for an industrial park isn't likely to be high, considering the current industrial situation in the country, the valuation will be based on prevailing land prices in the area.
Shotgun Biography Tellslikeiti S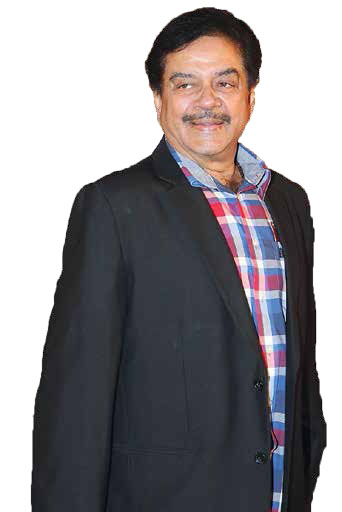 He came, he saw, he conquered. With his inimitable dialogue delivery, his unconventional looks and persona..his choice of roles and unapologetic confidence. In conversation with journalist and film writer Bharati Pradhan, who is also working with him on his soon to be released biography at the 3rd Pune International Literary Festival, noted movie star and Loksabha MP Shatrughan Sinha promises the book will be a memorable one for sheer honesty. The book will not just chronicle his remarkable journey from a small town aspirant from Bihar to becoming one of Bollywood's iconic actors; it will touch upon lesser known aspects of his life as well as his political career. " The idea of writing this book, amongst other things, is to tell the youth that it is entirely possible for a rank outsider, with zero family connections in either the movie world or in the tough world of politics to succeed--without compromising on their core beliefs," said, Shotgun', as he is fondly known. "It is one mantra of success I repeat even to my children," he quipped.
TN to expand Amma salt outside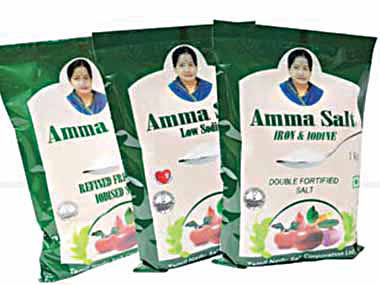 The brand Amma would soon see a pan- India expansion, with the Tamil Nadu goverment's Tamil Nadu Salt Corporation (TNSC) planning to launch sales of Amma salt all over India. According to state government's policy note for the year 2015- 16, the sale of Amma salt will be launched in Delhi, Gujarat, Rajasthan, Maharashtra, Punjab, Karnataka, Kerala, Andhra Pradesh, Haryana and Uttar Pradesh shortly. "TNSC is planning to distribute Amma salt in packings of five kg and 25 kg to benefit the bulk users like hospitals, hotels and hostels," it said. TNSC has been distributing crystal iodised salt at the selling price of ₹ 3.50 per kg, which is the cheapest price in India through the public distribution system. The corporation has launched four varieties of Amma salt - refined free flow iodised salt, double fortified salt, low sodium salt and crystal iodised salt in open market at affordable prices.
L&T to clear top deck after Venkataramanan's exit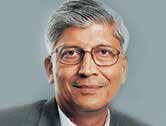 As incumbent K Venkataramanan retires, Larsen & Toubro will restructure its top deck as part of its succession plan and will do away with the position of 'Managing Director and Chief Executive Officer' in its current form, according to their chairman AM Naik. Know to have groomed executives from within the company for leadership roles and SN Subrahmanyan, board member and senior executive vice president (infrastructure and construction), is seen leading the race for the top spot, of this $15-billion company. But people in the know said that the succession plan, would be announced in October, may see appointment of Chief Executive Officers for different businesses who would report directly to Naik. Things could change going by the previous reports of this company. A new leadership was to come up in the year 2012, when the then chairman and managing director Naik was scheduled to retire, but the company surprised everyone by splitting the post and giving Naik an extension of another five years. Naik continued to be the chairman while Venkataramanan was then appointed as Chief Executive Officer and Managing Director.
Ratan Tata joins i D g Ventures i ndia as a mentor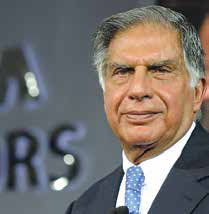 Ratan Tata has joined the advisory board of venture capital firm IDG Ventures India as a senior advisor, third such move by Tata Sons' chairman emeritus this year. IDG Ventures, which holds stakes in e-tailer Flipkart and online travel portal Yatra, has offices in Delhi and Bengaluru. Tata will be advising IDG Ventures India and portfolio entrepreneurs on its overall business strategy and growth, global expansion, team building and leadership. He will also be a special invitee, on selective basis, in portfolio company board meetings on strategic matters, said a statement. The venture capital firm, which completes ninth year of operations in India, has backed 50 companies from its funds committing over Rs.1,000 crore in the Indian early stage technology venture capital market. Other portfolio companies include Lenskart, Zivame, Vserv, Manthan, Perfint, NestAway, Hiree, and Uniphore.
Yadav set to raise $15m for new biz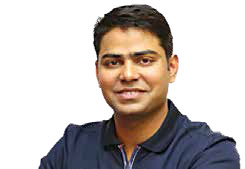 Indian e-commerce and former Housing CEO Rahul Yadav is to raise $15 million from entrepreneurs for his new venture, a data analytics cum data viewing company, which will be integrated with 3D viewing and virtual reality format. The required funds, Yadav has picked up a few entrepreneurs for whom he has genuine respect for. He is yet to get any of them, but some of the entrepreneurs, are ready to back his idea. Among the entrepreneurs investing in the 26-year-old's new venture are Vijay Sekhar Sharma of Paytm and Sachin Bansal of Flipkart. RIL chairman Mukesh Ambani also met Yadav and is learnt to be interested in his new project. Yadav posted on Facebook that he was meeting Ambani, whom he considers to be his hero. After a series of controversies, investors of Housing.com had fired Yadav. Yadav has been controversy's favourite child in the rising e-commerce industry in the country, which started with his public spat with Sequoia investors. It was later followed by giving up his shares of Housing, coupled with asking fellow CEOs of Ola and Zomato to donate half of their shares to employees of their respective companies.
Tina Ambani graces u SKF award ceremony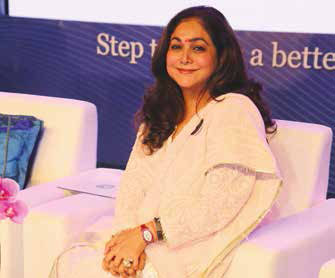 Tina Ambani, known for her involvement in a number of charity, arts, and talent endeavours, graced the USK Foundation's (USKF) award ceremony here recently. The Bollywood-turned philanthropist, Tina along with actor Helen and Pratibha Patil, the former President of India were among the other present at the function hosted by USK Fpundation. Founded by Smita Kakade, the USK Foundation (USKF) focuses on women empowerment as it's core objective. USKF is committed to work relentlessly for the cause of women from all strata of society, for protecting their constitutional and legal entitlements, as well as discover opportunities to grow. Step Towards a Better World, read the emblem as they set off to award women who have achieved in breaking new bearers, and Tina applauded their mission and wished them all the best in their venture. Since its inception, the foundation has accomplished the following, on elder abuse. The awards function was attended by over 2000 guests and invitees saw the most notable contributors to various fields of theatre, films, sports, arts, social work, business being felicitated and the guest list was a witness to some heartwarming and immensely motivating speeches by the dignitaries
Jha takes over as CMD NTPC
Anil Kumar Jha, Director (Technical), National Thermal Power Corporation Limited (NTPC) took over as the additional charge of the post of the Chairman & Managing Director, NTPC. Jha (aged 58 years), is a graduate in Mechanical Engineering from BIT Sindri, Ranchi University and has done LL.B. from Delhi University. He joined NTPC in 1977 as Executive Trainee (2nd Batch). He was directly associated with the NTPC's flagship Project, Singrauli (5x200 MW) as part of erection team. He has rich and varied experience of 38 years in NTPC in all the areas of Power Project, Design & Engineering, Project Planning & Monitoring and Project Construction & Management. He joined NTPC Board in July'2012 as Director. For Renewable portfolio of NTPC, he has responsibility for policy advocacy, business development, Project contracting and Engineering
By Joe Williams