WOMAN POWER : MOMS of Mars Mission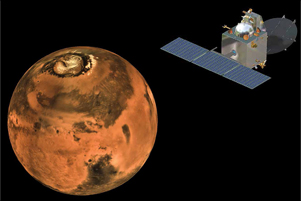 The mars orbiter mission(MOM), also called Mangalyaan, is a space probe orbiting Mars. It was launched on November 5, 2013 by the Indian Space Research Organisation (ISRO). In conversation with the three young women scientists of ISRO's MOM mission—Ritu Karidhal, Moumita Dutta and Meenal Sampat
Ritu Karidhal is a senior scientist at ISRO and she has played a key role in realising the Mars Orbiter Mission, also known as Mangalyaan. She has created history by being part of the first mission to reach Mars in its first attempt. She completed her M.Tech in Aerospace Engineering from the Indian Institute of Science. Ritu always had a fascination for space and yearned to do something different from what normal women did. She used to collect news clippings from various newspapers and she wanted to learn everything about the National Aeronautics and Space Administration (NASA) and activities that the ISRO was doing, during her school days at Lucknow. She has worked for many prestigious missions of ISRO and has been operations director for many missions. For the Mars Mission, she was project manager and deputy organisation director, responsible to execute the critical operation of the orbiter leaving the earth and 'capturing' Mars. She has been recipient of many awards including the Young Scientist Award in 2007 and ISRO Team Award for MOM (The Mars Orbiter Mission) in 2015. She is currently working on a very important mission, not related to Mars. It is mission on moon this time, Chandrayan II. That is interesting! From Mars to the Moon!
"Since my childhood, I had fascination for space. As a child I used to wonder why the moon changes its size and on a number of days why it has to become full moon and on a number of days it has to disappear"— Ritu

Moumita Dutta obtained her M Tech degree in Applied Physics from the University of Kolkata. She joined the Space Application Centre, Ahmedabad in 2006. Since then she has been involved in many prestigious projects like Oceansat, Resourcesat, HySAT, Chandrayan I and Mars Orbiter Mission. She was chosen as Project Manager for the Methane Sensor for Mars and was given the responsibility for the development of the complete optical system, optimisation and characterisation and calibration of the sensor. Presently she is also leading a team in the indigenous development of optical sciences and working towards the realisation of the 'Make in India' concept. Her research area includes miniaturisation of gas sensors which involves state-of-the-art technologies in the field of optics. She is a recipient of the ISRO Team of Excellence Award for the Mars Orbiter Mission and besides being a space scientist, she is interested in literature, creative writing, recitation and music.
Minal Sampat is a gold medallist in electronics and communication engineering. She began her career in ISRO and initially served as a Satcom Engineer and then got transferred to the Space Application Centre. She has 12 years of experience in satellite technology. She has played a very important role in developing and delivering the Mars Orbiter Mission payloads from the Space Application Centre. She is currently Project Manager for the systematisation of many upcoming projects including Chandrayan II mission. Minal received the ISRO Team of Excellence Award for 2013 and she was conferred the Young Scientist Merit Award by ISRO for her contribution in the Telemedicine programme.
Kalpana Unadkat, Partner, Khaitan Co, interviewed the three women scientists who played such a critical role in the MOM project. Excerpts:
Kalpana:

Ritu, what made you become space engineer? Especially 18 years ago when women were not even thinking of going into this kind of field? How did you decide to start as a space engineer apart from keeping the news clippings?

Ritu: Actually, I don't know how it happened but since my childhood I had this fascination for space. As a child, I used to wonder why the moon changed its size, why on a number of days it became a full moon, and disappears on some other days. What were the dynamics behind it? What is the force behind it? What lies beyond this earth and space? That fascination has driven me and when I grew up I started collecting news articles relating to any activity of ISRO and NASA. Then I applied to ISRO and I cracked the interview and then I entered into my dream space.
Kalpana:

Who was the driving force?

Ritu: Actually 18 years ago in the University of Lucknow it was not that easy an atmosphere for a girl to continue with science or engineering. But my parents - I have to thank them - they have always been my inspiration. They put confidence in me and their expectations on me. That has always been the driving force for me. Even when I got this opportunity to join ISRO, 2000 km away from Lucknow at Bengaluru, it was not an easy thing, and 18 years back I took that decision. It was not an easy decision for my parents to send their daughter so far. But then, their confidence in me and in my capabilities, has been the driving force till today.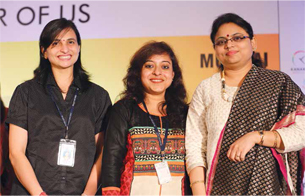 Kalpana:

Moumita, tell us what is your story? How did you start thinking of satellite and space?

Moumita: I was studying in the 9th or 10th Std when one day, experimenting on light, I suddenly saw magnificent colours coming out of a prism. That's when I told myself 'Oh! I love this.' I think that is the time when my journey with physics began. My curiosity to know the physics behind everything, started in right earnest. I also believe that in school, it is not always the subject but it is the teachers who sometimes make the subject very lively. I was very fortunate to come across some of these teachers who not only made the subject interesting to me but also made it the obvious choice for me. So, as far as space science is concerned, I was always thrilled with some of the keywords like 'space', 'UFO', and 'aliens'. Also, when I was young, for many days, the term 'space communication' meant to me communication with the aliens. I got thrilled with the idea that someday I will be able to communicate with the aliens. It is another story that now for me space communication means something else.

I would like to mention another incident that when for the first time I was in Kolkata in 2004, I was reading in the Kolkata daily, Anand Bazar Patrika, about Chandrayan I mission and I was thinking how fortunate those scientists are who are getting this opportunity to work in this awesome mission. At that time, practically I had no idea that one day I would be working in this project. So it was God's gift to me that I got this opportunity and put my heart and soul in that mission.
Kalpana:

You are working on Chandrayan II mission too?

Moumita: Partly, as a panel we are working there in the Chandrayan II Mission.
Kalpana:

And Minal's story is interesting. I would like her to tell that story to the audience.

Minal: Actually, I never wanted to become a space engineer, never. I wanted to become a doctor because I wanted to serve the common man of our country. It so happened that I was in the 8th standard and I was watching some TV channel and suddenly I saw some rockets coming on the screen. I just got hooked up to that channel. They were showing this countdown and I was so excited and a lot of people were in white garments, caps and talking on the headphones. That fascinated me. That day, that launch which I saw live, triggered the thought in my mind. How good to be there! How lively! That team spirit kind of a thing. But I never knew that I was going to be in one of those launches to Mars, facing the same scenario. It is just, I feel, within you. It tells you what you want to be. You may not listen to it sometimes, but it comes to us. Whenever the time comes, it comes in front of you. That's the story of my entry into space engineering.
Kalpana:

I'll now jump to the next question. What was the feeling when that actually happened in Mission Mars?

Minal : I was numb!

"I am very fortunate to come across some of these teachers who not only made the subject interesting to me but also made it obvious choice for me" — Moumita

Kalpana:

I thought you wanted to cry?

Minal : Ya, ya! I loved that moment and I will cherish it throughout. Because you never know. But it lifted. I thought, 'My God, it lifted!'
Kalpana:

You can see how passionate she is. This is what happens when women work. They put their heart and soul into it. That's the most important thing about women working on this. I have a question to all of you - there must have been difficult moments while you were working on this MOM -- were there any frustrations before the launch? And did you feel, 'Oh God! What if it doesn't happen?' If you could share some such moments…

Moumita : Yes, there were these moments of frustration. Mars Orbiter Mission was a really fast mission. Minal spoke about the countdown. So for 18 months, every day was counted. Even if we tried our best to optimise and avoid any delay for this mission while we were working on the project, there would inevitably be some delay at some point for unknown reasons, or unavoidable ones, which were beyond our control. I would like to mention one incident in this regard. I was expecting an instrument to come. That was a very important instrument for a very important set up to characterise an important function. And all official formalities were completed. The instrument was just about to reach when I was informed that it could not be delivered at all - it was never going to come. But fortunately I had a backup plan ready. I thought of another setup and I took the initiative to develop that setup. In 15 days we were in a position to make the whole setup with a parallel instrument. It was even better, I would say. But for these 15 days, you cannot imagine my situation because I was almost at the point where things may get stuck. But fortunately that did not happen and we were able to complete all testing as per the planned schedule because of the backup plan. So as she mentioned, we always had to have our backup plan ready. We also had the same situation for our engines, which she could highlight.

Minal : Yes, we would always have some backup plan. What happened was we had to capture Mars, which meant that the satellite had to rotate around Mars, along its gravity. It is like you have to push something along the `gravity well' of Mars, so it needed force to be applied on the satellite when it goes into the `gravity well'-- that means the engines had to fire for that. So it was very critical that the big engine should fire with 99 per cent accuracy. Then only would we be able to capture Mars and we would be able to get the orbit which is where we would really operate the cameras and take the pictures of Mars. But then we had only one engine. What to do if that engine didn't fire? What happens when the satellite leaves the earth's gravity? That happened in the month of November in 2013. Then it has to travel some 10 months' time to reach near Mars. So then for 10 months' time, this engine is sleeping. We do not know how it will perform. So how do we ensure that it is really going to fire at the time of that particular moment? What we did is, we thought, if it doesn't fire, what is the next option? At least, we should be able to capture Mars. Even if we don't get the right orbit or we don't get the right numbers, we should be able to at least capture some of Mars. So we were ready with our Plan 'B' Plan At the end of it, Plan 'A' got, well executed, but Plan `B' was nevertheless ready. In case we did not get Plan 'A' Plan 'B' would let us capture Mars. This is how it helps in any situation. That's how women do it, because they are very conscious of their work and like to give 100% to whatever they have taken up.

"I was watching some TV channel and suddenly I saw some rockets coming on the screen. I just hooked up to that channel. They were showing this countdown and I was so excited and a lot of people were in white garments, caps and talking on the headphones. That fascinated me" — Minal

Kalpana:

Do you always have Plan B at home as well?

Ritu : Yes, because that is how it is about raising the kids. Now I cannot go home, what should I do next to get the work done?

Moumita : Actually, I would like to say that whether at office or at home, wherever you go, there are almost similar kind of scenarios. We have bosses in the office; you have somebody else to take care at home. So there are three simple P's I remember. First is 'Priority'. That is prioritisation of your work. Second is 'Procedures'. You have laid down procedures. If a certain thing is to be done, it has to be done in a certain way. Third is a 'Backup plan' that we all talked about. If you handle these three nicely, your family and office both go hand in hand very smoothly.
Kalpana:

I agree with all these three P's, but how do you keep up with all the demands? Like you mentioned at home too you have to have backup plans, but how do you balance work life and family life. When you are working 24x7 especially during a project such as the MOM project, what I understand is that you were getting hardly four or five hours sleep. So how did you manage in general with young kids at home and only four or five hours sleep?

Ritu : As I mentioned earlier, basically it is planning and time management that play a key role, especially when it has to be done in 10 months flat. We never had this type of mission earlier, because this was for the first time we were going to go beyond the earth's gravity. We did not know what would happen in space. If the satellite faces some problem, it had to be able to self-diagnose and then undergo self-recovery. That is called an autonomous satellite. We had to build that. So during those 10 months, it was really tough for us because we had to start from scratch, really. My prime responsibility was to bring out the draft of that autonomy. For six months during office hours I had lots of work. Then again from 12 am to 4 am, there would be a second office at home. So in those days, I had two offices – one in my regular office and other, the office at home, and in between I had to manage my kids. Because of the excitement of this challenging mission, it really had driven me to do that. If I could do that, I feel, nothing is impossible. If something as complicated as this can be achieved, with all that self-confidence and belief, anything can be achieved.
Kalpana:

Tell us what were some of the challenges you faced apart from dealing with the technical issues? What was the team like, at ISRO? This is team work, right?

Moumita : Actually in our work on the Methane Sensor for Mars, we were five ladies. Now you know what happens when more than two ladies come together. And with five members, specialists in different subjects, you won't believe, how these five went hand in hand. That was coordination! I always felt it was very difficult to bring women together and support each other; that men may do it but women will not. Minal and I had to work shoulder to shoulder. When testing was going on, Minal had to come before me and I remember at 2 o' clock, Minal going back and I coming to office and we saying 'Bye' to each other..

Minal : Today we are here to support each other but that's what women are about! If the need comes, they will support each other.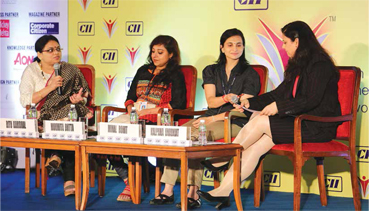 Kalpana:

What about other men at ISRO? What is the work environment at ISRO?

Minal : For women, it is really very nice and they are very comfortable working with other male colleagues. When they see you are putting your heart and soul into something, you are taking responsibility, you are working hard and you are working towards achieving your goal, they look at you with a different kind of respect. They mentor women and there is not at all any clash with the male colleagues.

Ritu : Actually, I want to make one point here. In this field of science, or engineering or whatever field it is, what matters more is talent and not gender, anytime and in any field. If you are able to put up solutions to some critical problem, they are accepted. If we have to come up on our own, face the problems, face the challenges and give solutions it is accepted. There is nothing like who has given the solution -men or women? Solutions are required for problems. That's what is more important.

Moumita : Finally it is the potential that matters. No gender bias, we never faced that.
Kalpana:

I think ISRO is a very different organisation compared to the private sector where I come from. Probably it doesn't behave like a government organisation. But tell me something, are there enough female engineers? In the 16,000 strong workforce, do you think there are enough female space engineers?

Minal : Right now, they make up for 20 per cent of the employees. Things are changing. In the last few years, the number of female employees who joined - I would not say it has skyrocketed skyrocketed, but yes, there is an appreciable increase in the number of women employees joining ISRO. That is a clear indication that women are thinking of taking up Space Science as a career.
Kalpana:

Ritu, we discussed about this. Is there any difference in India and globally? Are there enough women getting into planetary science, especially space engineering?

Ritu : In terms of science or any technology, the situation is similar, whether it is within India or outside. Now, I would say, India is showing better representation of women in planet science, or take any science, IT or anywhere. Their representation is growing; times are changing. I think here it is even better than the outside world.

Moumita : Yes. India is taken as an example. They are interviewing Indian journalists and projecting to their countries, saying, 'Look, this is the country where women were restricted.' I think that is a credit to all of us.
Kalpana:

What next then? I think now you are the nation's favourite women scientists. So what is the future?

Ritu : Right now, I would be sitting with Mars and having panel discussions about how to go beyond the solar system. Actually there are many missions in ISRO's plans. The next mission which is just about to come is a technologically challenging mission, which is the Lunar Mission. We have to come up with our own, very strong engines. So that is going on and the next Chandrayan mission is on the cards. We will demonstrate much more complicated technology and advancement from ISRO.
Kalpana:

Apart from realising the dream of Mars, what else was there in the last ten years?

Moumita : Actually when I thought of this question, the first thing I thought was my husband telling me in a lighter note that now I might be seeing him and at least talking to him. For ten years, I was not able to see him because there were lot of missions. But this was on a lighter note. What I would like to convey here is that after ten years, we are all lucky to have an audience here. We got this opportunity to be part of this CII function and we were lucky because we could hear a lot of people giving good thoughts. But there are women equally strong in the villages. They have not been touched. So we, after ten years, should at least transfer this to village areas and have a CII function at the village level.
Kalpana:

Well said! I think the last question is what advice would you give to our young generation and young students about starting their career in Space Science?

Minal : Space Science has multiple dimensions, like Mathematics or Physics or Engineering or Rocket Science. It provides multiple dimensions for all students and there are still many unanswered questions about space; many discoveries need to be done. It is not only that we are going into space, but in that process when we come up with some technological inventions or discoveries, they also help improve the quality of life of the common man. So there are many things yet to be done. There are so many dimensions and work needs to be continued. It is a continuous process and needs all young students. They need to come and join Space Science and contribute work for the nation.

By Vinita Deshmukh