Corporate Debate : Affirmative Action For An Equitable Society
With job reservation politics for socially backward communities in private sector getting hotter by the day, Corporate India seems to reject it, but commits itself to Affirmative Action (AA) for an equitable society. Corporate Citizen explores what thought leaders of Corporate India have to say
Is there any connection between Prime Minister Narendra Modi's vision of Sabka Saath, Sab ka Vikaas and Corporate India's resolve to redouble its efforts for the socioeconomic development of the marginalised sections of our society? It seems, obviously, not, but curiously, yes.
As more and more political parties are demanding quota in private sector for socially backward communities because of shrinking job opportunities in the public sector, it appears that more and more thought leaders of India's corporate world are realising the importance of the PM's agenda of inclusiveness and equitable growth. Having already rejected such caste-based job reservation demands in the private domain, it looks like the private sector is in no mood to let the forces arguing a counter view succeed, by going wholeheartedly for voluntary Affirmative Action (AA) in their own corporate agenda. No wonder, this resolve for AA was expressed in full measure when they met at a recent Confederation of Indian Industry (CII) -led conference on the topic 'Bridging the Gap: Fostering Growth through Education and Entrepreneurship' in New Delhi. Attended by over 200 HR Heads, CEOs and business leaders, the day-long event witnessed a series of panel discussions on topics related to AA.
While appreciating the sentiments behind the government's intention of ensuring social equity, the heads of India Inc at the conference insisted that there would be a loss of competitiveness if the quota system was thrust upon the private sector.
"Only through creating a conducive environment to foster voluntary support for AA and advancing competitiveness in the companies, can more jobs be created for the under-privileged," said Kartikeya Bharat Ram, Chairman, CII Committee on AA and Dy MD, SRF Ltd. Sharing success stories of member firms, he said that several companies are now implementing policies and systems to diversify their social base for the deprived sections. In this exercise, he welcomed the positive role of Pune-based Dalit Chamber of Commerce and Industry (DICCI) in promoting Dalit entrepreneurs reach out to industry for support and engagement. He also narrated how CII's initiatives in the last couple of decades have picked up pace as Corporate India is now actively promoting Dalit entrepreneurship through AA initiatives.
Setting the context of the conference in its historical perspective, Soumitro Chakravarty, CEO, Innovation Financial Advisors Pvt Ltd, said, "though the concept of AA was born in the '70s in the USA, we have adopted it here because it brings an enduring national purpose and equal opportunities for all Indians without discrimination of caste, creed, gender or ability." Referring to PM Modi's most ambitious flagship project 'Start-up India, Stand-up India', he claimed, India was all set to become the 'entrepreneurial capital of the world' in the next few years and hence it was necessary that Corporate India must transform itself quickly.
Though efforts made by companies of the Tata Group and a few others in giving opportunities to candidates from socially backward communities are encouraging, Soumitro pointed out, "the best of the Corporate India is yet to come."
Bhaskar Chatterjee, Director General and CEO, Indian Institute of Corporate Affairs and one of the architects who brought the concept of CSR in the new Companies Act, began by asking the fundamental questions: Why is a company created? Why should a corporate be socially responsible? Why should it go for AA?
"While most corporates are still thinking as to how and why they should go for AA, companies of the Tata Group have already made a huge difference to the lives of countless people from the SC/ST communities through their various CSR initiatives focused on women's empowerment and AA"- Dilip Kumar, Head-CSR, Tata Power Delhi Distribution Ltd
Affirmative Action—TCS-Style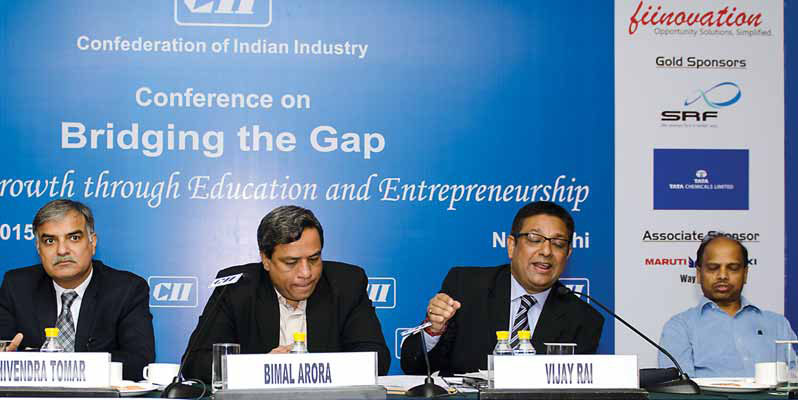 Tata Group's premier IT company, Tata Consultancy Services (TCS), doesn't believe in compromising on merit in its HR policies. It doesn't offer any quota for students from the SC, ST and OBC categories. Yet every year, it corners a considerable chunk of very bright engineering students from these socially backward categories. How do they do it? What is their secret?
Sunil Joseph Nalapalli, Head Affirmative Action, TCS, talked about a pan-India initiative of his company, launched about two years ago, for the SC/ST students of rural engineering colleges located in India's most backward districts, as per the Niti Ayog data. Explaining why they pick up only engineering college students, he said, "All 3,40,000 employees of the TCS are engineers. So, we obviously feel more comfortable with them. These are colleges where nobody goes for campus placements. They are in the remotest parts of India." He pointed out that to help their students compete with general category candidates from India's best engineering colleges who appear for their recruitment test, they have devised an 18-month-long course, after lot of research. It's a 192- hour course, spread over three semesters. Talking about its course content, Nalapalli said, "Besides teaching logical reasoning, data interpretation and other important components of our aptitude test, we also prepare them for their personality interview and give them lots of practice papers." The students are also provided practical training on soft skills and at the end put through the TCS recruitment procedure.
Giving background of the rural engineering college, Sunil pointed out, "This was a college where no corporate had ever gone. They didn't have any placement whatsoever. When we first went to discuss about our initiative, the principal spoke to me about a student who had won the gold medal of the university last year, yet they were not able to place this girl simply because they didn't had any network and companies never came to their campus."
Sunil said that this year, they have expanded their initiative to around 27 colleges and signed MOUs across the country, in multiple states. He added that they also had an initiative for the BPO arm of their business. "So far, we have trained 38,000 graduates in 174 locations. Out of which, 3,000 of them are in TCS alone. Recently, we tracked their performance, attrition figures and such other matrix of the last four years. What we found was that their attrition is 8 percent less than that of the TCS attrition," he said. The TCS initiative is handled by their staff members and not outsourced to anyone. Staffers prepare the course material. "Everybody knows that attrition rate in an industry like ours is 12 to 15 percent but students who join TCS through this pipeline do not want to go anywhere else. They really value our training and values," said Nalapalli. To sum it up, Sunil added that it has become so much a part of TCS growth story that it is attracting the mind space of even their customers, especially in America, who want to study the model.
India Inc's AA initiatives
Affirmative Action (AA) is generally equated with the government's policy of reservation in India. Though AA has not been a new concept in India but, in 2013, under the New Companies Act, a new form of AA was envisaged under the concept of Corporate Social Responsibility (CSR) whereby it was mandated that any company having a net worth of Rs.500 crore or more or a net profit of Rs.5 crore or more has to necessarily spend at least 2 percent of its net profits of the last three years on some CSR activities. Since then, many top Indian corporate houses are seriously engaged in CSR activities in various ways.
RELIANCE INDUSTRIES
Its CSR activities include 'Project Drishti' initiated to bring back the eyesight of visually challenged Indians from the economically weaker sections; running a medical facility centre and providing free health check-ups; building schools at the site for the children of the 'project-affected families' and the children of the villages around the sites, to name a few.
WIPRO
Their CSR initiatives centre on major projects in education, ecology and community care where they work with about 60 organisations at different levels.
ONGC
CSR projects emphasise on higher education, grant of scholarship and aid to deserving young pupils of less-privileged sections of society, facilities for constructing schools, etc.
SAIL
Focus areas include environmental conservation, health and medical care, education, women upliftment and providing drinking water.
COCA-COLA
Initiated a programme for the empowerment of five million women entrepreneurs across the Coca-Cola value chain by 2020.
MAHINDRA & MAHINDRA
Launched a unique kind of ESOPs (Employee Social Options) in order to enable Mahindra employees to involve themselves in socially responsible activities.
"According to National Sample Survey data, most SC/ST youth come from wage labour households and almost 88% are literate but they lack employable skills. So, here is an opportunity for Corporate India to intervene and involve them in driving the growth of the nation"- Dr Nidhi S Sabharwal, Associate Professor, National University of Educational Planning and Administration
AMITY FOUNDATION
Runs two programmes—Amitasha and Atulasha—for underprivileged children. While Amitasha offers free education to about 1,000 poor SC/ST girls in the age group of 5-18 in five schools in Delhi, Atulasha offers the same to the underprivileged boys.
Dilip Kumar


Head-CSR,

Tata Power Delhi Distribution Ltd

Dr Nidhi S Sabharwal


Associate Professor

National University of Educational Planning and Administration, New Delhi

Amit Kaushik


Practice Head, Education & Skill Development,

IPE Global Ltd

H N Sahay


Director,

Amity Humanity Foundation

Karthikeya Bharat Ram


Chairman,

CII panel on Affirmative Action & Dy MD SRF Ltd

Milind Kamble


Chairman,

Dalit Indian Chamber of Commerce and Industry

Chandrabhan Prasad


Mentor,

DICCI

DR Sudhir Kapur


Chairman,

CII panel on CSR & MD & CEO, Country Strategy
GLAXOSMITHKLINE PHARMACEUTICALS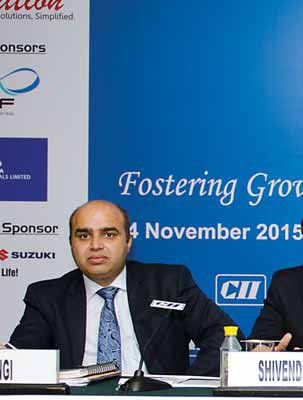 CSR programmes primarily focus on health, medical check-up and treatment, health camps and health awareness programmes in tribal areas. It also donates money, medicines and equipment to non-profit organisations that work towards improving health and education in the backward communities.
BAJAJ ELECTRICALS
Social work in areas such as education, rural development and environment.
TATA POWER DELHI DISTRIBUTION LIMITED
AA initiatives rest on the pillars of several programmes in education sector. One such offers reference books, stationary, school bags and career counseling to SC/ST students of 46 senior secondary government schools. Other activities include its Skill India programme, women literacy programme and installation of RO plants in schools.
BHEL & INDIAN AIRLINES
Focus on disaster management and have adopted 56 villages having nearly 80,000 inhabitants.
AMBUJA CEMENTS
Runs a Swachhata Doot initiative by which it prepares messengers who continuously work on creating awareness for cleanliness. It also supports 31 primary and 16 middle schools in Himachal Pradesh.
After all, he said, the very purpose of the creation of a company is to earn profits and to maximise the wealth of its shareholders, then why should it be held accountable for AA, which is primarily the government's responsibility under its commitment to providing social justice to those at the bottom of the pyramid?
"Since government alone can not uplift the downtrodden of our society, it is imperative that the Corporate India engages itself with PM's agenda of inclusiveness and equitable growth" Shivendra Tomar, MD, IFCI Venture Capital Funds
Chatterjee answered, "This is because today's situation is vastly different from what it was 50-60 years back. Today the primary realisation of industry—not just in India but across the globe—is that businesses cannot succeed in a society that fails." Taking his argument further, he said, "Today, the one parameter universally accepted is GDP growth. No matter how good country's GDP numbers are, if societal tensions lead to the very self-destruction of society, all of the GDP growth numbers will fly out of the window and the country will be emasculated across all sectors."
The role of Indian industry in promoting AA through CSR is extremely critical to the way India evolves, said Chatterjee. Lot of action, he said, is expected on the ground from the 11 lakh registered companies, "Our effort is to create enabling environment for their CSR spending. Now, the finest thinkers of the companies, sitting in their boardrooms, have to apply their minds and devise strategies as to how best can they take AA and help the poor and the marginalised by advancing the inclusive growth agenda of our visionary prime minister."
However, disagreeing with Chatterjee's excessive optimism about AA and CSR, Milind Kamble, Chairman, Dalit Indian Chamber of Commerce and Industry (DICCI), said that though CSR spending of corporates in 2015 is yet to be known and analysed, "fact of the matter is that most big companies are increasing their social engagements because it also helps in building up their image which gets a boost by being valued positively in the market."
"Skill India report says there exists serious gaps between what the industry demands and what we teach in our schools. So, we need to bridge this gap by aligning education with skills. PM Modi has already taken several initiatives in this direction. Now, it is the duty of the corporate houses to do their bit because by doing so, they will ultimately be helping none but themselves"Amit Kaushik, Practice Head, Education & Skill Development, IPE Global Ltd
Nevertheless, Kamble appreciated the renewed activism of Indian industry for AA while, at the same time, revealed that some companies have also opened their own NGOs for this purpose so that they could manage their losses by manipulating their CSR spending in the account books.
Recalling how the India Inc supported about 500 SC/ST entrepreneurs in a big way in 2006 by aligning them in one go with different CII member companies as their suppliers and vendors, he regretted that not much of AA of "that magnitude" has taken place in the last nine years. "It is time Corporate India repeat that story and come forward in big numbers to genuinely help and encourage Dalit entrepreneurs as part of their CSR activity. The Dalit community now needs true business leaders of its own. We've got so many in political arena but none in business. We don't want to be takers only. We want to be givers too," appealed Kamble.
Development is possible only through inclusiveness, but the big question remains: Will the CII-led companies repeat the miracle of 2006 and fulfil the PM's vision of inclusiveness in its truest sense in 2016?
By Pradeep Mathur