Cradle of Leadership-9 : For the Executive Class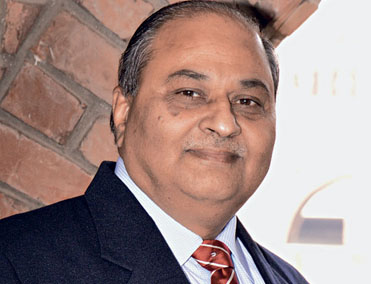 From small beginnings in 1973 as an institute to train officers of the IFCI, the Management Development Institute came to be best known for its unique National Management Program for IAS officers and top private sector executives. In 1994 it opened its doors to a larger community with a management program for students, and turned into a full-fledged B-school on par with top IIMs, fulfilling a larger mandate. It now has a second campus in backward Murshidabad, endorsing its sense of social commitment. One person who has been part of MDI's extraordinary journey is its present director,Dr. Chandra P. Shrimali, whose vision is to make MDI rank mong 'the top business schools of the world'. Corporate Citizen spoke to this dynamic management guru to know the lesser known facts about MDI's fascinating journey.
With an initial grant received from erstwhile West Germany, the Government of India set up the Management Development Institute (MDI) in 1973 in New Delhi to serve officers of the Industrial Finance Corporation of India (IFCI). Its mandate was to train managers, carry out research and provide consultancy services to both public and private sector companies facing industrial sickness. In 1980, it shifted to its present campus in Gurgaon. Today, 35 years later, spread across 40 acres in a lush-green campus in the corporate hub of Millennium City, MDI stands out as a green island in the concrete jungle of Gurgaon. MDI catapulted into limelight when it launched its full-time, residential, 15-month course called the National Management Program (NMP) in 1987 for senior IAS officers and top executives from the private sector. Six years later, in 1994, MDI became a proper business school with the introduction of an MBA equivalent program, and since then, has added many new programs to its kitty. Ranked consistently among the top ten B-schools of the country with top global linkages next only to the three premier IIMs, MDI has arned this excellence on its own. Today it is a fully self-financed institute with no funding from the government. But, that is not all. With its second campus in West Bengal's Murshidabad district as part of its CSR initiative, MDI has also shown its social commitment by extending world class management expertise to India's most backward region.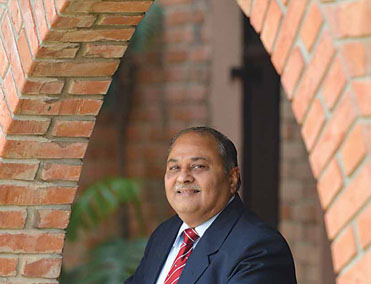 One person who has seen MDI's evolution from its early days and been instrumental in its extraordinary journey is its present director Dr. Chandra P Shrimali. A university topper, reputed professor and professional consultant in HR Management, he holds a master's degree in Business Administration and PhD from the University of Udaipur. From humble beginnings, hailing from a small town of Rajasthan, he made his way to the top through sheer hard work. He worked very closely with the founding fathers of this institution including Dr. BK Madan, formerly Deputy Governor of the Reserve Bank of India and Lt. Gen Manohar Lal Chibber. He believes everybody can make it big in life if he can turn his passion into his profession. His vision for MDI is to make it rank amongst "the top business schools in the world."
Corporate Citizen You have been associated with MDI for almost four decades now. How has this journey been?
Dr. Chandra P. Shrimali : Extremely satisfying. I joined in March 1977 as a research assistant. In those days MDI was located in Vasant Vihar area of Delhi. Since then, I have seen every phase of its evolution. It has been very inspiring as I got to work with some of the finest academicians and administrators.
Why and how did MDI shift from Delhi to Gurgaon?
We moved to Gurgaon campus in 1980. I have seen it through the construction. Both the Maruti factory and MDI came up around the same time. The credit to a large extent goes to the then chief minister of Haryana, Bansi Lalji. He wanted a national level institution to come up in this part of the NCR region. He offered this piece of land, around 38 acres, at a very cheap rate. Dr. Madan accepted it, saying, "Delhi would be very crowded and polluted after 20-30 years. But when we're creating MDI, we've to think of 100 years. We must go out of Delhi to build an institution of our dreams." I then suggested that we use 30 per cent for buildings and leave 70 per cent greenery for reflection and thinking. He agreed and made that a policy. Even now at MDI, when needed, we demolish older buildings to create vertical buildings rather than destroy the green cover on this campus.
"A lot of decisions were taken without any understanding of finance, accounting, budgeting, costing, and marketing. These people may have reached the top level, but had no formal management education"
What problems did you face when you shifted from Delhi to Gurgaon?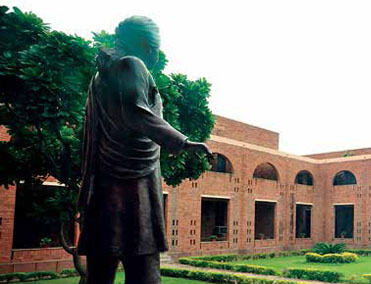 In those days there used to be 17 hours' power cut daily in Gurgaon. Delhi taxis did not ply up to Gurgaon. Telephone lines were faulty. But I still remember the words of Dr. Madan, "When there is nothing, there is an opportunity to do everything." Bansi Lalji also assured us he would provide all the help we required, and he did.
What kind of programs did MDI conduct before shifting to this campus?
We conducted short-term programs for senior executives, mostly in five-star hotels. In those days, we dealt with problems of industrial sickness caused by management failure. We did company specific training as well as open training programs for both private and public sector executives. Their problems were very similar. A lot of decisions were taken without any understanding of finance, accounting, budgeting, costing, and marketing. These people may have reached the top level, but had no formal management education. We used to research on their needs and create one week/two week capsule programs for non-finance executives -- on advanced marketing programs, approaches to cost reduction, strategy formulation and policy implementation, etc. We used to conduct 60 to 70 such programs in a year in different parts of the country including far off places like Meghalaya, Kashmir, Goa, Mysore. In those days, we were doing only three activities, management research involving writing of case studies, applied research which is consulting and executive training.
How did MDI come up?
When India got independence, capitalistic block countries wanted to help India promote capitalism. They offered funds for industrial development. Some were through KfW (a German development bank) schemes, at 3 percent interest. But India was very clear it would decide its own policies and opted for a co-existing public and private sector. The funds were utilised to support the Tatas, Birlas, Singhanias, Thapars and the rest because they were investing in cement plants, jute plants, sugar mills, steel mills and refineries. It got this money at 3 percent, but lent it at 15 percent. International norms also allowed you to keep 3 percent for assessment and recovery. So, there still was about 10 percent left over, which belonged to nobody. It was neither KfW money, nor GOI money, nor IFCI money nor any industrialist's money because everybody paid as per the contractual obligations. This money was called Interest Differential Fund (IDF), available with IFCI, and MDI came out of that fund. So MDI's genesis is truly autonomous because there was no GOI funding for it in the manner that IIMs get, nor did it get any private funding, as is the case with some other top management institutes like the Delhi-based International Management Institute (IMI) or IMT Ghaziabad which were created by private initiative.
What was the idea behind setting up MDI?
At one stage, the GOI, KfW and IFCI realised that many industries they financed were turning sick. Some either indulged in political funding or siphoned money or diverted it. The few surviving were those with political patronage under the then prevailing licence raj. When this patronage went away due to change in government, the unit got sick. One major reason was management failure. The MDI was created to deal with this industrial sickness and help the corporate world through management consulting, research and executive education.
Why did you not go the IIM way?
IIMs were created for imparting management education to young boys and girls but MDI was brought up for executive training, consulting and research. That was our mandate, so that we should not duplicate IIMs. Our pay scales were also pretty high compared to the IIMs.
"IIMs were created for imparting management education to young boys and girls but MDI was conceived for executive training, consulting and research, in order that we do not duplicate IIMs"
Why did the character of MDI change?
Around 1986, we faced an existential problem. We shifted to this campus in 1980. Though we saved hotel costs, those who came here once would not turn up the second time because of the recurring 17-hour power cuts and faulty telephone lines. Our programs suffered. Moreover, when we shifted from Delhi to Gurgaon, many faculty members left and went abroad. This campus became a white elephant. In 1986, the situation became so grave that we were not able to pay salaries for two to three months.
How did you get out of this crisis?
Luckily, Lt. Gen. ML Chibber, a Padma Vibhushan and a key mastermind of India's Siachen victory of 1986 was persuaded to join us as our director at this critical juncture. A recipient of the Jawaharlal Nehru Fellowship, he got is doctorate at around 56-57 years of age and had also written a book on leadership. He was a highly decorated general, great academician and thinker. On joining here, Lt Gen. Chibber realized we were in trouble. But being a former general, he knew how to meet the challenge.
How did he bring the turnaround?
He was a highly respected general. When Rajiv Gandhi was a boy and Mrs Indira Gandhi the prime minister, he used to go to Kashmir and stay in the defence area. Rajiv Gandhi used to call him 'uncle'. After becoming the prime minister he once visited MDI and asked Lt Gen. Chibber a question: "When there is war, you are able to integrate the army, navy and air force. But my bureaucrats do not see eye to eye with public sector or private sector fellows. How do I get cohesion among them?" I was there in this very room when he asked this question. He had come with P. Chidambaram, the minister of state for HRD.
"It was a high-profile program. NMP alumni are everywhere in the public and private sector. It was the first time a master's level course was being offered in just 15 months. But the condition was that the candidate must have a minimum of five years' experience"
What was Gen. Chibber's response?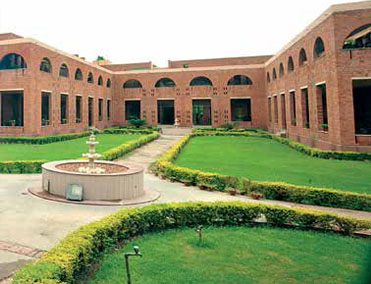 The General said, "There is only one way. In the defence service, we learn together, eat together, work together. We go to Khadakvasla near Pune together. We go to Wellington Academy together. We stay in the same hostel, eat in the same mess, share the room, do drill together, shoot together. We build such close affinity that in the days of war, when we require fast decision making, it happens instantly because of the connect we built earlier."
Rajivji then said, how can we do it in governance? Lt Gen. Chibber suggested a common training program for civil servants. Since Chidambaram was the state HRD minister, Rajiv asked him, would you like to look into this kind of a concept? He said, yes. We coined it the National Management Program (NMP). Lt Gen. Chibber insisted that this being a high-powered program, it must have the best faculty from all over the country. At MDI, we were only eight to ten people, so we had to pool all the IIMs into MDI for this national initiative. Their faculty members would come in and the government would give some kind of funding for this program.
Did Rajiv Gandhi give the required funds?
The government gave us Rs.3-5 crores to create an auditorium and an MP hostel. Additionally Rajiv Gandhi agreed to create a PM's gold medal for the topper of the course, FM's gold medal for the topper in finance, HR Minister's gold medal for the topper in HR and ITC gold medal for the topper in marketing. We designed the complete curriculum and roped in NCP Nath and SL Rao who taught at IIM Ahmedabad and at Mhow. Chidambaram also helped us get connected with Harvard and Kellogg and other great management schools of the world. Under that collaboration, I too studied at Kellogg School of Management on a fellowship.
What was your experience in America?
It was great. During that study tour, I studied what Kellogg did to become the number one management school. I sat in Philip Kotler's classes and the lectures of all the great Harvard professors. I documented everything so I could apply them at MDI. Some 15-20 people went abroad to study the best management practices and decided that we should match or improve on that. Dr. Bala V. Balachandran was the nodal person at Kellogg. He has recently created the Great Lake Institute in Chennai. He was also involved in the creation of the Indian School of Business (ISB), Hyderabad. ISB is nothing but, on a different scale, a replication of our NMP. In fact, the idea was created at Balachandran's home in America.
When did you launch the NMP?
We started the NMP in 1987 which is in its 27th course, and going strong. The first program had 20 very carefully chosen people each from the public and private sectors. They all went through the CAT exam and interview to get in. It was a great success.
Do the civil servants come for this NMP program even now?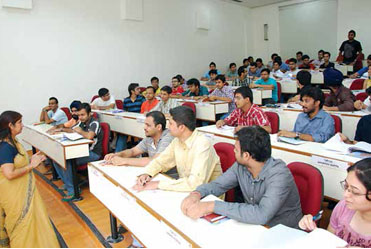 Oh yes. Indian Oil CMD B Ashok was my student from the first batch. Tripurari Sharan who was Doordarshan's Director General was a 4th batch student. Pradeep Gupta, currently OSD to the President of India was a student of our sixth batch. SIDBI Chairman, RM Malla, was also my student. It was a high-profile program. NMP alumni are everywhere in the public and private sector. It was the first time a master's level course was being offered in just 15 months. But the condition was that the candidate must have a minimum of five years' experience. It wasn't open for freshers.
Why would IAS officers come for this program?
It's a high-powered program aimed at developing leaders. IAS officers would come on leave and their fees were paid by the government. The concept was very simple: 12 months of education, with three months' project work on a "live problem" from their department. If the organisation had engaged a consultant to handle the project, they would have paid a fee of Rs.10- 15 lakhs. Now this guy would solve this problem under the able guidance of MDI professors who would also be responsible for its implementation. It was action-centric research. Private companies were the biggest beneficiaries as they got their critical issues solved, in addition to having a champion in their company, and the cost was offset by the benefits.
What was the impact of NMP on MDI?
Once NMP became successful, MDI started growing. Our losses declined and visibility increased. We had 20-25 faculty members whom we aided.
In 1990, we had a major challenge. Lt Gen. Chibber retired and left MDI. New directors came, but there was instability at the leadership level. In 1990, the IFCI also became a government company and its shares started getting divested. At its general body meeting, they took a decision that this Interest Differential Fund (IDF) belonged to them. Their argument was, if MDI was teaching management to everybody else, why should they not be able to manage themselves?
Why should the IFCI fund them? Thus, money from both the gov ernment and IFCI stopped. They said, we've given you capital and infrastructure; now stand on your own feet. We took up the challenge and today we're a fully self-financed institution.
How did you do this?
When Lt Gen. Chibber left, we only had NMP with us. The financial health of MDI wasn't that great. Dr. Abbas Ahmed was our chairman then. He had come from Delhi University's Faculty of Management Sciences (FMS). He said institutions are known by their activity associated with the society at large. As of then, we only had executives, small in number, who joined our program, and went back into their company and got assimilated. FMS was known because so many students studied there for two years, and their families were involved. So he suggested we start an MBA program. We wrote to IFCI that they give us autonomy to operate and we would not ask for more money, except for a one-time corpus. IFCI agreed. Thereafter, we practically got delinked from IFCI and launched our own MBA program in 1994.
How did you design your course?
This course has to be relevant to industry requirements. Since we were not getting any funds from the government, we decided on merit as the only criteria, no reservation, no management quota, nothing. In batch one, we took 60 students. We had invited people from the corporate world. We applied and got AICTE approval and launched our PGPM program in 1994.
Was your curriculum the same as that of the IIMs?
Yes. Just an improved version. We developed our own philosophy: learning by doing. IIM has only summer training. Our classes were from 8.30 a.m. to 3.30 p.m. after which our students would work in the industries nearby. During their two years' stay, the students would work on at least 15-20 live consulting projects. Since we were doing executive education, we had a very strong industry connect. As a result our first batch got placed within three days! And we insisted that packages be no different from IIM Ahmedabad (IIM-A). IIM-A had always been number one and we weren't even in the top 100 at that time, but we took the stand that our product was not inferior to IIM-A. The course curriculum is our strength, the faculty is from IIM-A, B and C and abroad. We created a pro-active HR policy and then built the institution and brand image. Thereafter, there has been no looking back. Then we started PGP in HRM, next in International Management. Today we have nine programs, each a benchmark.
Why did you go for recognition from so many global accreditation agencies?
Once we were among top 10-15 institutions in the country, we realised we would always be behind IIMA. So we decided to go global. In 2005, we got accredited by the South Asian Quality Systems (SAQS). Next year, MDI became the first and the only institute in India to be accredited by the UK's Association of MBAs (AMBA) for all its six programs! We then pursued, successfully, both Associations to Advance Collegiate Schools of Business (AACSB) and European Quality Improvement System (EQUIS) accreditations.
"We have an annual turnover of over Rs.100 crore. We don't save much. Whatever we earn, we reinvest, to fulfil a social cause with the surplus money. We have now deployed some capital to develop another campus in Murshidabad, West Bengal"
Once we got that, international students started coming in. Then we signed double degree agreements. We have nearly 40 foreign partners today. My students go there, their students come here, and the grades can be transferred abroad. As a result, our degrees and our placements have become international. We also have foreign faculty coming in to teach, eight to ten at any time. We have doctoral programs, executive doctoral programs, part- time PGDM programs, public policy programs, while NMP continues to be our flagship program.
Are you earning profit now?
We have an annual turnover of over Rs.100 crore. We don't save much. Whatever we earn, we reinvest. We have also deployed some capital to develop another campus in Murshidabad, West Bengal. People go for other campuses to make money, but we have gone to fulfil a social cause with the surplus money.
Although established in 2010, Murshidabad MDI is yet to make any mark. Is it running in losses?
It's a CSR initiative, a social cause. We are fully aware that it will make losses for the first five years. Murshidabad is the most backward district in the country. It is just a 4-5 hours' drive from Kolkata, but you don't even see tractors there. Poverty is so acute! Pranab Mukherjee got elected from there, this time, his son. After so many years of independence if so much poverty exists, as management institutions don't we have any responsibility to do something? We started this campus with that thought, not to make profit. We were also making losses in the beginning.
Have the classes begun?
Classes have begun with the entry of the first batch of 22 students in July 2014. We expect to get 60 students in the new batch. My top faculty goes there, including international faculty. So the quality of teaching is no less than at MDI. Student intake is a challenge, but new institutions have challenge. Here I have students with 98-99 percentile joining. We take students through CAT, but there the cut off is much lower.
By Pradeep Mathur